August 31, 2013 - 1:47pm
Batavia boy seriously injured in accident in Alabama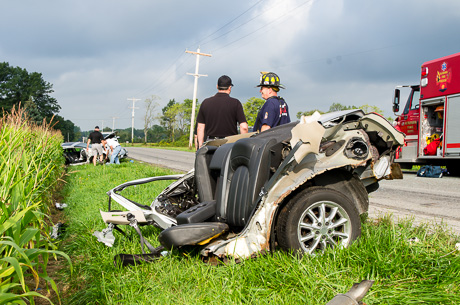 A Batavia boy was seriously injured this morning when the car he was riding in left the roadway on Ledge Road and struck a utility pole.
The car snapped in half with the rear passenger area skidding to the south shoulder near the pole and the front end of the car spinning about 30 yards ahead and stopping in the south shoulder just short of a corn field.
Shawn P. Wolcott, 10, was taken by Mercy Flight to Womens and Children's Hospital by Mercy Flight.
Shawn's condition reportedly improved after arriving at the hospital.
His father, Shawn P. Wolcott Sr., a resident of Maple Street, Batavia, was also seriously injured and transported by Mercy EMS to ECMC.
Wolcott told investigators that his car jerked for an unknown reason to the right before exiting the roadway.
Chief Deputy Gordon Dibble said at the scene during a preliminary part of the investigation that there are no markings in the roadway prior to the car's impact with the pole to indicate any kind of emergency or evasive action, including braking.
Speed is not considered a factor in the accident.
Because of the serious nature of the injuries, the Crash Management Team was dispatched to the scene to conduct an investigation and accident reconstruction. Typically, Crash Management investigations take weeks if not months to complete.
Alabama fire responded to the scene along with firefighters from Pembroke and Indian Falls.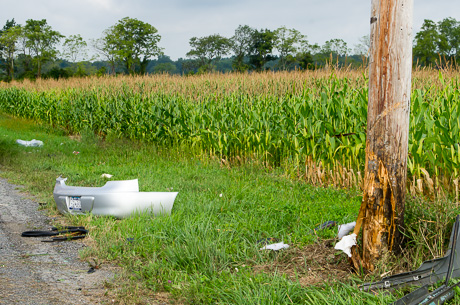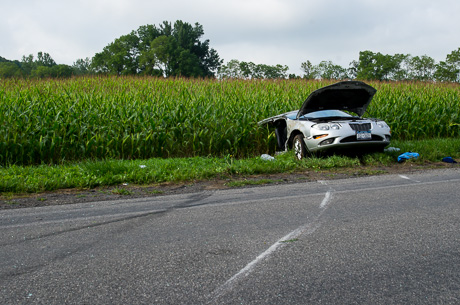 August 31, 2013 - 4:44pm
#1
broken tie rod or such perhaps?