August 30, 2011 - 10:54pm
City fire department has two new firefighters in training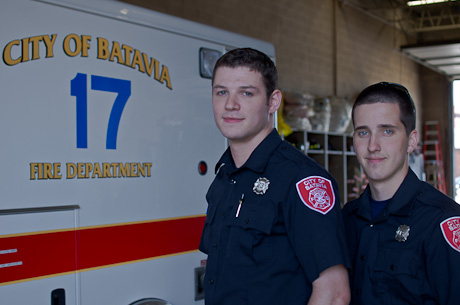 Two young firefighters have joined the City of Batavia department and are undergoing rigorous training on day shifts.
New to the department are Collin Byrne, 23, of Rochester, and Michael Dorgan, 21, of Gates (originally from Brockport).
Byrne is a graduate of John Jay College with a criminal justice degree and Dorgan has a two-year degree from Monroe Community College in fire protection technology. He's enrolled at Empire College where he's pursuing a degree in fire service administration.
"We're both really excited to learn the area and serve the community as best we can," Dorgan said.
Dorgan said firefighting runs in his blood. Both his father and uncle are career firefighters and his grandfather is a lifelong volunteer firefighter.
"I'm excited to be here," Byrne said. "I became a firefighter to do some good, to help people out and because it's an honest living."
Below is a picture from one of their training sessions on Friday. The training was on low-angle basket rescue, which was conducted off South Jackson near the old bridge that crossed the railroad tracks.
August 31, 2011 - 1:46pm
#1
WOW ! It's hard to believe that genesee co. does'nt have any qualified firefighter's at the top of the recent city fire test,after all the praise they have gotten in the Batavian regarding their outstanding work at major call's recently throughout our county. God Bless are local volunteers. They are true friends and family not just a hiring statement. The new city chief got the two people he wanted from his home county.