June 14, 2012 - 1:59am
Batavia man injured in tumble from top of Buttermilk Falls, Le Roy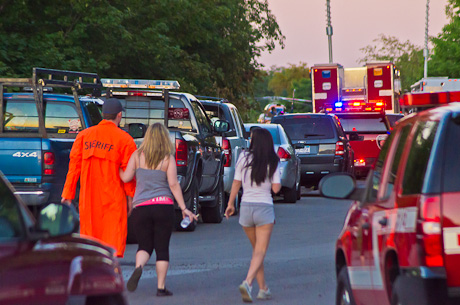 A Batavia man may be lucky to be alive after falling more than 30 feet from the top of Buttermilk Falls on Thursday evening and landing on a small rock ledge rather than dropping another 40 feet into the churning waters below.
More than 60 of Genesee County's emergency responders were on scene within 30 minutes of the 6:54 p.m. 9-1-1 call, which initially indicated a juvenile male had fallen over the falls and was being swept downstream.
Brandon C. Smart, 34, of Batavia, was taken by ground ambulance to Strong Memorial Hospital with a head injury, a cut and complaint of neck pain.
The cause of Smart's fall, according to the Sheriff's Office, is a combination of drinking and Smart trying to pass a case of beer to another person further down the cliff.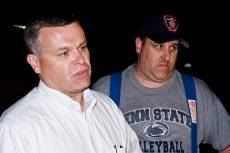 Buttermilk Falls is less than a mile east of Route 19, and just north of North Road, where the road makes a sharp turn in an area where it crosses Oakta Creek. Crocker Ace Hardware is nearby.
Based on the original information given to dispatchers, Le Roy Fire responded and sent one rescue team downstream and positioned another team near the top of the falls. When Chief Tom Wood (on the right on the top inset photo) learned the victim had landed on the ledge, he requested the county's rope rescue team respond.
Smart, who was initially reported as being unconscious, was on the ledge until 9:11 p.m.
Initially, Mercy Flight was requested to the scene because of the possible serious injuries, but once Smart was brought back to the top of the falls, responders decided to take him to Strong Memorial Hospital by ground ambulance.
After Smart's fall, Michael C. Hayes, 24, of Rochester (wearing the Sheriff's raincoat top photo; shirtless in the picture below), climbed down to his position.
Although Hayes was uninjured, the rope team needed to rescue him as well.
Sgt. Steven Mullen (bottom inset photo), Sheriff's Office, said Hayes getting on the ledge himself just made the rescue that much more dangerous for all involved.
"As these gentlemen have spoke about, a technical rescue like this on the face of a waterfall, which is slippery and overgrown with moss and vegetation, is nothing that I would suggest," Mullen said. "It makes their job that much tougher when you have two people that need to be rescued as opposed to one."
When rescuers were ready to try and hoist Smart back to the top of the falls, he reportedly became uncooperative.
"It was a little bit of a precarious situation considering that these rescuers are on a ledge with a 40-foot drop below them," said Tim Yaeger, Emergency Services director (on the left in the top inset photo), "We had a situation where we tried to talk to that individual for a while to help him understand the situation so we could secure the person into a harness to bring him back up to the topside. That was deemed to be unsuccessful, so law enforcement was asked to assist."
Mullen made his way to the ledge and talked with the Smart for 10 or 15 minutes and convinced him to get into the harness.
Yaeger said officials were unsure if Smart was uncooperative because of his head injury -- patients with head injuries often become combative -- or if other factors played a role.
Mullen said Smart had been drinking prior to the fall.
"He wasn't making a whole lot of sense," Mullen said. "He was somewhat irrational. That's one reason he was transported by ground ambulance. If he becomes aggressive, he would be much easier to handle."
The two men who were rescued were apparently part of a group of at least seven people who went to the falls Thursday and Mullen said all appeared to have been drinking.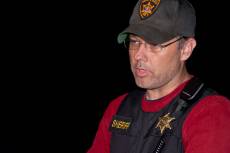 Seven people have been charged with trespass. They are, Hayes; Tatijana M. Kacurovski, 19, of Everwood Run, Webster; Sara M. Gianni, 20, of Quincy Street, Rochester; Donald E. Hayes, 27, of Quincy Street, Rochester; James A. Sharpstene, 25, of Morrow Road, Pavilion; Nathanial D. Clark, 20, of Milburn Street, Rochester; and, Melany M. Schlicker, 18, of Countess Road, Henrietta.
All seven suspects were issued appearance tickets.
Charges are pending against Smart.
Buttermilk Falls is owned by Carla Crocker, a Le Roy resident.
Yaeger said people trespassing at the falls not only put themselves at risk, but all of the people who need to respond when an accident occurs.
"That's something to think about," Yaeger said. "The fact that these kids may be sightseeing and walking and seeing the falls from both sides, but if something were to happen, they're putting a lot of individuals at risk."
Chief Wood said during his 12 yeas with the department, there are been three people who fell from the top of the falls. The first two victims died as a result.
Eric Friedhaber, a Le Roy resident whose property abuts the top of Buttermilk Falls, said trespassers are common on both sides of the creek around the falls.
"There's no guard rails so you can get pretty close to the edge," Friedhaber said. "When you go back there, there are lots of beer bottles and cans and graffiti on the bridge. Any time the weather's nice and there's water in the creek, people go back there and hang out. It's a party spot for kids."
Friedhaber said he's seen people get pretty close to the edge of the falls, even dancing at the edge of the falls.
"Every day three or four cars are parked out here and people go back there all the time,"  Friedhaber said. "I'm kind of surprised it (people falling) hasn't happened more often."
Responding to the scene today: Le Roy fire, Sheriff's Office, Mercy EMS, Mercy Flight, Bergen fire, Genesee County Emergency Services and the rope rescue team.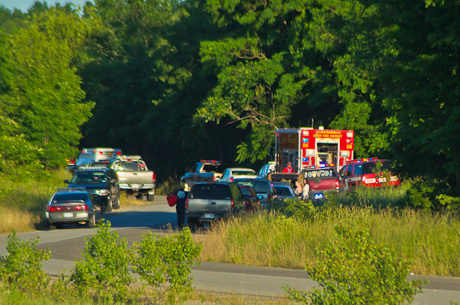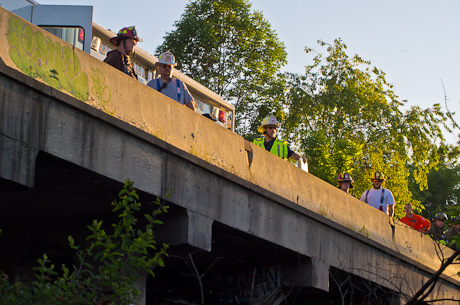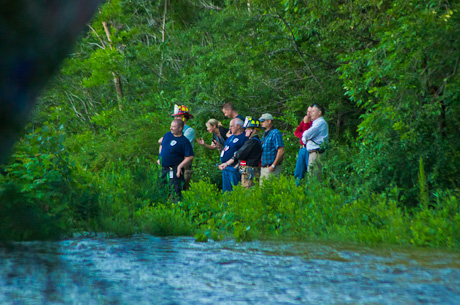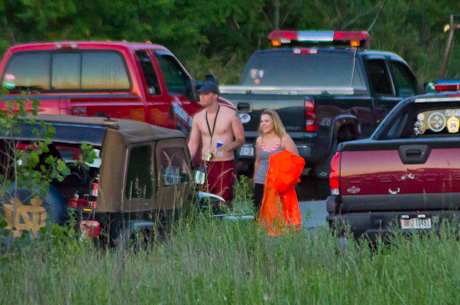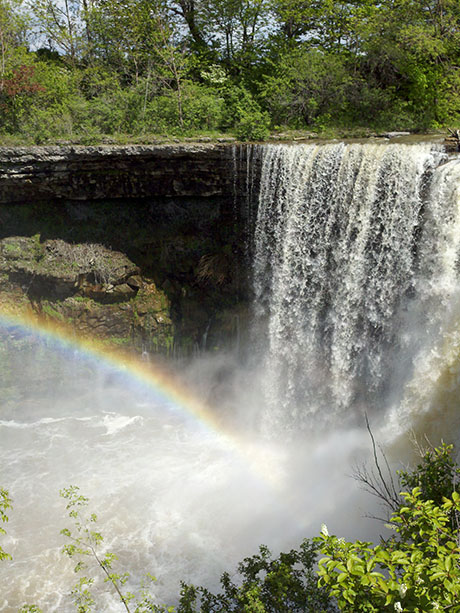 Bottom photo of Buttermilk Falls taken by Eric Friedhaber on an earlier date.
June 14, 2012 - 10:07am
#1
I learned how to repel at Buttermilk Falls cliffs .... I guess I was trespassing. Glad everyone is Okay!
June 14, 2012 - 10:26am
#2
Spent my entire childhood trespassing at Buttermilk (Mom, don't read this) and remember two trails, one on each side, that we traversed carefully and methodically to get down to the bottom.
So glad this didn't turn into a tragedy.