May 27, 2012 - 10:02am
Batavia native mounts campaign against Ranzenhofer for Senate seat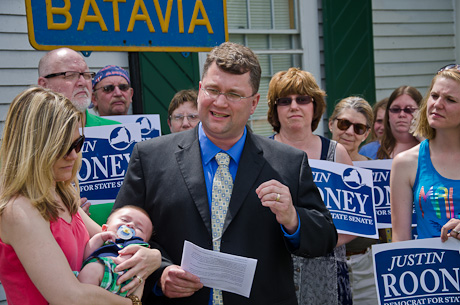 Justin Rooney, a deputy supervisor in the Town of Newstead, announced Saturday that he will challenge incumbent Michael Ranzenhofer in the new 61st Senate District.
Appearing in his native Batavia on his second campaign stop of the day, Rooney was surrounded by local Democrats and joined by his wife, Sarah, and his children.
Rooney pledged support for school teachers and to fight unfunded mandates on local governments.
He said he would bring the same spirit of cooperation to Albany that helped the village and town governments in Newstead save taxpayers money on a consolidated court and shared services in the highway departments.
He contrasted that with votes by Ranzenhofer to hold separate state and federal primaries, costing taxpayers $50 million, and Ranzenhofer's vote to create another Senate district.
"At a time when New York is trying to decrease the number of politicians, he's voting to increase the number of politicians," Rooney said.
Rooney knocked Ranzenhofer as an Albany insider and promised that he would never become an Albany insider.
Lorie Longhany, county chair or the Democrats, said Rooney was just the person who could make a difference in Albany.
"He's really one of us," Longhany said. "He's a rural guy who understands the rural issues. He's going to make a great representative."
May 28, 2012 - 10:02am
#2
Dave - How is he not a politician? Are we so caught up in our own cynicism that we are unable to separate good politicians from bad ones? Are all used car salesmen crooks? No. Neither are all politicians. I think that Mr. Rooney is one of the good ones, one who has a record of government service that he can be proud of and that's what I want to send to Albany. We need to emphasize statesmanship, rather than attack the notion of political service.