December 1, 2011 - 9:45am
BDC seeing bids to transform former Carr's warehouse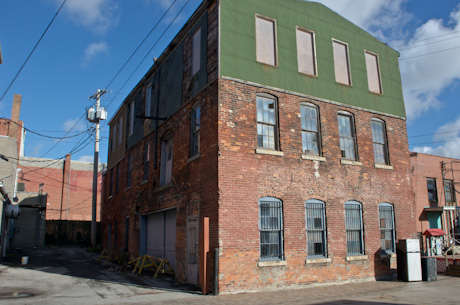 Press release:
On behalf of city hall, the Batavia Development Corporation (BDC) has distributed a request for proposals to attract developer interest in the former Carr's warehouse building located on Jackson Square in Batavia. The city has asked for proposals to convert an historic 1880 warehouse into a productive mixed-use, office, commercial or residential building.
"This 6,000-square-foot historic conversion project, considered small to some, could have a real impact in downtown Batavia," said Jason Molino, city manager. The city acquired the property in 2010 through a delinquent tax foreclosure process.
Consultants have recently indicated a lack of Class A office space availability, a void in certain retail sectors and a gap in modern housing stock for professionals. Each of these uses would be permitted for this project under the city's C3 zoning law.
Inciting revitalization efforts through public and private partnerships has become the norm for the City of Batavia.
Neighboring to the warehouse, other public-private efforts have resulted in the redeveloped Center Street Smokehouse restaurant and the 19-25 Jackson Street mixed-use redevelopment by the Valle family to house their jewelry store. Habitat for Humanity also acquired a distressed residential property though a unique public-private arrangement with the city.
On a grand scale, the Mancuso Business Development Group wrapped up its multimillion dollar Masse Gateway redevelopment project to improve the product mix, accessibility and infrastructure to the century-old 30-acre industrial site. The city had secured a $1,500,000 RESTORE NY Communities grant that was redistributed to the developer upon satisfactory completion of the project.
"Substantial renovations to more than 100,000 square feet of flex-industrial space would not have been possible without the city's support," said Tom Mancuso, president, Mancuso Business Development Group.
Earlier this year, the city submitted a NY Main Street grant request that is expected to leverage a $275,000 private investment to improve 30 downtown commercial and residential properties. And just last month the city applied for a $100,000 grant through the consolidated funding application process to foster job creation at the new Save-A-Lot store prepping to open after considerable renovations to a longtime vacant building. Both of these projects anticipate award announcements this month.
The City of Batavia serves as the regional economic center for Genesee County situated between Buffalo and Rochester at Thruway exit 48. Four State Routes (5, 33, 63 and 98) traverse the city and provide easy access for both consumers and workers. Daily traffic counts top 40,000 vehicles and more than 3,000 people are employed within walking distance of the featured redevelopment site. To request a proposal package, contact the Batavia Development Corporation at 585-345-6380 or [email protected].
December 1, 2011 - 1:44pm
#4
problem is there is no parking for this building..would be nice to see it used for something...I would think the city should work on filling in the front of Main St..The Carrs building is still empty so is the building next to it...The above would take a ton of money..Lisa it is in Jackson Sq..Cant see who would want to live their...