June 20, 2012 - 11:07pm
Bellavia knocks Collins for seeking funds from Obama's stimulus package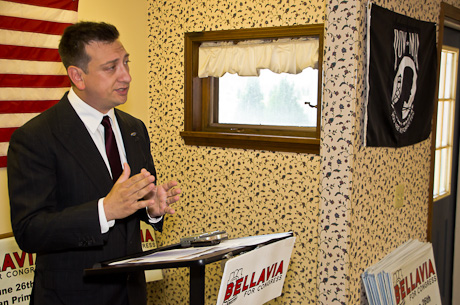 According to David Bellavia, when it comes to fiscal policy, his GOP primary opponent in the NY-27 race, Chris Collins, isn't conservative enough.
His proof: Collins said President Barack Obama's multibillion dollar economic stimulus spending was good for Erie County.
Collins was county executive for Erie County in 2009 and his office put out a newsletter saying as much, Bellavia said in a press conference today at his new campaign headquarters on East Main Street, Batavia.
"I can't find one fiscal conservative who agrees that Obama's stimulus was a good thing," Bellavia said.
Bellavia said Collins loved the stimulus plan so much that he asked that a total of $1.9 billion be channeled to Erie County.
In an effort to fact check Bellavia's statement, a Google search turned up a press release from the City of Buffalo in which Collins and Mayor Bryon W. Brown say they want to see Erie County and Buffalo receive the stimulus funds.
Collins quote:
"At a time when county resources are scarce, a possible injection of federal dollars could have a tremendous impact on Erie County's aging and neglected infrastructure. Funding for even a fraction of these projects would represent a significant investment in our community, the opportunity to hire thousands of local workers, and reduce our need for capital borrowing in the future."
Bellavia also said Collins used $85,000 in stimulus money to balance the Erie County budget.
Ask for a response via email, Michael Kracker, spokesman for Collins, wrote:
Chris Collins balanced the budget in Erie County the old-fashioned way -- by reducing the size of government, vetoing hundreds of additional spending requests from liberal Democrats and making government more efficient. Mr. Collins was actually threatened with a lawsuit by Democratic politicians like Louise Slaughter and Kirsten Gillibrand for NOT spending the stimulus money. Mr. Bellavia has his facts wrong.
While still in office, Collins did an interview with Buffalo's Art Voice and explained that Buffalo was receiving $75,000 in stimulus money, available through the efforts of liberal Democrat Sen. Charles Schumer, to offset anticipated shortfalls, as a result of the recession, for Medicaid expenses.
The other ongoing dispute between Bellavia and Collins is over the conditions of any debate.
Numerous times, Bellavia has said he wants a chance to debate Collins on the issues, but he claims Collins keeps dodging a debate.
On Tuesday, there was a debate scheduled in Clarence that Bellavia did not attend because, he said, the whole format was set up to favor Collins. Bellavia says the scheduled moderator is an Erie County legislator who has received substantial financial support from Collins, and that Collins wouldn't allow a reporter from the Buffalo News on the panel. Bellavia also asserts that the Erie County GOP was handing out tickets to only 200 Collins supporters. In addition, Bellavia wanted the debate to be televised.
Bellavia said that the no-debate stance by Collins is a strategy to marginalize the Bellavia campaign since Bellavia doesn't have a personal fortune to spend, as Collins does, on campaign ads.
Here's the response from Kracker on behalf of Collins:
As for the debates, Mr. Bellavia once again demonstrates an aversion to the truth. In May, Mr. Bellavia enthusiastically agreed to the debate sponsored by the ECFRW -- in front of over 100 people. It was only afterwards that his campaign made up numerous stories to cover for his ducking of the issues and Mr. Collins. His claims are simply untrue -- pure and simple. Of the five candidates invited to participate -- including all three U.S. Senate candidates, Mr. Bellavia was the only one who took issue with the terms and refused to participate.
UPDATE Thursday, 7:31 a.m.: Here's a link to a Buffalo News article on what happened with $41 million of the stimulus funds. (Link provided by the Bellavia campaign.)
June 22, 2012 - 4:13am
#1
That is an outstanding suit that he's wearing. It's crisp, stands out but also isn't overstated. The tie is just the right width and color as well. He actually can wear a black suit without looking like an undertaker. If he picked it out, or to the person that did, great call!
(edited for a grammar error)