March 24, 2012 - 6:27pm
Benefit in Alabama raises funds for man who was brutally assaulted in Rochester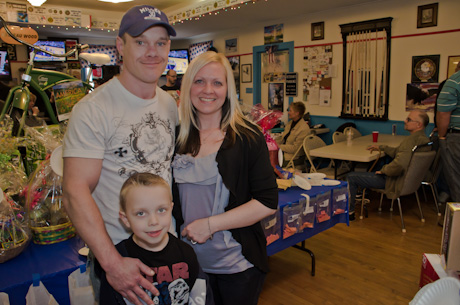 Photo: Randy Tonner Jr., Maddos, 6, and Maddox's mother, Michele.
Randy Tonner Jr., hasn't worked since July 2.
That was the night he was brutally attacked on a street in Rochester that put him the acute brain injury unit at Strong Memorial Hospital for more than a month.
At the time, Tonner was a single parent raising his 6-year-old son, Maddox, living and working in Rochester. He was an independent contractor, installing flooring for Sherwin Williams.
With no employer-provided insurance, he's had no means to care for himself or his son and had to give up custody of Maddos and move back to Oakfield.
Today, the community rallied around Tonner with a fundraiser at the American Legion Hall in Alabama, which featured a chance auction and a beef on weck lunch.
"People have been great," Tonner said. "The show of support, not just for me, but for my family, has just been fantastic."
Tonner was living on Park Avenue the night he walked by 25 Park Ave. with friends at about 2 a.m.
There was a group of people having a party on the porch and some sort of scuffle ensured.
Tonner's father, Randy Tonner, said the detective described it as something relatively minor, like you might find on any college campus on a Friday or Saturday night.
Seconds after it broke up, a man sucker punched Randy Jr. from behind.
"The dectective said it was the sucker punch of all sucker punches," Randy Sr. said. "From the tape (there was a surveillance system installed at the house), you could see he was out before he hit the ground. His head hit the cement and then another man came up and kicked him in the head."
A woman rushed to Randy Jr.'s aid. When police arrived, they found him lying beside the road in a pool of his own blood.
Two men were arrested, Justin Cropo and Nicholas Vitale, and a grand jury indicted them on a count each of assault in the second degree. The men are awaiting trial on the charges. (In an interesting footnote on the case, another man at the scene who looks like Vitale, and actually came to Randy's aid, was arrested initially, but the charges were dropped).
Randy Jr. said as far as he can remember, he's never met either of the men before.
After being released from the hospital, Randy Jr., has been on anti-seizure medication and his father said his main issue is the lack of mental endurance to work a full day.
He should be able to work again some day, but doctors are unsure when. After his next doctor's visit, they hope he will be cleared for part-time work.
"If you ask me, from the second I got out of the coma I wanted to go back to work, but I don't know, whatever the doctor says," Randy Jr. said.
The damage to Randy's brain has forced him to learn to read again and he also lost sight in one eye.
His father said today's fundraiser was really an emotional event for him and he was especially grateful to Ron Sessaman, who has a history of organizing fundraisers in the community and arranged this one.
"For him to take the time for these people to come out here, I get choked up," Randy Sr., said. "It just touches the heart more than you can know. It's just so, so special.  I think this also great for Randy. This keeps his strength, because this is hard. This keeps his attitude up."
Individuals who wish to make a donation to Randy Tonner, which are aimed at just helping him meet basic living expenses until he can return to work, can call Sessaman at (585) 734-7998.