August 28, 2011 - 11:13pm
BREAKING: Wiener Dog Race results may be overturned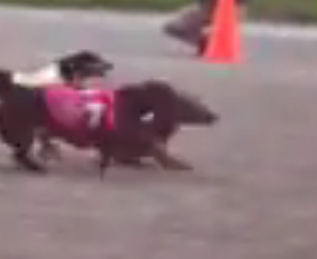 Officials are reviewing the photo finish of the Wiener Dog Race at Batavia Downs on Sunday afternoon.
The official results will be announced Monday morning, according to Todd Haight, general manager of live racing.
Haight said he wants to review the photos more closely and talk with officials who were in the upstairs booth to better understand what they saw.
A handful of people on the ground after the race thought Gordon won, but a ruling came from the upstairs booth that Jake Arnold had pulled out another victory.
Haight released photos of the finish that seem to show Gordon, owned by Lindsay Ryan, beating odds-on favorite Jake Arnold (wearing pink and #7) by a head. Jake Arnoald is owned by Jane Smart.
"I feel bad for Jane and Jake Arnold, but as of right now it appears Gordon won by a head," Haight said.
If the results are overturned, Arnold will have failed at his try at a threepeat. If Gordon is declared the winner it will be a major upset for the first-time competitor.
Photo below: Gordon and Lindsay Ryan.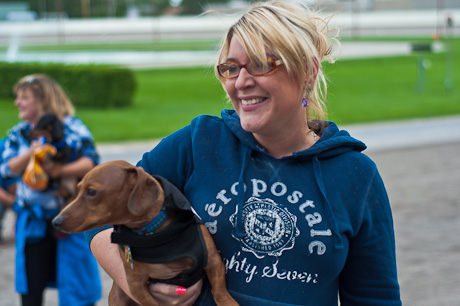 Previously: Wiener Dog Races: Jake Arnold does it again
August 29, 2011 - 9:58am
#1
I had my money on Bella; the dog that won the first heat.
A good time was had by all. The kids loved it both little and big kids too.
August 29, 2011 - 8:30am
#2
I was at the track for this event. I must say, I am a little disappointed that there isn't a performance enhancing drug test prior to the race. It is obvious to me and many folks in my semi-circle of friends that Jake Arnold is on the juice. I call for a full investigation.