November 3, 2011 - 6:25pm
City firefighter saves life while on vacation in Orlando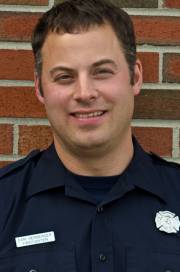 Dan Herberger is trained to save lives. It's what he's paid to do.
Recently, though, the unassuming nine-year-veteran of the Batavia Fire Department saved a life while on vacation.
Returning with his family from Disney World, Herberger was in the Orlando airport with his parents, wife and children.  
Part of the group wanted hamburgers and fries for dinner, and the rest wanted something a little more substantial.
While Herberger waited in a line with his dad, he noticed a woman by a kiosk collapse.
"The lady just collapsed," Herberger said. "It wasn't a weak-kneed faint. She just went down."
Herberger was among several people who rushed to her side. As he looked at her, he could tell she wasn't breathing. He asked somebody to call 9-1-1 and asked others to try and find a defibrillator.
When he check the woman's artery for a pulse, there was none.
Herberger began CPR.
Right then, a registered nurse emerged from the crowd to assist him.
A short time later the defibrillator arrived. The nurse applied one paddle, Herberger the other. They waited for the machine to give the signal for a shock, and applied it. Then Herberger started chest compressions again. After a minute, he checked for a pulse again, and the defibrillator indicated the woman had regained a strong, steady pulse.
Herberger filled in emergency dispatchers on what he and the nurse did. He said when he was a paramedic for the city, he liked having information about a situation before arriving on scene, so he passed along what he knew.
Within minutes local firefighters were on scene and took control of the situation.
Herberger went back to the business of getting his meal before boarding his flight. He said as he was boarding, the firefighters were still on scene with the woman tending to her. She was on a stretcher with her head slightly elevated, which tells him she was probably doing OK at that point.
He hasn't checked on her condition, he said, because that feels too much like he's trying to take credit.
The local attention isn't something he's sought out, but said, "I made the mistake of telling one of my buddies on an off day."
That led to Chief Jim Maxwell finding out, who wanted to ensure Herberger got some recognition for his swift work to revive the woman.
"It's something anybody else would have done if they had been there," Herberger said. "If I hadn't have been there, somebody else would have done it. That nurse was only 30 seconds behind me. She would have done it."
November 3, 2011 - 7:11pm
#1
He sounds like a really fine guy who cared. I wonder if the woman can remember what death was like. I would have disobeyed God's will too, if it had been me.
Firemen beat the hell out of politicians, in my perfect world.