June 23, 2013 - 11:34pm
Collins tells O-A grads to slow down and live life according to core values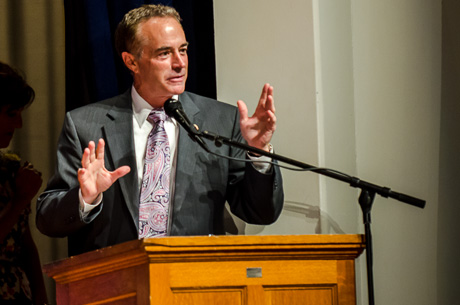 Rep. Chris Collins told graduating Oakfield-Alabama students Sunday: slow down.
Collins recounted all that might be taken for granted today that didn't exist when today's seniors were born: DVRs, GPS, iPhones, Google, Twitter, text messaging, satellite radio. The pace of life has quickened, but students can navigate the fast pace of 21st Century life if they have core values and take time to weigh their decisions against those values.
"With all of these advances in your lifetime, can you imagine what the next 18 years are going to bring?" Collins said. "Now that I've spent the past several minutes preparing you to think about the speed of life, I'm going to give you some advice that may seem counterintuitive: slow down."
The young men and women of the 2013 graduating class should take time to write a personal vision statement to guide them as they go forward in life, Collins said.
"As everything around us moves faster, or at least it appears to, I think it is all the more important that you take time for what really counts," Collins said.
Graduates should take time, he said, to ask themselves, "What do you stand for?"
"Life is all about choices," Collins said. "What you do, what you say, how you make people feel are all choices."
Collins closed with a quote from Elbert Hubbard, the WNY writer and thinker from the 19th Century.
The world is moving so fast these days that the man who says it can't be done is generally interrupted by someone doing it.
Today's graduates should take action, get involved and make a difference, Collins said.
O-A's top 10 graduates: Paige Chatt, Jessica Cherry, Chelsea Cleveland, Jennifer Crossen, Brittany Denton, Kerry Mills, Teresa Natalizia, Alyse Shamp, Katie Spence and Morgan Zakes.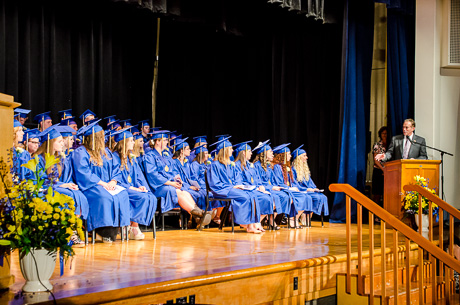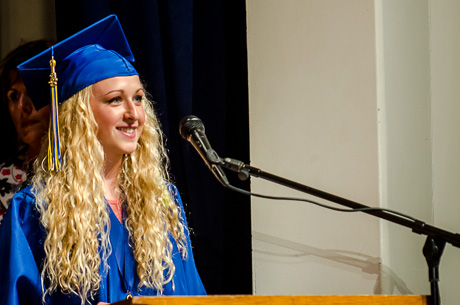 Valedictorian Jennifer Crossen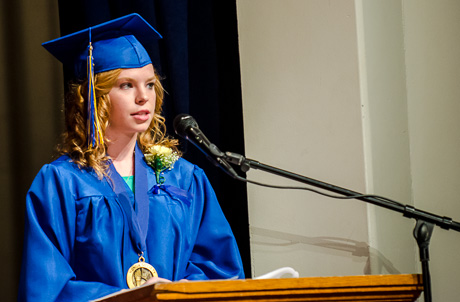 Salutatorian Brittany Denton