December 31, 2011 - 9:02am
Contest: Main St. Pizza Company NFL Challenge Week 17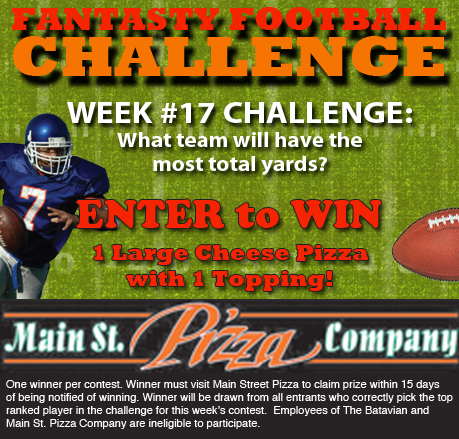 Last week, several NFL backs eligible for picking in the contest had two receptions, but none had three.
In a random drawing of the entrants who picked one of the back that had at least two receptions, James Demmer came out the winner.
Demmer wins a large cheese pizza with one topping. He has one week to claim his prize at Main St. Pizza Company.
To enter this week's contest, click here.
December 30, 2011 - 9:11pm
#1
I play this game every week. This week I click on the link to enter this week and it tells me that it's closed before I registered. It was just posted last night so I'm a bit confused as to why it would be closed. Please help =)