October 20, 2011 - 2:35pm
Contest: Main St. Pizza Company NFL Challenge Week 7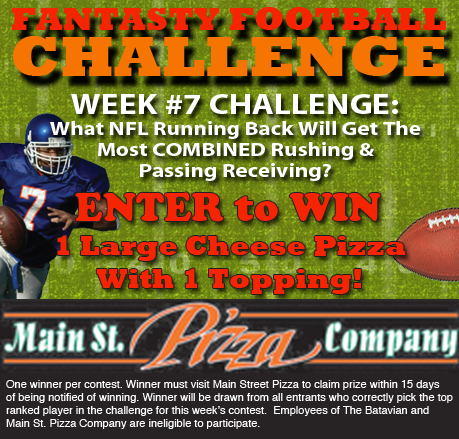 Congratulations to Barb King, winner of the Main St. Pizza Company NFL Challenge contest for week 6. She was randomly selected from among the 16 people who correctly predicted that Cam Newton of Carolina would throw the most interceptions. Newton tossed three picks. King wins one calzone and French fries.
All contest winners have one week to claim their prize.
October 22, 2011 - 12:31am
#1
Love these challenges, but just would like to point out one of the choices is LeSean McCoy. The Eagles have a bye week so he won't be playing so he shouldn't be an option.