June 12, 2012 - 2:50pm
Cornell warns of 'worst outbreak in years' for armyworm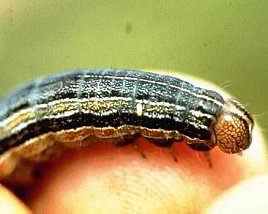 Armyworms are on the march and Cornell Cooperative Extension is alerting area farms and residents to be on the look out for the potentially destructive pest.
The worms come out in mass every four or five years, but Jan Beglinger, agriculture outreach coordinator for Cornell in Batavia, said this season's infestation is "one of the worst outbreaks we've seen in years."
The worms munch on grasses and pose a threat to wheat and corn.
Farmers are well aware of armyworms and how to deal with them, Beglinger said, but that doesn't mean they won't have their hands full.
Typically, farmers need to spray infected areas and a border area of 20 or 30 feet to knock back an infestation.
Residents with large lawns should be on the look out for infestations, too. The worms eat grass, but don't eat roots, so lawns should recover; however, homeowners should look in to a lawn-specific pesticide formulated to kill armyworms to help control the infestation.
If a homeowner lives next to a farm and sees an infestation moving toward a field, the courteous thing to do is notify the farmer so he can possibly take protective action, Beglinger said.
Armyworms have been reported from Erie County to Monroe County and every place in between, Beglinger said.
"It's a cyclical insect that comes out every four to five years, but it seems a lot worse this year than it normally is," Beglinger said.
Resources:
June 12, 2012 - 7:38pm
#4
WARNING: If you have a weak stomach skip to the next comment...
Yesterday was such a beautiful day. I decided to ride my motorcycle to work. Needless to say I had shorts on. On they way home at 6:30 pm I felt spray on my legs from the guts of these nasty armyworms. I will never ride in shorts again. Disgusting