May 11, 2013 - 8:03pm
Darien Lake opens 2013 with greater emphasis on family and WNY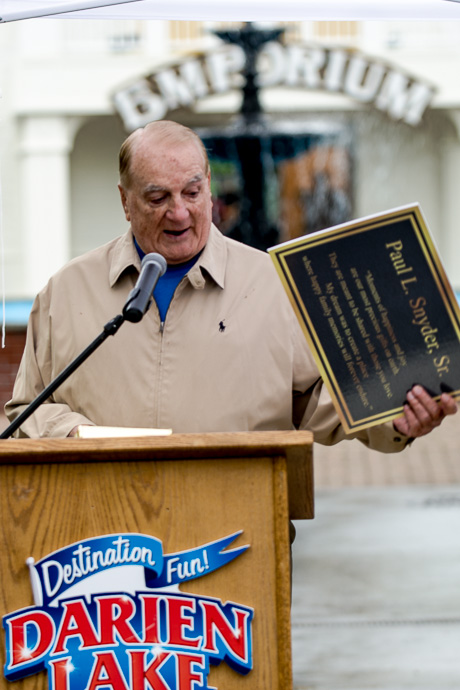 Darien Lake Theme Park is getting back to basics -- entertaining families and celebrating its Western New York roots.
Symbolic of that theme was the grand opening today of the 2013 season with a ceremony honoring Paul Snyder, the founder of Darien Lake Fun Country, which was primarily a campground until 1981, when Snyder opened an amusement park.
Snyder, now owner of Beaver Hollow in Java, said he wanted to create a family-oriented atmosphere and he's glad to see Darien's current owners, Herschend Family Entertainment, putting more emphasis on family rides and attractions.
"They've turned it back into a family-oriented resort," Snyder (top photo) said. "I think when Six Flags owned it, they made it kind of a hard-ride park for teenagers and young adults. It was different and harder and I think (the present ownership) has done of good job of turning it back into a family-oriented park. They've done a good job."
New this year is an area called Boardwalk, which features a renovated carousal and Blast Off, a brand new ride that General Manager Bob Montgomery called a "family thrill ride."  It simulates the feeling of "riding a rocket ship to the moon," generating four Gs of air-powered force.
Also new this year is an Anchor Bar food stand, which fits into a growing trend at Darien Lake to feature things that make WNY special. The original Anchor Bar in Buffalo, of course, is where buffalo wings were invented.
The park also serves two other WNY delicacies, Perry's ice cream and Sahlen's hot dogs.
Local music will also get a little extra attention this summer with local bands being invited in for a summer-long battle of the bands.
One of the upgrades to the carousal was decorating it with paintings of WNY scenes (two photographs by Howard Owens were turned into paintings for the carousel -- a picture of a barn in Stafford and a sunrise over Harlow Lake (pictures below).
All of Herschend's parks feature regional themes, Montgomery said, but it's also what the company's research showed people wanted as part of the Darien experience.
Even our Canadian visitors, they're coming to a different country and they wanted an experience that reflected that," Montgomery said. "That's why we began the relationship with Anchor Bar. That's going to be appreciated by our local visitors, but by the people that come from further away as well."
The park's light show has also been upgraded into a bigger laser and fireworks show called "Ignite the Night."
The creation of Broadwalk, installation of Blast Off and creation of "Ignite the Night" was a lot to take on over the off-season, Montgomery said, so the push toward more WNY touches is far from over. There's only so much that can be done during a single off-season.
"You'll see that more and more as we make our way around the park with renovations, bringing those things in," Montgomery said.
Snyder is clearly proud of what the park he started as become and said it's something Genesee County should treasure.
"Darien Lake is the largest privately owned attraction in the State of New York," Snyder said. "A lot of people don't know that, the fact that it employs thousands of young people every year and that employment probably helps keep those kids working and out of trouble -- there's just so many benefits that flow from the investment of hundreds of millions of dollars at this point, it's unique and special."