October 7, 2014 - 7:08pm
Dog can finally be adopted after owner admits to animal torture charge and surrenders ownership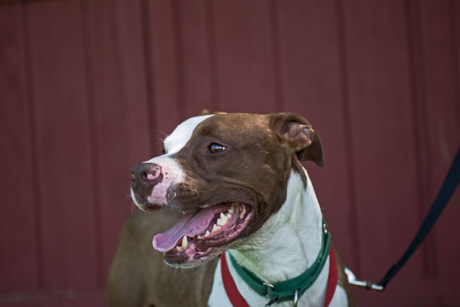 Fox'r is ready to go home. Whose home, we don't know yet, but it won't be the home of Nina Kelso.
In City Court today, Kelso finally surrendered ownership of the boxer, who has been living at the Animal Shelter since being found on death's doorstep at Kelso's former residence on Hutchins Street more than nine months ago.
He can now be adopted into a forever home by a local resident.
While Fox'r has put on weight -- he's up to 84 pounds -- and regained his strength, he's also been fidgety and nervous while confined most hours of the day to a cage at the shelter. He likes people and wants to be around people, volunteers say.
The volunteers at the shelter have taken to calling him "Skully" and "Boyfriend" and they've been eager to see Kelso's court case completed so he could find a new home.
Concern for the dog is one reason the District Attorney's Office agreed to a plea bargain in the case, ADA Robert Zickl told Judge Robert Balbick in City Court today.
"There's no reason for the animal to continue being confined to the shelter," Zickl said. "It should be adopted out and that is what we prefer to do because it's in the best interest of the dog." 
Kelso entered a guilty plea on an Alford basis to one count of torturing an animal.
An Alford plea means she concedes she would likely be found guilty by a jury, but does not admit to the facts of the prosecution's case against her.
Today's proceedings started with Kelso's attorney, Fares Rumi, laying out his understanding of the plea agreement offered by the people.
The agreement was a guilty plea to torturing an animal, no fees for his care up at the shelter and no jail time.
Balbick shot back that he wouldn't necessarily agree to the terms at sentencing.
"I would have to look at her background, a pre-sentence investigation, the facts of the situation and decided if no jail would serve appropriate justice," Balbick said. "I can't do that blindly. I know nothing about your client except that she is charged with torturing an animal."
Looks of shock and horror passed over Kelso's face, who sat at the defense table in a black blouse fiddling with a long silver chain draped around her neck. She appeared close to tears.
After some whispers between her and Rumi, some more back and forth between Rumi and Balbick, Balbick suggested the attorneys proceed with the planned suppression hearing.
Rumi had made a motion to get thrown out any statements Kelso made to Officer Jamie Givens the day she responded to an animal cruelty complaint at 142 Hutchins St. on Feb. 4.
Givens found Fox'r at the top of a common stairwell (shared by two apartments). Food was strewn everywhere, there was no water, and it didn't appear that Fox'r even had the strength to raise his head, Givens testified.
He was so emaciated his ribs were showing.
Minutes after Givens arrived on scene, Kelso came up and walked up the stairs and spoke with Givens.
Rumi argued that Kelso should have been read her rights before speaking with Givens. An argument Balbick would later reject saying that Kelso wasn't in custody at the time and her statements were voluntary. 
Kelso told Givens, Givens said, that Fox'r had eaten either cigarettes or some chemical that made him sick and cause sudden weight loss. Kelso reportedly said she knew Fox'r was close to death and that her brother-in-law was supposed to pick him up the next day and take him some place and shoot him to death.
Through the entirety of Givens testimony, Kelso sat silently shaking her head "no."
After the testimony, both attorneys met with Balbick privately.
When they came back into the courtroom, Rumi met with Kelso privately. They all then approached the bench and Rumi said Kelso had agreed to the terms.
Balbick again emphasized that he retains the option to reject her guilty plea when she comes in for sentencing Jan. 6.
Through tears, Kelso said she understood.
As the details of her guilty plea and the process were discussed, Kelso stood next to her attorney nearly sobbing, but mostly holding it together.
When Balbick asked her if she was ready to surrender the dog, Kelso could barely form the word "yes" with her mouth, started to sob briefly and looked straight up at the ceiling.
Seconds passed, and she managed to sob, "yes."
An animal control officer at the back of the courtroom began preparing the paperwork.
The animal shelter is located at 3841 W. Main Street Road, Batavia. Phone: (585) 343-6410. Applications for adoption are being accepted immediately.  
Around the time of Kelso's arrest, another Batavia woman, Lauren K. Pellegrino, also also arrested for allegedly mistreating her dog, Nessa. Pellegrino was scheduled to appear on her case at 1:30 p.m., and as of 4 p.m., she had yet to show up in City Court. She missed a previous court appearance, as well, and eventually turned herself in on a warrant, according to court officials. The court was attempting to contact her attorney this afternoon. Nessa remains confined to the shelter.
CORRECTION: we originally wrote "no fine." Kelso could be fined up to $1,000. The plea relieves her of responsibility for shelter fees. However when Balbick informed her she could be fined Kelso said she had been willing to pay for Fox'r's care.
October 7, 2014 - 10:07pm
#3
Any sentence that does not include at LEAST six months in jail would be a travesty. Ths woman plead guilty to the charge - thereby verifying Officer Givens description of this poor dog's condition when found.. That, combined with the fact that she made NO attempt to adopt the dog out or at least surrender it, and instead choosing to have the dog illegally shot to death, shows her true character.
Jail time, her agreeing to never "own" another animal, and the $1000.00 fine are all certainly called for.