February 12, 2014 - 4:36pm
Dog found malnourished showing signs of recovery, now in foster care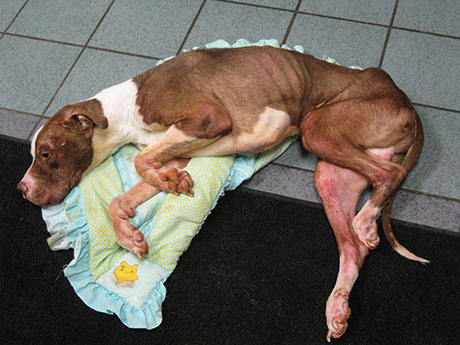 Nina Kelso certainly has her supporters -- friends and family members who have argued passionately on Facebook and on The Batavian that those who judge her and heap insults upon her and even threaten her don't know the full story.
She would never abuse an animal and her dog was ill not from mistreatment, they say, but because he unintentionally ate something toxic.
Darren Dewitt:
Don't judge this one too soon. I've known Nina for years and something is off with this whole deal. My understanding is that the dog was dying and instead of having the vet put it down she let it live out its days at home with the family. The court has the final word.
Lynda Kelso:
Can't help it when a DOG does what DOGS do and gets into something and it makes them sick. ... He got sick and was vomiting. How do u loose weight when u get sick? He was weak from what he ate. They were trying to get food in there right down to baby formula.
Nina Kelso's case began at 6:08 p.m., Feb. 4, when Sgt. Chris Camp and Officer Jamie Givens responded to a report on Hutchins Street of a malnourished dog.
When they arrived they spotted a canine inside that, according to the officers, was emaciated and couldn't stand on its own.
Dr. Fran Woodworth of State Street Animal Hospital was contacted to assist with the health care of the animal.
Woodworth said she arrived at the aninmal hospital around 7:30 and found a dog that was severally malnourished.
"He was emaciated and mentally he was dull and disoriented," Woodworth said. "I don't know how much of that was starvation or, the officers told me that his owner said he had gotten into potentially toxic substances, cigarette butts and incense oil or something along those lines, and that was why he was in shape in that he was in and had lost all that weight in just a couple of days. I don't know if he had gotten into some toxic substances, but he was definitely mentally not normal. He was just very depressed."
The dog had an intestinal infection, pressure-point sores and was blind.
Animal Control Officer James Sheflin began his investigation into the case the morning after the dog was brought to State Street. He took pictures and examined the dog and consulted with the District Attorney's Office on possible appropriate charges against Kelso (she was charged with torturing or injuring an animal, failure to provide sustenance, and owning/harboring an unlicensed dog).
"Honestly, he's the worst shape I've ever seen," Sheflin said. "The sores were over all his entire body. His feet were swollen two or three times what they should have been. His nails were overgrown. He literally didn't have enough strength to stand up. All he could do was lay down."
State Street staff monitored the dog's progress, unsure during those first 12 hours or so if the dog was going to make it.
But after 12 hours, the dog showed enough progress to warrant continued treatment.
Soon, he gained enough strength to stand up and he showed an interest again in eating.
The dog was brought in on a Tuesday and by Saturday it was in good enough health to be transferred to a foster family through Volunteers for Animals.
It's impossible to tell for sure, Woodsworth said, whether the dog ate anything toxic.
"Toxins are typically very short-lived," Woodsworth said. "They do their damage and then there is no sign of them in any blood test. They are gone. There was nothing in the blood work that was tagged as a sign of a toxin."
There's no indication the dog was brought to a vet for treatment prior to Camp and Givens picking them up, Woodworth said.
"He was overloaded with intestinal worms," Woodworth said. "There were pressure sores on all contact points, particularly his elbows and hind legs from being recumbent for so long. He hadn't eaten in weeks and was weak. That kind of emaciation doesn't just happen overnight.
"As far as I know," Woodworth added, "the owner never sought out veterinary help. What the dog needed was better nutritional care and parasite control and better health maintenance."
Woodworth isn't sure why the dog is blind or if the blindness will last. It's a problem in the dog's brain, not with the dog's eyes, she said.
That could be caused by a toxin, she said.
His mental state, depression, could also be the result of a "toxic insult," Woodworth said.
If the dog did ingest something toxic, veterinary treatment sooner would have been advised, she said.
"In fairness to her, the problems that I saw in the dog were primarily starvation and being recumbent too long," Woodworth said. "I didn't find any injuries inflicted by being kicked or being abused violently in that manner."
Woodworth is hopeful about the dog's improving health even if the prognosis isn't yet settled. The dog is in a good place now and that can only help him recover.
"It's too early to say if he will recover his sight," Woodworth said. "He retained his blindness after getting back on his feet, but he's acting normal otherwise. It was a joyful thing for us to see him on his feet and be interested in food by the next morning. He became rather attached to one of our technicians and began begging her for treats. He really showed some dramatic improvement in a short amount of time."
The Batavian tried to contact Nina Kelso through Facebook earlier today so she could tell her side of the story and have not received a response.
UPDATE: Nina Kelso contacted me about an hour after this story was published and said she prefers not to comment while her legal case is pending.
PHOTO: Batavia PD.
February 12, 2014 - 5:48pm
#2
Nothing more to say on this except that I think her supporters will be awfully quiet now that more "facts" are brought to light. I am glad to hear that this poor darling is getting better and showing the will to live and love again. Hopefully she gets a second chance to find a truly loving home.