April 28, 2014 - 2:26pm
Elmwood Cemetery hit by 'intolerable crime' again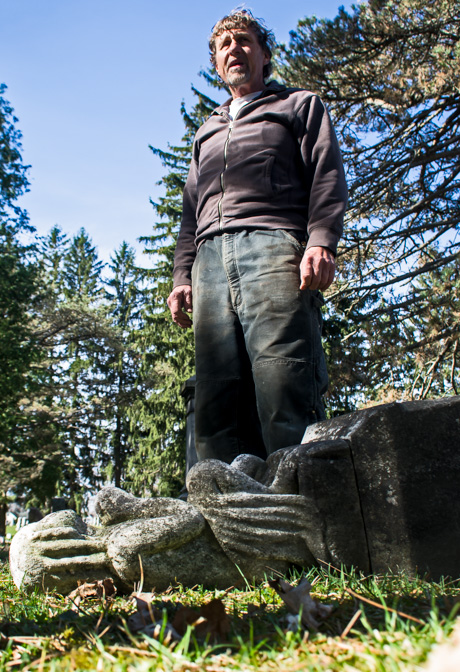 The grave marker is of a young girl on her knees hands clasped in prayer.
Elmwood Cemetery caretaker Steve Davis has been on the job for 20 years and the little headstone always reminded him of his daughter.
"My daughter, when she was little, always made a pose like that when she wanted something," Davis said. "Every time I go past that statue, if I'm trimming or working in the area, I always think of my daughter. When I came in and saw (it knocked down), it broke my heart."
The girl's praying headstone along with 28 others were knocked over by vandals sometime over the weekend.
It's the second time this month -- the first being around April 7 -- that vandals have rampaged through the cemetery knocking down headstones.
Det. Rich Schauf said the vandalism certainly has the attention of Batavia PD and patrols will be stepped up in the area.
"This is an intolerable crime," Schauf said. "Any criminal mischief isn't tolerable, but this is intolerable because of the lack of respect for the deceased. This isn't just about the police being upset. It should offend anybody with any common sense."
There's quite a bit the public can do to assist the police, Schauf said.
First, if young people are involved, they'll talk. They may even post pictures to social media.
"There's an old saying," Schauf said. "If three people know a secret, the only way it stays a secret is if two of them die."
The police would welcome any tips about pictures posted on Facebook or Twitter or Instagram or if anybody hears anything related to the crime; tipsters should call Batavia PD.
Second, if you're out and about at 10 or 11 at night, or 2 or 3 in the morning, take a drive down Harvester or Buell.  Normally, Schauf said he wouldn't recommend calling the police just because a group of youths are out, but in this case, if they're in that area, call the police.
"Normally, just because three people are out walking doesn't mean they're going to do damage to a cemetery, but if there's anybody in the area, we're going to want to know about it," Schuaf said. "Nobody is going to say, 'I'm not going to that.' We're hypersensitive about it right now and we're going to respond."
Whatever you do, Schauf said, don't go into the cemetery. It's closed after dark, so not only would you be trespassing, you would make yourself a suspect, and if the real suspects were ever arrested, part of their defense could then be that this other person was in the cemetery as well.
Batavia PD is budgeted for a new mobile surveillance camera in 2014 specifically to deal with troubled crime areas, but Det. Kevin Czora said it will be months before the department makes the purchase.
Davis said he might bring up with the board of directors at its next meeting the idea of the cemetery investing in its own camera system. There isn't much money for such a purchase, however.
He said he has spoken with kids who come around the cemetery about helping protect the cemetery.
"When I come by after supper, there's a ton of kids here riding their bikes or whatever and I try to befriend them only because this is their cemetery along with everybody else's and I ask them to keep an eye on it," Davis said. "I don't know what the answer is -- not let people in here anymore? You can't do that. How do you keep the bad ones out? I try to tell them keep an eye out. Let me know if something is going on."
Officer Jason Davis, who took the report on this weekend's vandalism, said patrols are certainly aware of the need to increase their presence in the area, especially at night and on weekends, but it's difficult to catch the vandals in the act.
"Obviously, it's dark inside the cemetery so it's very difficult for us see in there without driving in there and when a patrol car drives in there, usually people can duck in between the shadows and it's difficult for us to see them," Officer Davis said.
The cemetery can apply to the state for compensation for grave-marker repair, but it's a long process to get the funds. The total damage at this point exceeds $1,000.
Volunteers can't be used to help repair the damage, Davis said, because of possible liability. If somebody hurt their back lifting a stone, he wouldn't want to see the cemetery sued.
This weekend's damage forms almost a straight line from the front entrance on Harvester to a hole in the fence near Buell Street.
"They use bolt cutters or something to cut the hole," Davis said. "We fixed it the first time a long time ago, but as many times as I can fix it, they break it."
Because the aggregate damage of each of the two recent incidents exceeds more than $250 each, the vandals are facing possible felony charges for tampering with a cemetery, Officer Davis said. And each headstone knocked over constitutes its own misdemeanor criminal tampering charge.
Cemetery vandalism is a decades-old problem, Davis acknowledged. Elmwood records in the 1920s and '30s record acts of vandalism, but this latest round certainly has Davis feeling weary.
"It's going to be a long summer," Davis said. "It never starts this early. Usually it's in the summertime when the kids are out of school and this year it started early, and I've never had it so close together, so I'm just afraid of what's going to happen this summer."
Davis has had a rough month. Last week his shop on Buell Street was hit by burglars. They stole more than $3,000 in tools.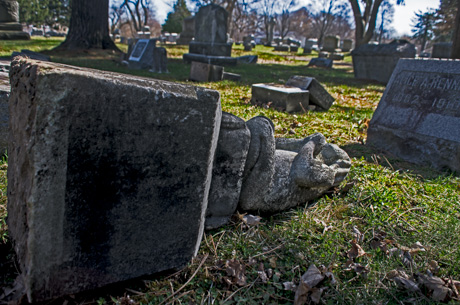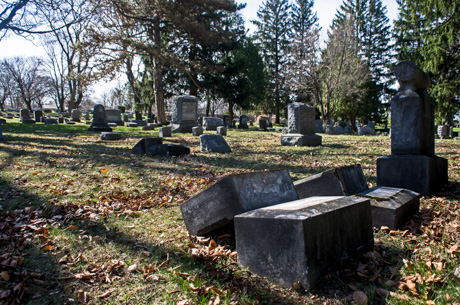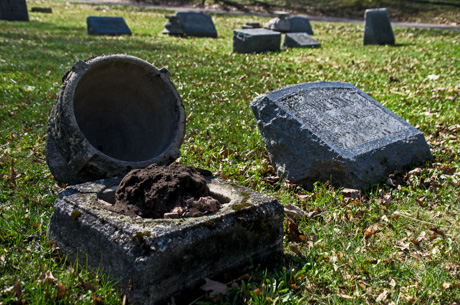 April 28, 2014 - 2:57pm
#1
seriously, somebody find something for these little delinquents to do! Make them work. I am pretty sure if they don't have loved ones already dead they will soon! How would they feel if some low life with no sense of values or moral compass destroyed the final resting place of their grandmother, grandfather, mom, dad or brother or sister? They need severe consequences before they turn from destruction of the resting place of the dead to destroying the lives of the living. Jail and hard jobs to pay for the damage and then require to work in the cemeteries, or perhaps with funeral directors for an up close and personal view of heartbreak at the loss of a loved one.