May 23, 2014 - 9:48pm
'This is the face of addiction'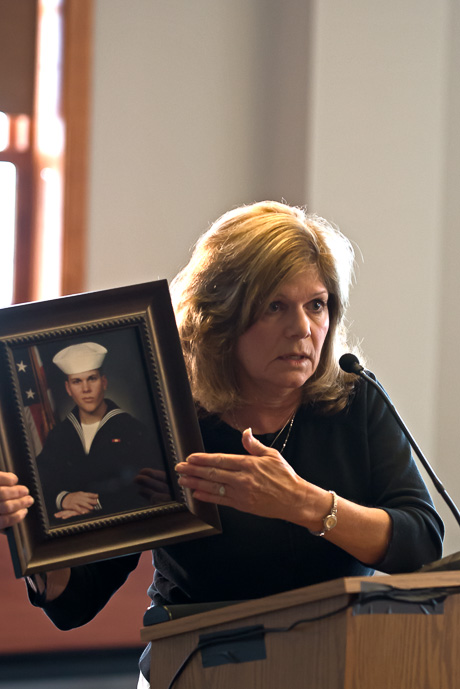 Daniel Placek seemed to have everything going for him. After graduating from Niagara Falls High School, he joined the Navy, served in Japan and came home, taking a job as a plumber five days after his discharge. By age 23, he owned his own home.
As the only child of Dan and Cheryl Placek, he was given every middle-class advantage in life. He was involved in sports, made lots of friends, worked hard, and he could always count on his parents when he needed help.
What they couldn't help him with, though, despite their best efforts, was drug addiction.
Five years into his career as a plumber, Daniel hurt his back. His doctor prescribed opiate-based pain medication.
"We could see a change in him over the last year of his life," Cheryl said. "We didn't know what it was. He was anxious. We couldn't figure it out. His friends were concerned. His employer called me a few months before he died and said what's up with Dan and we didn't know either."
Finally, Daniel confessed to his parents. He couldn't stop taking the pain medication he was prescribed.
Cheryl went with him to see his doctor. The doctor's solution: prescribe suboxone.
Suboxone is an opiate-based narcotic. It's often used to treat heroin addicts and others addicted to opiate-based pain medications, but suboxone is itself habit forming.
"Within days of withdrawing, Daniel became paranoid," Cheryl said. "He was talking about not wanting to live. We took him to ECMC, but we couldn't get a bed. We were there for 17 hours on Christmas Day in 2011."
Finally, they were referred to Lakeshore Hospital and Lakeshore agreed to admit him for seven days. On the fifth day, he was released to an outpatient clinic.
"They said he wasn't talking about taking his life so he was OK," Cheryl said. "It's like they were only listening to what he was saying and not what we were telling them, and here's my son who wasn't thinking straight."
They family tried getting Daniel into another program and hit roadblock after roadblock.
"He said, 'mom, don't you see, people don't want to help me anyway.' "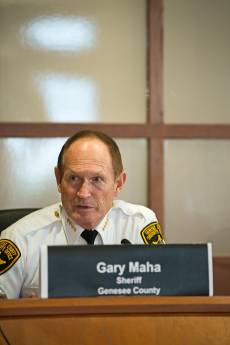 Sheriff Gary Maha
Against their original doctor's advice, Cheryl finally called the VA and begged the VA to take Daniel as a drug-treatment patient. It took two weeks, but the VA finally admitted Daniel to an inpatient program.
"He went in with full family support," Cheryl said. "We were there, his best friend was there, his girlfriend was there. That night at 1:15, the nurse called me and said, 'your son's passed away.' I asked her what happened. She was reluctant to tell me, but finally she told me. He took is own life."
The story of Daniel Placek is not very different from a half-dozen other stories that came out this morning during a two-hour State Senate Hearing at Batavia City Hall on the state's growing opiate-based drug problems.
When Cheryl Placek spoke, she held the picture of her son, pointed to him, and said, "This is the face of addiction."
She wasn't the first mother Friday to use that phrase during the hearing, and the faces being pointed to weren't burned-out crank heads living in the squalor of urban blight, but healthy, well-scrubbed faces of young men and women who grew up in rural communities, went to good schools, got good grades, came from strong nuclear families.
"In 2001, the Sisters Hospital wanted to open a methadone clinic here so we took a look at our opiate addictions and we had three active patients," said John Bennett, director of GCASA. "Roll the clock ahead, we now have 175 active admissions at any given time. We've treated 483 people since 2008 for opiate addiction. None of them look like, for lack of a better term, the traditional junkie.
"It used to be nobody wanted to be a junkie, that was leper of the addicts," Bennett added. "You roll the clock ahead and it's young kids using opiates and heroin."
The hearing was led by State Senator Phil Boyle, chairman of the Senate Committee on Alcoholism and Drug Abuse, and State Senator Michael Ranzenhofer, who arranged for the hearing in Batavia. On the panel where members of the local criminal justice community as well as leaders in drug-treatment programs. In the audience were those who deal with drug addicts, their parents and a few recovering addicts themselves.
The themes heard in Placek's story were repeated by both the professionals, those who have been through treatment, and the parents of addicts.
It's too hard to get into treatment;
Treatment is often over too soon;
There's little or no follow up, and if you're off drugs, you can't get treatment even if you still feel you need it;
Opiate-based drugs are easier than ever to get and more widespread in the community than ever before.
It was the same story for Mary Flippi, a mother of five. Two of her sons are addicts.
For one son, his first experience with drugs was at age 11. A friend introduced him to marijuana. She said by the time he was 15, he was addicted to heroin. By the time he was 22, he had overdosed three times.
To get him into rehab one time, she called every facility in Western New York she could find. Then she drove around Pennsylvania trying to find a facility to admit him. Finally, he found treatment for her boy in Louisiana.
"He was there for seven months, but within the first hour of him leaving, he relapsed," Flippi said. "He was at the airport waiting for his plane and the anxiety got to him. He went to the bar and spent the $10 they had given him for the trip home."
Flippi observed, "drugs are not the problem for the addict. Reality is the problem for the addict."
As he continued down the path of renewed drug use, Flippi again tried to find a treatment facility that would take him.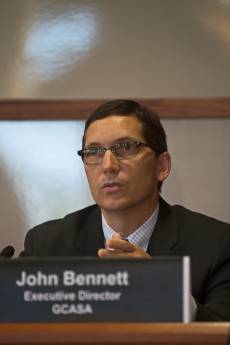 John Bennett, director of GCASA
Eventually, she became so desperate that after he stole a dirt bike from his own family, she had him arrested just so he could go to jail while she continued to work on getting him into treatment.
Later, Boyle would recall this statement and remark, "It's a story we've heard repeatedly around the state. A parent is put in a position where she must have her child arrested to get him into treatment. That is a system that truly needs reform and that's what we're doing here."
After jail, Flippi's son was placed in a 28-day treatment program, but within a week of his release, he was drinking again. Four days ago, he tested positive for heroin and cocaine.
"I'm at my wit's end," Flippi said. "I don't know where to go from here, because there is no place. There are placed to go, but they are no help. Twenty-eight days doesn't work, and just to get to 28 days, you have to fail in outpatient first before you even get 28 days."
Sheriff Gary Maha said heroin and opiate use is a significant and growing problem in Genesee County.
Most of the drugs sold here come out of Rochester.
Heroin is a growing problem because it's cheaper than pain pills. He said he's heard of people selling their pills for $25 and more per pill so they could buy heroin at $10 to $20 a bag.
"A few years ago, heroin was unheard of in Genesee County," Maha said. "Now it's very prevalent and very available. Half the buys by our Local Drug Task Force now involve heroin."
After the meeting, Maha said he thought it was an important discussion.
"What I heard today was very enlightening, even for me as somebody who has been in the business a long time," Maha said. "When you hear from the families of the addicted persons, even the recovering addicts, it kind of opens your eyes. We look sometimes strictly from a law enforcement perspective, not even thinking about the treatment and the education parts, but it's going to take a concerted effort by everybody to fight this thing. It's a difficult and complex issue."
Where heroin used to the drug of last resort for the most addicted junkies, said Bennett, it's now part of the potential mix for first time and novice drug users.
Teens use heroin, but more commonly, they raid grandma's medicine cabinet and swipe her pain pills.
"They're getting together on Friday nights and they think they're just having fun, but what we know about opiates is, if you use them for two or three weeks -- and some of these kids are popping them every day thinking that's just what grandma is taking -- that when they try to stop, they find they are getting sick, so they start taking pills before going to school just so they don't get sick."
Augusta Welsh, director of community services, Genesee County Mental Health Services, said she's a big fan of drug take-back days hosted by local police agencies.
"One thing we see kids doing is they will take anything and everything just to try it," Welsh said. "They call it fishing They will put all of the pills they got from their grandmothers' and put them in a bowl and say, 'look at all the pretty colors,' then they'll pull something out. If they take it with alcohol, then it delivers the effect much quicker."
With the rise of heroin and opiate-based drugs in Genesee County, UMMC's emergency room has been much busier, said Mary Beth Bowen, chief nursing officer.
She said in 2013, ER admitted 62 overdose patients. There have been 130 so far this year. Now that number includes all brands of ODs, including alcohol, but the underlying root cause is heroin and pain medications, she said.
What UMMC is also starting to see is more use of e-cigarettes as a drug delivery method, and several panelists and audience members expressed concern about e-cigs as a kind of gateway into drug use or tobacco cigarettes.
Audience member Nicholas Burk, a resource officer at Batavia High School, said he one time he witnessed a BHS student beg her mother for an e-cigarette. This was a girl, he said, who was a athlete-scholar, a straight-A student who never received a referral in her life.
All of her friends had e-cigs, she said, so she wanted to be part of the crowd.
"She thinks it's OK," he said.
There was a lot of back and forth about whether marijuana is a gateway drug. Some in the audience are convinced it is.
Rose Mary Christian expressed shock and dismay that the Legislature would even consider medical marijuana. Ranzenhofer said it's a complex issue. It's hard to turn down a parent who says marijuana is the only drug that will stop her child's seizures and prevent almost certain death.
Boyle said there's a lot of discussion in Albany about medical marijuana, but he promised that recreational marijuana will never be legal in New York.
Dr. Bruce Baker, medical director for GCASA, said the data doesn't support the notion of marijuana as a gateway drug, but it does lower inhibitions and many young people have been introduced to harder drugs just because marijuana brought them into closer contact with people already using harder drugs.
Two recovering addicts also spoke. One was a woman currently living in Batavia who said she got into prostitution to support her drug habit and has seen other young women fall into the same trap. She wants to warn young women away from drugs for that reason. She was among the speakers who complained about how difficult it is to get into drug treatment.
One speaker challenged the panel to look at the people in the room talking about addiction and how it affected their lives personally. It was largely a white, rural and middle-class audience.
"This is the face of addiction," She said. "We are very typical people and I hope we can give it a voice and get more help in our community because it's here and it's big."
Boyle said the message was heard loud and clear, and with modern technology being what it is today, changes are already in the works.
"As we've been talking, I've been texting with my staff in Albany about what some of you have been saying," Boyle said. "They've already done the research and sent back some draft legislation that we could introduce as soon as next week to address some of the concerns raised here."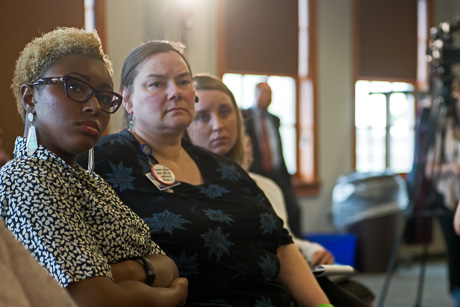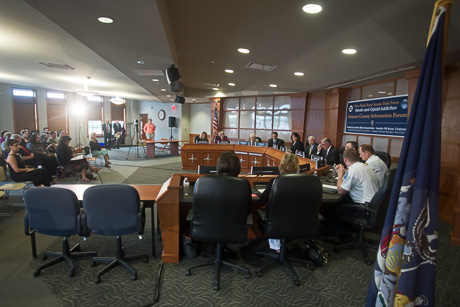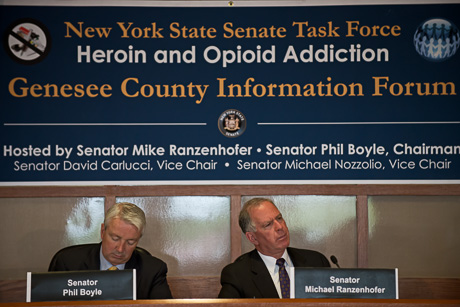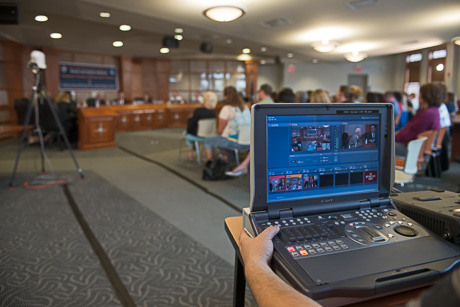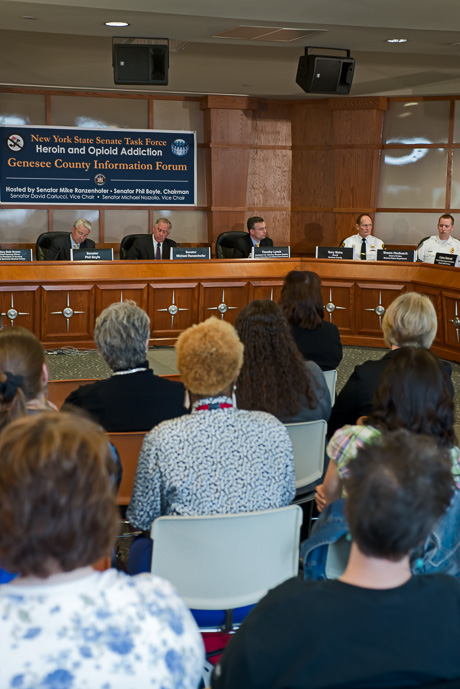 May 23, 2014 - 10:51pm
#1
What is strange is that "somehow" if you are court ordered to rehab you jump in line of people who have already been on a waiting list for treatment. you can be on a waitlist for a ling time while watching the same list of people come and go through the revolving
Door. why do you have to commit a crime to be "forced" into treatment while people who desperately want help are passed by. It is wrong wrong wrong.
May 23, 2014 - 10:56pm
#2
Drs need to quit turning a blind eye when they can clearly see the meds are being abused.