July 13, 2012 - 5:55pm
Farm labor keys discussion at ag roundtable in Batavia sponsored by Kathy Hochul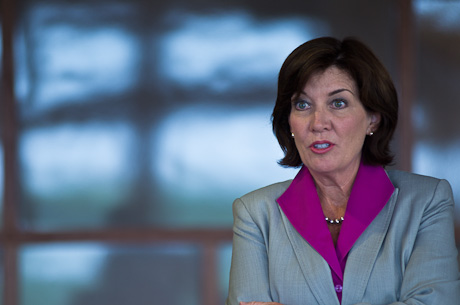 Rep. Kathy Hochul heard a good suggestion from constituents today during an agriculture roundtable she hosted in council chambers at Batavia City Hall: Young people need to be taught more about farming.
Lorna Klotzbach first raised the issue.
In the Oakfield-Alabama Central School District, Klotzbach noted that "there is no FAA and there wasn't when I was in school that I can remember. There are very few teachers with an agricultural background. There is no training for farm careers. There is very little of that in Genesee County altogether."
Klotzbach noted that she's heard students suggest that farm work is really only for illegal immigrants.
"The smartest, most skilled people I've known are farmers and we hold them in such low esteem," Klotzbach said.
Hochul said she could envision supporting some sort of pilot project to help fund agriculture training in local schools and getting support for an informational campaign to elevate farming as a career choice.
Domestically produced food is a key component of national security, said Hochul, who sits on the House Homeland Security Committee.
"Congress has a roll to play in directing funds (to ag training)," Hochul said. "We need to help people embrace the patriotic sense you get from the American family farm. That's what we're all about, the entrepreneurial spirt that this country is built on."
Farm labor was a big part of the morning discussion, with much of it centered on the difficulty farmers have these days in finding qualified, legal labor.
Hochul noted that with the opening soon of the Alpina and Pepsi yogurt plants, the demand on local milk supplies will increase 15 percent, and that doesn't mean more cows and milking parlors. It means more farm workers will be needed.
"If we don't get more people in this workforce, we're not going to be able to capitalize on the opportunities that we have right here in Genesee County," Hochul said.
The congresswoman said she is looking at how to move some of the recent refugees -- who are mostly from agrarian countries -- in Rochester and Buffalo to work on Genesee County farms.
There is apparently a growing Burmese immigrant community in Buffalo, with many people from rural communities.
The problem Hochul said she wanted to tackle is transportation, but Matt Lamb said transportation isn't an issue.
"We can house these people," he said.
If the workers are qualified and willing to work, there's work and shelter available for them now.
Klotzbach said that if Burmese workers were going to be brought to Genesee County to work on farms, it needs to be approached in a comprehensive way, with assistance to school districts for appropriate classes and ensuring Burmese families have a chance to retain their culture while assimulating to a new one.
"It doesn't do any good to bring one Burmese family to Pavilion," she said. That doesn't work. They need a community."
Hochul said she will look into available options to help find qualified refugee labor and ensure any move of the labor force to the area is done the right way.
Some farmers complained about overzealous U.S. Border Patrol agents, even conducting raids when there was no apparent probable cause for illegal workers being on a property.
Hochul said she's spoken with the director the border patrol and suggested that the Western New York border with Canada has too many agents for the threat level and perhaps some agents should be transferred to Texas or Arizona.
"Our homeland is not in any danger or threat from our farmers," Hochul said. "We need a different attitude."