November 22, 2014 - 3:12pm
Frost Ridge owners will open new restaurant and bar at former Delavan's location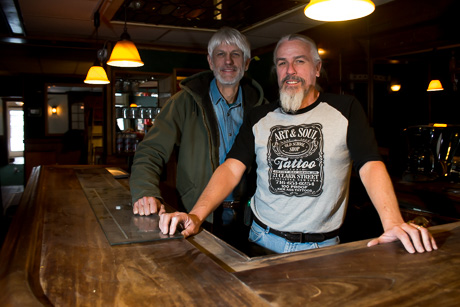 It's the little neighborhood restaurant that could and it will keep chugging thanks to David and Greg Luetticke-Archbell, who purchased the longtime bar-and-grill at 107 Evans St., Batavia, this week.
Luetticke-Archbell have owned and operated the Frost Ridge Campground in Le Roy since 2008 and they see their new establishment as an extension and complementary to what they're already doing.
Most recently, 107 Evans has been Delavan's, which owners Bill and Pati Cultrara closed almost exactly two years ago to the day that David and Greg completed their purchase of the property.
They're calling their new restaurant Delavan's The Little Ridge and promising "great food."
The restaurant is situated in a residential neighborhood and David and Greg think it's a perfect location for the warm, friendly atmosphere they hope to create.
It's going to feature American cuisine, much like they already serve at The Barn Grill at The Ridge, which they say has gotten rave reviews from customers, such as "some of the best American food around."
"We hope to knock your socks off," David said.
There will be prime rib, baked chicken, designer hamburgers, fish fries and salmon, with Greg overseeing the kitchen in the winter.
"The fish fries Greg has been doing, everybody has been loving," David said.
As for the salmon, again, David promises we'll love it.
"Everybody who has ever said, 'I don't like salmon' eats his and loves it."
Since some of the menu will be a hold over from Delavan's, David said Bill Cultrara has graciously offered to share some of his secrets.
They also plan to bring in acoustic music and assuming they continue to host live music concerts at Frost Ridge (there are still a pair of lawsuits pending that challenge their ability to do that), the national acts they bring in will be invited to The Little Ridge for pre-concert meals.
David and Greg had given no thought of opening a restaurant in Batavia, and had no idea the location was available until they went to an auction of the contents of the building Oct. 27.
Once they stewed in the idea awhile, they couldn't pass up the opportunity, David said.
"Sometimes opportunities knock and this one just clicked," David said.
The two men, along with help from their children, staff and friends, are cleaning up the restaurant, bringing in new equipment, getting everything ready to serve customers again. They plan to open Jan. 1.
"This was like a diamond that needed to dusted," Greg said. "We see the potential it has. The charm and the smallness of being manageable for one and a Cheers-like atmosphere."
November 23, 2014 - 6:05am
#1
Dead on Howard ,
These two are gonna hit the ground running !
David and Greg have vision ,talent and passion,
Bill and I wish them all the success in the world .
We miss so many people that passed through those doors
whether it was to hang your coat up, or work by your side .
Thank you for the years of support and friendship.
Delavans will have new life now, and we can't wait to see everyone in
the celebration of it !!
November 23, 2014 - 8:03am
#2