May 30, 2013 - 9:44pm
The future of a Wegmans in Batavia hinges on the success of STAMP in Alabama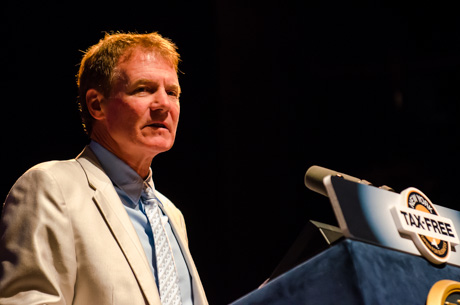 It's one of the most frequently asked questions from readers of The Batavian: Why is there no Wegmans in Batavia?
Danny Wegman, the company's CEO was at Genesee Community College today and he answered that question for us:
"If we get the STAMP project in, we would probably be very happy to move here," Wegman said.
STAMP is the propposed high-tech manufacturing facility Genesee County Economic Development Center is trying to bring to the Town of Alabama. It could eventually mean as many as 10,000 new jobs.
Though Wegman was too diplomatic to say it, clearly, his view is the current economy in Genesee County couldn't sustain a grocery operation the size and scope of Wegmans.
STAMP is a project of personal interest to Wegman because he's chairman of the Finger Lakes Regional Economic Development Council, one of 14 regional councils statewide assisting local IDAs in economic development.
Wegman is admittedly excited by the possibility of STAMP and believes it is something that could actually come together as an economic growth engine for the entire region.
"The high-tech arena is always exciting," Wegman said. "You always hear about it in California. Wouldn't it be nice if it was right here in our own backyard?"
We also asked Wegman about the GCEDC's $1.8 million in tax subsidies for COR Development and Wegman said he was unfamiliar with the project.
As a general rule, however, he said he opposes tax breaks for retail projects.
"I have to say I'm not real keen on that, since we're a local business and we wouldn't want somebody coming in and getting a real tax break..." Wegman said. "I think that's divvying up a pot that's already there. If the retailer helps grow jobs in some way that actually makes something, maybe, but most retailers don't make things. That's my view on it."
Asked if Wegmans would accept tax breaks to open a store in Genesee County, Wegman said, "I can't say someone else shouldn't and that we would. I don't think that's right, although we do make a lot of the food we sell, that's why I was giving you that exception."
YNN's Rose Eiklor pointed out to Wegman that there is a Facebook group called "Bring Wegmans to Genesee County." Wegman had never heard of it, but said he would take a look.