February 18, 2015 - 8:57am
GCC professor shares his father's own 'Unbroken' story as Japanese POW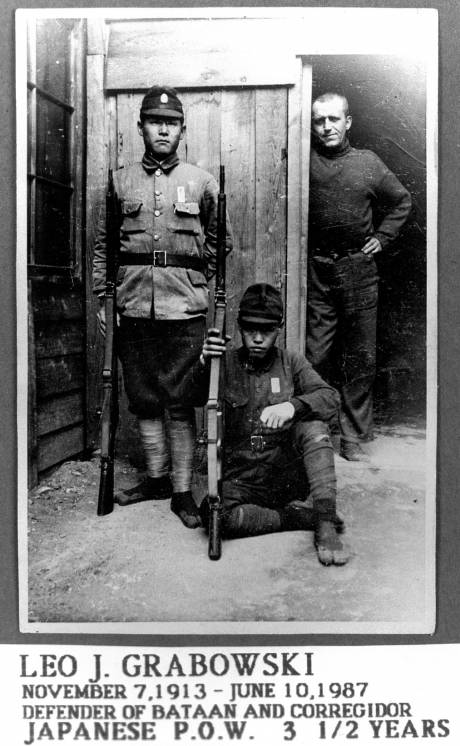 Press release:
Although the film "Unbroken" was not nominated for Best Picture for this year's Academy Awards Ceremony scheduled on Feb. 22, the story of an American soldier surviving a World War II Japanese prisoner of war camp resonated with Edward Grabowski. He teaches Introduction to Criminal Justice to students at Genesee Community College.
The Hollywood film captures the extraordinary life and survival of bombardier and world-class runner Louis Zamperini. Like "Louie," Grabowski's father survived the horrors of a Japanese POW camp, and experienced his own hellish encounters with some of the guards. They included the notorious Mutsuhiro Watanabe, the brutal guard known as "The Bird" who tortured and killed many prisoners.
When Grabowski happened to mention this coincidence to his students, they wanted to know more. And when he told them he had a photograph of his father standing behind two Japanese guards, one likely "The Bird" -- his students wanted to see it.
"They found it interesting so I brought in some of the historic materials about my father to share," Grabowski said.
The photograph taken by a French photographer shows Leo Grabowski standing in a doorway unnoticed by the two prison guards who are in the foreground holding their rifles.
"I am 99 percent sure that the guard standing is Watanabe," Grabowski stated. "My father said he would have been brutally beaten by those guards if they had known he was in the photograph."
Sergeant Leo J. Grabowski served in the Army from 1932 through 1945, and was one of the defenders of Bataan and Corregidor as part of the 31st Infantry at Fort Santiago in Manila.
Captured by the Japanese, Grabowski survived the 60-mile Bataan Death March through the Philippine jungles to Camp O'Donnell. From there he was among the thousands transferred in overloaded freight cars, and he was eventually shipped to Mitsushima, a prisoner of war camp northwest of Tokyo where prisoners provided slave labor to construct the Hiraoka Dam.
Like Zamperini in "Unbroken," Grabowski senior made it home bearing the scars of a POW, but he put together a meaningful post-war life with a career and family, including three children. His youngest son, Edward, spent 27 years teaching Criminal Justice at BOCES, and is now adjunct faculty member at GCC.
Upon request, he reflects on his father's military distinctions with quiet pride, sharing a little of that tortured past through books, photos and clippings from decades-old newspapers. In doing so, he is giving his students a sense of world history, not from the Silver Screen or a textbook, but from the connection of family and the bond of father and son.
February 18, 2015 - 11:21am
#3
A fact from the book ... one percent of the POWs held by the Germans died while in captivity. Something like 35 percent of the POWs held by the Japanese died while in captivity.
While Japan had signed the Geneva Convention, they never ratified it so didn't feel bound by it. Japan's culture, of course, was built around honor. There were few things considered more dishonorable than being taken prisoner. Japanese soldiers were known to commit mass suicide to avoid capture. Consequently, the Japanese guards had little regard for the Americans taken prisoner, since such men were, in their eyes, without honor.
I don't want to give away anything from the book about what happened post-war. You should read the book.