August 24, 2013 - 2:05pm
Hometown girl brings big time act to Frost Ridge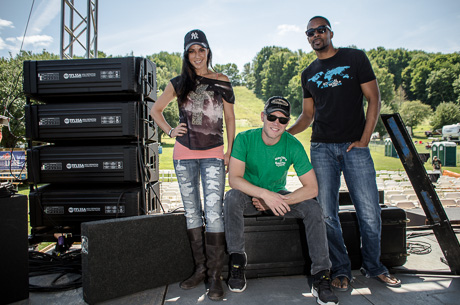 As a little girl Krista Marie Robusto would watch her mom in Rotary shows and think, "Oh, gosh, I want to do that someday."
About 10 years ago, Krista was the lead of the Batavia Rotary's production of the "Wizard of Oz."
Now, Krista Marie -- just Krista Marie to her fans -- is living in Nashville and hitched to a rising star.
Tonight, her band, The Farm, plays at Frost Ridge Campground in Le Roy.
Krista Marie, Nick Hoffman and Damien Horne were friends in Nashville, all working professionally -- Krista pursuing a solo career and Hoffman toured with Kenny Chesney and Horne with John Legend. The three young artists decided to try writing some songs together.
Soon, their songwriting projects evolved into putting some serious thought into forming a band.
"When we finally decided to be a group we looked at each other and said, 'OK, we've got to be all in,' " Krista said. "We said, 'we're going to be betting the farm.' That was the little bell that went off and we said, 'OK, betting the farm,' and that's it, The Farm."
The Farm was signed with Warner Brothers and they were off and running. The first song the trio wrote together, "Home, Sweet Home," became the band's first hit single.
The last three years have been filled with nearly nonstop touring, and though The Farm has played two gigs in Rochester, tonight is The Farm's first shows "inside the county lines," as Krista put it.
"I'm super excited," she said.
"Every time I come home I absolutely remember how lucky and how grateful I am to be from Western New York," Krista said. "The people are great. The food's amazing and it's just really awesome. I'm really, really proud to be a hometown girl from Upstate New York."
Krista grew up in Alexander and attended Alexander Central School through 10th grade before starting home school. Her mother and father owned and operated Pat's Meat Market in Batavia. They were both musicians and performers and Krista's father was an internationally acclaimed accordian player.
All of those influences -- along with the Rotary shows, singing in church, dance lessons at That Dancing Place -- all pointed her in the direction she wanted to go, which is performing country music.
"If you're from here you know how country we are," Krista said. "I grew up riding and in 4-H and my dad was a butcher. I grew up riding horses, got into four-wheelers and motorcycles, and we have beautiful farmland up here. It's as country as it gets. I live in Nashville, Tennesee now and I'm always bragging on what awesome country we've got up here."
Krista is feeling pretty good about the trajectory of her career -- a career that started playing country music locally with Richard Fink and Johnny Cummings, including a series of summer-long gigs at Darien Lake Theme Park (she hopes The Farm can play there as soon as next summer) that helped her earn the money to buy her first motorcycle.
She said she's very grateful for Genesee County making her into the hometown girl she still is, even on any stage anywhere in America.
"I grew up with the Rotary shows and I grew up singing in church and I grew up riding and showing horses at the Genesee County Fair," Krista said. "I raced mini-stocks at the Genesee County Fairgrounds, so all of this is who I've become and it's a big part of who I am today."
The Farm takes the stage at Frost Ridge at 7 p.m., opening for Jerrod Niemann.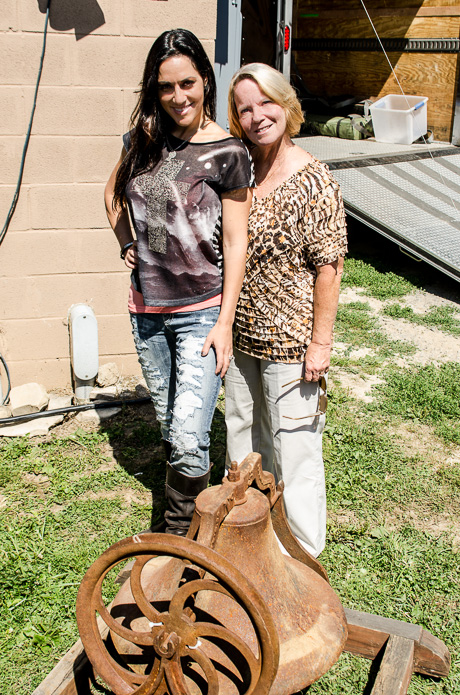 Krista Marie and her mother, Barb Galliford, with a school bell that was once belonged to Krista's grandfather (it may have been a school bell for a school in Batavia originally). It was a gift to Krista today from her family. Barb said, "Of course I'm proud of her, and my thing is whatever you do, try to do it well and with all your heart, and she's done that."