July 26, 2013 - 4:15pm
Hutchins Street Blues Brothers to join the show in Jackson Square tonight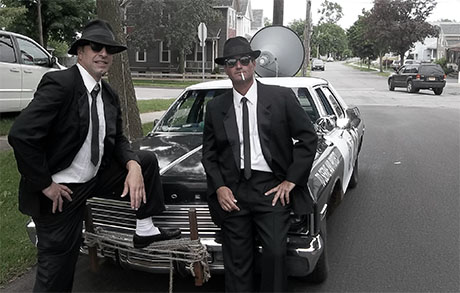 Val Zinni and Carmen Del Plato will perform in Jackson Square tonight as part of the Over the Hill Musicians Society show.
Performing as the Hutchins Street Blues Brothers Rhythm and Blue Review, Zinni and Del Plato will reprise a performance they've staged a few times over the years since 1981. That year they entered the talent show -- which was right after "The Blue Brothers" movie came out -- at the St. Anthony's Lawn Fete. 
Del Plato said after winning the talent show, Zinni kissed Monsignor Aquavia "right on top of his bald head," John Belushi-style, Del Plato said.
At first, Zinni and Del Plato performed to recorded music, but a few years ago they started performing with Del Plato's brother's band.
"We'll be performing two songs because the band won't let us do any more than that!" Del Plato said.
Show time is 7 p.m.
Photo by Shelley Zinni.