October 9, 2011 - 6:35pm
Innovative Sheriff, longtime town Justice Doug Call honored at picnic in Stafford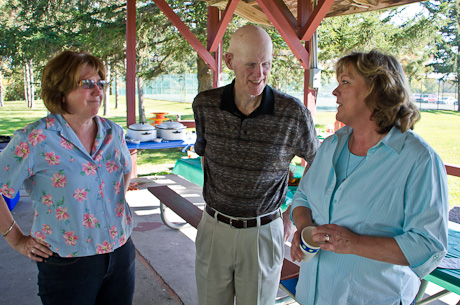 Doug Call, 71, a former Genesee County Sheriff now finishing out his final term as a Town of Stafford justice, was honored with a picnic today in Stafford.
It was organized by local Democrats, and is one of their annual fundraisers, but Call was the guest of honor and several Republicans attended.
County Chairwoman Lorie Longhany said Call has been a good Democrat, but more importantly, he's been a good public servant.
"He's one of the best public servants Genesee County ever had," Longhany said.  "His service transcended politics. It was always about public service."
As Sheriff -- perhaps the only Democrat ever elected to Sheriff in Genesee County -- Call initiated the Stop DWI program, which included DWI checkpoints on roadways. The program would be challenged in court, but the county won appeals all the way up to the state's Court of Appeals. It's a program that is now widely used across the country.
Call was also instrumental in getting Genesee Justice started, a program Call estimates has saved the county millions and millions of dollars over the years.
For one thing, by putting criminals in intervention programs rather than locking them up, the county was spared the expense of a new, larger jail.
On hand to honor Call today were Congresswoman Kathy Hochul and Sheriff Gary Maha. Assemblyman Steven Hawley sent a letter and Darien Town Justice Gary Graber, who is incoming president of the state magistrates' association, spoke in praise of Call. Graber was first elected in 1980, when Call first became Sheriff.
A quiet man, Call doesn't put much of a spotlight on his own accomplishments.
"I'm humbled by (the honors today) because I just did things," Call said. "Apparently people think it's important and they're here."
He then added, "Other's could have done it."
October 10, 2011 - 8:13am
#1
Congrats Doug. You've been a public servant for many years. Well deserved.