August 26, 2012 - 1:59pm
Kinks to work out, but officials pleased with results after first big test for new policy at Darien Lake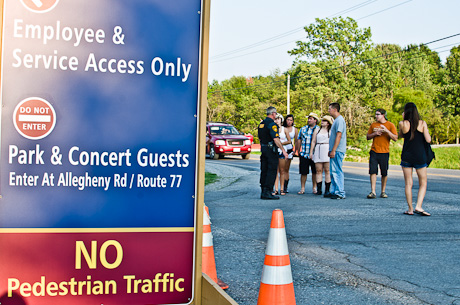 Saturday was the first big test for a new pedestrian access policy at Darien Lake and while officials are satisfied with the results overall, they admit there are some kinks to work out.
On the positive side, officials said, traffic control after the concert was much better than used to be expected for a sold-out concert.
On the negative side, there was some confusion over what to do with taxis, how to handle passenger drop-offs and dealing effectively with people trying to circumvent the policy.
Cherry Hill Campground was open for concert parking and apparently tried to establish a private vehicle shuttle service for its patrons. 
Part of the terms of service now for ticket holders is there is only one vehicle entry and one vehicle exit per person and you must have a valid ticket to come onto the property.
Drivers of cars observed coming off The Hill were threatened with arrest for criminal trespass when they were observed coming in through Employee Road and then leaving immediately.
Many of the dozens of people who tried to walk in through Employee Road managed to bum rides from other concertgoers in cars. Of course, they became pedestrians after the concert trying to exit the venue on Employee Road.
Those people were told either to walk to the main gate to leave or to the exit point at the east side of the property.
Officials wanted to keep Employee Road open for vehicle traffic, so a strict no-pedestrian rule was enforced.
"The overall objective is just to make the traffic flow smoother and just create a safer environment for our guests," said Darien Lake General Manager Bob Montgomery. "To that extent, it's working. If we've got a few little leaks here and there, we'll correct them were we can. If people are really working hard to beat the system, I guess they can if they think it's really worth all the effort."
Some issues will just work themselves out, Montgomery said, as guests become more familiar with the new system and fewer of them are willing to hassle with private lot parking.
From just before 5 p.m. until shortly after 8 p.m., vehicle traffic to Darien Lake was gridlocked from both the south and the north.
While some concertgoers blamed the new parking policy for the stop-and-go entry, Chief Deputy Gordon Dibble, of the Sheriff's Office, said he doesn't see the connection.
"We've had traffic being backed up in the past when the private lots were open, so I don't see that being the issue," Dibble said.
What surprised authorities, Dibble said, was how relatively few concertgoers started arriving at noon or one o'clock.
Typically, a Saturday concert attracts a lot of early arrivals, and this show didn't for some reason. Many people waited until later in the afternoon to arrive, which meant more people trying to drive in closer to showtime.
Dibble said he spoke to some patrons prior to the show who said they expected other concertgoers to come early, so they decided to come late.
There also seemed to be a higher number of concertgoers coming from the south of Darien.
"There's something about this place," Dibble said, "that no matter how long you work out here, when you think you've got it figured out, there's just something to do with who the band is, whether they're drawing from the Rochester market, the Syracuse market, the Canadian market, that makes a little different pattern. To a degree it's unpredictable, it really is."
The worst traffic-related incident prior to the show occurred just before 8 p.m. when the passenger of a vehicle stuck in traffic jumped out of the car and ran into the path of a motorcycle heading south.
Jessica Freeman, 23, of Rochester, suffered head and facial injuries and is in critical condition at ECMC, where she was flown by Mercy Flight.
Prior to the show, concertgoers turned away at Employee Road were clearly frustrated, some of them, but didn't hassle police or security about the policy.
One group of three young men did manage to talk their way onto Employee Road and enter the venue.
Apparently, they had bought their tickets and made their reservations at Cherry Hill Campground in June. After the new policy was announced, one of them had an email exchange with officials at Darien Lake and was told, incorrectly by somebody, that they would be allowed to walk onto the property.
Gerald Rakestraw, VP of development for Darien Lake's owner, Herschend Family Entertainment, was at property Saturday both observing and supervising implementation of the new policy.
He snapped an iPhone picture of the young man's email and then allowed the trio to walk up Employee Road into the venue.
The biggest conflicts of the night came after the concert was over and some people tried to exit the venue on Employee Road.
Rakestraw had predicted some 500 people would try to leave via Employee Road -- far fewer than the thousands walking out in concerts past.
The actual number of pedestrians trying to leave on Employee Road was probably far fewer than 500.
Most were cooperative when told to head in another direction.
One gentleman who was highly intoxicated got lost in the employee parking lot (which was used for regular guest parking last night).
Two people were arrested after apparently wearing out their welcome, so to speak, arguing with deputies about the pedestrian policy.
Rebecca A. Pickem, 25, of Olive Drive, Baldwinsville, discussed the situation with a couple of different cops, went round and round with Sgt. Tom Sanfratello. After several minutes of discussion, Sanfratello told her to leave or she'd be arrested.
Her alleged reply: "I guess you'll have to arrest me," which at that point became a refusal to follow an officer's order, so she was arrested.
Her companion, Tyler A. Vincent, 24, of Olive Drive, Baldwinsville, wouldn't leave and was also arrested.
Reportedly, Pickem and Vincent had parked their vehicle more than two miles from the concert facility and were apparently concerned about how to get back to their car.
The thing is, if Pickem and Vincent had been a little more patient, they were two minutes away from a cab ride to their car.
Sgt. Steve Mullen had called a cab for them.
There was another group of young ladies, four of them, who were stranded at the park. They were reportedly staying at the Attican Motel. The Attican charged them $20 for a shuttle ride to and from the show, according to Mullen. When the driver dropped them off, he reportedly informed them the shuttle might not be available for a ride back to the hotel.
When the women called the motel, they were reportedly told the van had broken down (Note, I was on Employee Road when I saw the van, with Attican Motel written on it, pull into the parking area).
Mullen called a cab for the young ladies and escorted them out to Sumner Road and waited with them for the cab.
By the time Mullen returned to bring Pickem and Vincent to their cab, they were already in custody.
While all of this was going on, there was a young Canadian woman in full agitation mode, running around from one cop or security guard to another yelling at them, hurling insults and threatening to call the Canadian Embassy.
Deputies said she had been difficult to deal with prior to the concert when she tried to walk into the venue.
After the show, she claimed her "bestfriend" had gotten separated from her and her other friend during the concert, three hours prior to her first notifying law enforcement.
She gave three different ages for her missing friend and changed the clothing description.
Any time an official would try to ask her questions about her friend and their travel plans, she would just start yelling again.
She also claimed she wanted to walk out of the facility, but continued to yell at deputies for not doing more to find her friend.
At one point, she yelled at a deputy, "I hope your daughter gets raped some day."
There was another young woman from Canada who was also missing her travel companion, another young woman. She was calm, but clearly worried about her friend.
At 1:30 a.m., Darien Lake security officials were still involved in trying to help both young women locate their friends.
At 1:30 a.m., all Darien Lake parking lots were empty, which under normal sold-out concert nights was at least an hour earlier than might be expected.
Dibble said with Sumner Road free of traffic from private lots, it was much easier to get cars out of the parking lots. Both lanes of Sumner Road could be used for traffic leaving the facility. If not for a couple of minor accidents on Sumner Road, patrons would have gotten out even quicker.
While there were 15 arrests at the concert, the majority of them were related to the new policy, such as three people accused of climbing the new fence to try and gain access to the property.
I spent two hours at the entry gate known as "South PAC," where concert security will bring any unruly patrons for deputies to deal with and potentially arrest or release. South PAC is normally bustling with activity during a concert. During the two hours I was there, not one patron was escorted from the concert.
Batavia resident Carrie Hylkema, who's attended several country shows at Darien Lake, was at the show Saturday as a volunteer for a beer concession set up to raise money for Batavia Ramparts.
She said the atmosphere Saturday was very different from any country show she had ever attended at Darien Lake.
She said concertgoers were much less aggressive than she's seen in the past.
"A lot of times we come driving in, whether we're working the concert or just going to the concert, you can see it's out of control before you even come into the gates," she said. "It just seemed more managed tonight. My husband I both commented tonight that it just seemed more in control."
Some of the explanation for the mellower atmosphere, Dibble said, is the fact that so many people came later to the show, got caught in traffic, and had less time to get intoxicated in the parking lot before the concert.
"I'd like to think the underage drinking work that we've been doing is paying off, too," Dibble said.
There were 48 underage drinking citations issued Saturday, which is far fewer than have been issued at big country concerts over the past two seasons.
Among the kinks in the system Saturday was what to do with taxi cabs. The plan was, officials said, to only allow cabs into a designated area after 10 p.m. -- for pick up only, not for drop off. But cabs were entering the facility prior to the show.
There was also some confusion over how parents dropping off concertgoers were to enter and leave the facility.
Montgomery acknowledged he and his staff are going to need to figure out these issues for future concerts.
"What we'll do with the team here is, we'll meet again tomorrow and kind of put those issues on the table," Montgomery said. "There's nothing big, nothing that would be a big concern. You're right about the issue with taxis and where do we place them. We want to go back specifically and address that. That's one of the issues that stood out."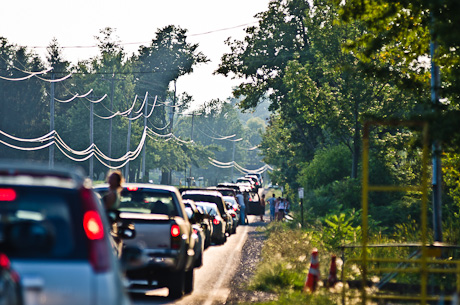 Traffic entering the venue, heading toward the main gate, backed up on Sumner Road, with a group of pedestrians in the distance getting into a passenger vehicle offering them a lift.
Pedestrians being told they would not be allowed to walk into the venue.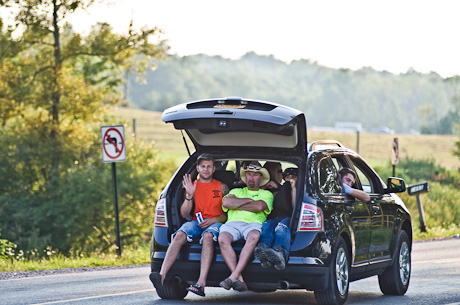 This vehicle came down off The Hill and is heading toward the main gate.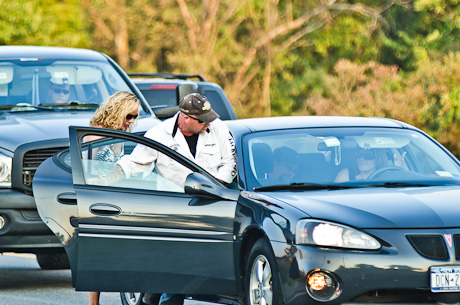 A trio of concertgoers (third person already in the back seat) get a lift into the venue.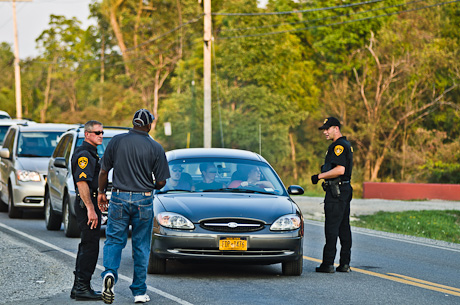 A vehicle that had allegedly previously come off The Hill and delivered concertgoers into the venue gets a trespass warning, and would not be allowed in with another group.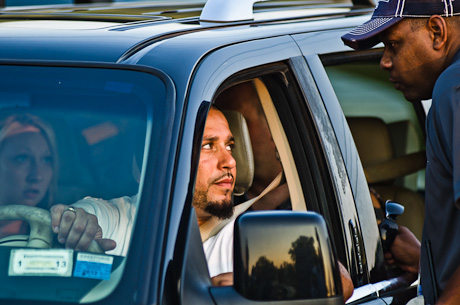 Another driver allegedly issued a trespass warning.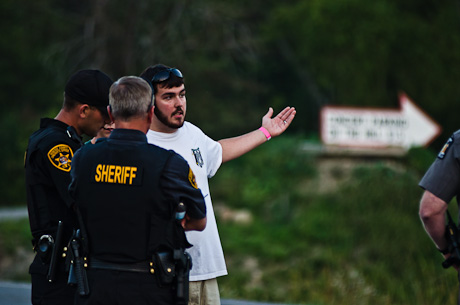 This gentleman was eventually allowed to walk on Employee Road and into the venue after displaying an email from Darien Lake saying that he would be allowed in on foot.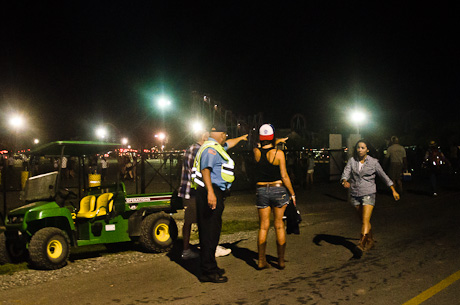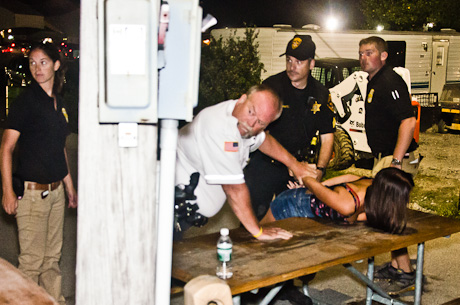 Subject taken into custody after allegedly refusing a police officer order to leave the facility.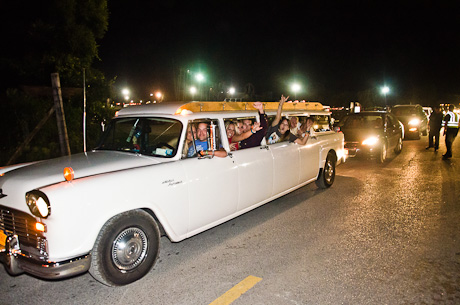 Concertgoers party in a 1968 stretch Checker Cab.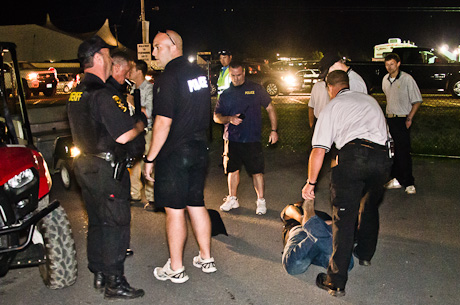 A reportedly highly intoxicated individual is taken into custody, charged with disorderly conduct, after allegedly causing a disturbance in a parking lot at about 11 p.m.
This photo submitted by a reader. One concertgoer decided to drive his tractor to the show.
August 28, 2012 - 8:27am
#15
In regards to Darien Lake it looks like the new owners truly want to be a good neighbor to the people of Darien. I must admit I am a bit skeptical. I realize that the focus is now on the concert goers and their experience albiet customer service and safety. I think your customers should have to exhibit a little personal responsibility. This could perhaps include a lifetime ban for violators? What about the residents who live near by? For years they have had to endure the inconvience of having this large noisy amusement in their backyard. And a few creative people have turned a pigs ear into a silk purse by charging money to park on their property. Years ago Darien Lake begged these same property owners to do just that because they did not have enough parking space available for their customers. What happened to freedom? Why can the customers of The Batavia Downs cross the street? It seems a case of the big guy gets his way without any regard to the other residents and or business owners. Watch out Village of Corfu you'll be next. I forsee a bypass built that will route traffic right around your village preventing the spending of any money in your businesses. The good news is you'll be invited to pay for it.
Howard, we hear about how benefical the sales tax money is to the area. Perhaps you could do some research into how the funds are distributed? I believe a portion of sales tax is distributed by determining the total real property assessments for each town. The towns with the higher evaluations get a proportionatley larger chunk of the sales tax. How much does the town of Stafford get from Darien Lake compared to that of the town of Darien? Just saying......