November 15, 2013 - 4:59pm
Lathan Tree Service donating 30-foot Christmas Tree to Le Roy community to be placed at Wiss site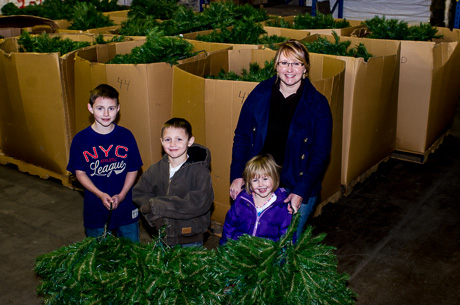 Where the Wiss Hotel once stood this holiday season will stand a huge amount of Christmas cheer thanks to Andrew Lathan, owner of Lathan Tree Service, and his family.
The Lathans are donating a 30-foot tall artificial Christmas tree to the community.
Businesses and families are asked to provide ornaments to the tree. The ornament should have a name or business logo on it.
Ornaments can be dropped off at Town Hall by the end of November.
Ornaments should be at least 6-inches tall. 
"This is a very large tree," the Lathans note. It will be as tall as the existing buildings on the west end of Main Street.
The tree will be lit Dec. 7 as part of the community's holiday celebration.
Pictured are Jack, Jay, Aubrey and Carrie Lathan with the unassembled tree.