April 11, 2013 - 3:29pm
Le Roy Legion hosting event to honor WWII vets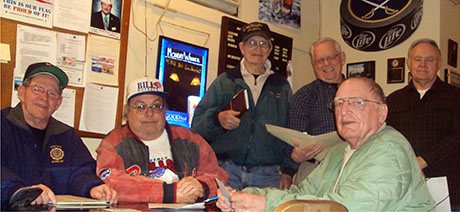 Press release:
The American Legion Botts Fiorito Post is hosting a World War II remembrance on April 21st. The reception, open to all World War II Veterans and their families, will be held on Sunday April 21st beginning at 1 p.m. at the Post Home, 53 W. Main St. Le Roy.
Local dignitaries are expected to join with current Legionnaires in recognizing those veterans of World War II who will be in attendance.
The intent of the program is to provide an opportunity for these veterans to join together and renew old acquaintances, share experiences and memories from World War II Era. Transportation will be provided if needed. Contact Post Adjutant Don Vescovi 768-7017.
Pictured: John Graney -- 2nd Vice Commander; Tim Sheflin -- Past Commander; Don Schafer -- Commander; Don Vescovi -- Adjutant; Jerry Diskin -- Vice Commander; and Dave Moore -- of Sons of The Legion.
April 12, 2013 - 7:19am
#1
Found this in my inbox this morning and thought of these guys. God Bless each and every one. It says what I'm feeling, to all veterans. Author Unknown
"You may have served in combat or while preserving peace.
You may have retired out or you may have served for a short time.
You may have been a draftee or a volunteer.
You may have served in the Corps, Army, Navy, Air Force, Coast Guard or the Merchant Marines,
BUT YOU SERVED. YOU DID YOUR JOB HONORABLY and for that I am PROUD to call you 'Brother.'
You may have served during WWII, Korea, Vietnam, Nicaragua, Persian Gulf, Iraq or Afghanistan, But you served, you did not run.
You have earned your DD 214 with those words "HONORABLY DISCHARGED" two of the most noble words in the world.
Again I am proud to know each and every one of you.
Send this to all your brothers, fathers, sons, husbands, sisters, mothers, daughters and wives and fellow veterans you know.
To the cool men and women that have touched my life: Here's to you!!
I was never a hero, but I am thankful and proud to have served among them.
A real Brother walks with you when the rest of the world walks on you.
Send to all your Band of Brothers, because the fake ones won't"
My Dad was a World War 2 veteran and although his time on earth is over, I know he'll be with you fellows in spirit.