August 15, 2013 - 5:42pm
Local Libertarians turn in candidate petitions for the first time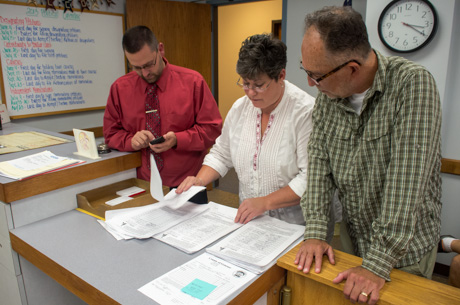 There was a bit of history at the county's election's office this afternoon -- for the first time in Genesee County history, Libertarians turned in signatures to put their own candidates on a local election ballot.
Batavia City Council candidates Lisa Whitehead (center) and Jim Rosenbeck (right) need 191 valid signatures to get spots on the ballot.
In New York's system, the Republican and Democrat candidates get to gather signatures first. When they're done, so-called third party candidates can gather signatures. None of the third-party signatures can duplicate signatures gathered by the Republicans and Democrats.
They all, of course, must be registered voters.
The Libertarians turned in 459 total signatures, which will now be reviewed by the election commissions to see if the minimum threshold of valid signatures have been met.
With Whitehead and Rosenbeck is Phil Ricci, chairman of the Genesee County Libertarian Party.
August 15, 2013 - 6:16pm
#2
Grassroots effort must start in local communities, it will take some years but the time is now for 3rd party canidates to take hold and build a following and eventually they will be viable enough to start winning major elections......glad to see them doing thier thing!