July 22, 2012 - 9:16am
Man suffers stab wound in early morning fight on Ellicott Street, Batavia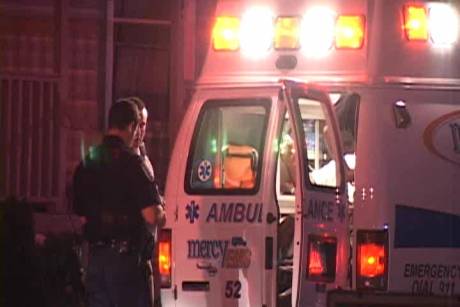 Updated 9:25 a.m.
Two men reportedly got into a fight early this morning at 509 Ellicott St., Batavia, over a job one of them lost, leading to one of them stabbing the other in the stomach.
The victim sustained a non-life-threatening injury and was taken by Mercy EMS to Strong Memorial Hospital.
The suspect, James Smith Jr., 55, of 19 Porter Ave., Batavia, was taken into custody and is being held without bail. He is charged with assault, 2nd, and criminal possession of a weapon, 3rd.
The stabbing was reported at about 12:15 a.m.
The weapon allegedly used is described as a folding pocketknife.
Free-lance journalist Alecia Kaus contributed to this report and provided the photo.
July 22, 2012 - 9:53am
#1
Here we go again. My tenant called the Police because there was a problem at the house next door with a guy screaming etc., but the call will be recorded as from my property and, in some City Council's members eyes, this will be included as a Police contact involving my property. (I'm glad some of those members are now former members) Very similar to my calling 911 in the past when finding a tenant in a diabetic coma and the tenants calling 911 several other times when needing such medical emergency care. Those were all portrayed as "police contacts" with an implied problem. Doesn't matter what the reason is, but some can't go past the contact and want to use such misinformation for their own purposes. Another thing is it appears the ambulance is actually in my property driveway rather than at the house next door where the problem was. This makes it appear to neighbors and passers-by that the isse was at my property when, in fact, it was next door. I'm glad the Batavian reported the address where the problem was.
July 22, 2012 - 10:09am
#2
No special effort. It was the information provided to Alecia. I only say that because it could have easily been your property address provided and we wouldn't have any reason to doubt what the police provided. For future reference, let's say.