May 7, 2013 - 3:07pm
Mullin property on Watson Road, Elba honored with Landmark Society's Tender Loving Care Award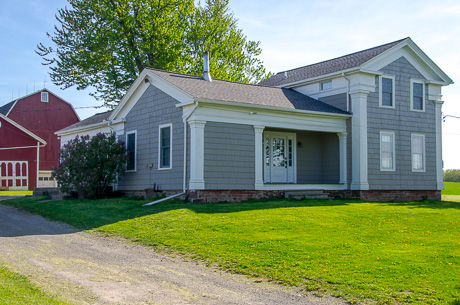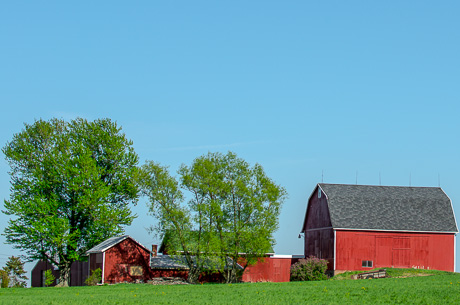 Article by Loren Pflaumer. Photos by Howard Owens.
Landmark Society Preservation Award
John and Cleo Mullins
4928 Watson Road, Elba, NY
Renovation
This Greek Revival style home is built on a portion of land originally acquired in 1798 by five Dutch immigrants and was part of the original Holland Land Purchase. 
The carriage barn is the oldest structure on the property and is dated around 1850. In a print showing the property when owned by Orlando Hoyt, you can see the home and the carriage barn.
The back barn burned in a fire and was replaced in 1919 with the barn that stands today. The deed for this property lists 14 previous owners, but none have owned it as long as the Mullins, who will be celebrating their 50th anniversary in the house next year.
In the fall of 1964, John and Cleo Mullins had successfully relocated from Nebraska to Western NY. John was working for Acomb Appaloosas in Stafford and Cleo had accepted a job as a medical technologist at the Batavia VA Hospital. They were ready to find a property with plenty of land and barns for their horses, as John was planning on stabling and training horses as well as giving lessons. 
The property at 4928 Watson Road gave them what they were looking for with three barns, an outbuilding and 80 acres of property, but the house was another matter. 
Built around 1850, there was only cold running water, no indoor bathroom and one heat register for the entire house. The Mullins had no choice but to tough out the first few months, as winter was fast approaching and plumbing or heating reconstruction during the winter wasn't practical.
Within the first five years, the Mullins had blown-in insulation added throughout the house, which was the only option in order to retain the plaster and lathe walls. Notable renovations that followed were the addition of an indoor bathroom, a new multi-fuel heating system and duct work, new roof and custom windows.
Cleo and John have made extensive efforts to retain the original details of their home.
Dog-eared doorway and baseboard molding was restored or duplicated exactly. Where there was no baseboard or crown molding, they had it created. The floors are original and years-old burn marks were ripped out and new wood feathered in. 
When the Hotel Richmond in Batavia was torn down in the late 1960s, John rescued some large pieces of marble from the shoeshine counter which were repurposed into a utility room counter top and a bathroom sink top. 
The kitchen remodel is the most recent renovation. The new kitchen is double the size of the old one, and features beautiful views of the back of their property.
Years of reconstruction have uncovered many old trinkets and antiques which can be seen throughout the house, such as a small collection of pistols and an antique vacuum cleaner.
Changes to the outside of their home have been no less dramatic. Although we are not sure of the home's original color scheme, it was painted red and white when they bought it. 
Louis Cecere was invited to consult on renovation ideas and any historic significance. He suggested that the red color scheme made the house look too much like one of the many barns on the property. Louis suggested something muted and neutral to make it stand out. Cleo was not in favor of this idea. After much convincing, briarwood tan and antique white were chosen, and the end result did exactly what was intended and the house now stands out proudly. The Mullins also replaced the front door, adding dual sidelight panels and installed new custom windows.
The house that was an initial afterthought has turned into a source of pride and joy for the Mullins. They credit a few key individuals for the overall success of the job, and thank: Louis Cecere for his input on historical accuracy and color suggestions; Erik Roth of N.J. Philipps Builders for his carpentry work, especially his plans and designs for the kitchen and replication of the original moldings; and Gary Deiboldt for his time spent recreating a section of the 16" floor baseboards in the main room. 
A final thank you goes to Catherine Roth for instilling in the Mullins a love and appreciation of historic homes. It was her passion that fueled their decision to restore rather than remodel. 
Cleo and John have been faithful stewards of this historic property and their passion is evident when they talk about their memories and future plans. It is with great pride and appreciation that The Landmark Society of Western New York awards John and Cleo Mullins the Tender Loving Care Award.