February 28, 2012 - 5:45pm
New business owner pleased with his decision to open shop in Batavia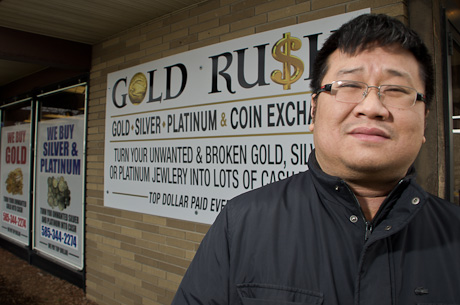 For years, Jim Vo would see residents from Genesee County go to Rochester and Buffalo to sell their gold and silver and knew that while many retailers in the big cities were reputable, some of them were clearly a little shady.
After looking around Batavia a bit, he decided it would be a good place to start a business, which became Batavia Gold Rush, at 4152 W. Main St.
With a family background in jewelry -- his parents started in the business while still in Vietnam -- and some experience buying and selling gold and silver, he said he saw an opportunity.
"I love it in Batavia," said Vo, who will soon marry and is looking for a place to live in Batavia. It's clean. It's quiet. The people are very friendly."
Vo wants to be known as a precious metals buyer people can trust. A customer in his store is just as likely to get a lesson on how to value items as they are to get cash.
"You gave me respect to come into my store, so I'm going to show you respect," Vo said.
When he markets his business he doesn't advertise "the highest price paid." He said customers will figure that out after they get bids from other stores.
"Usually customers who don't sell to me come back later that same day because they found I did offer the highest bid," Vo said.
His personal motto is, "give me a chance to prove we pay the highest price and we will."
Vo said he's hoping to attract business that is currently being siphoned off from Genesee County and going to Buffalo and Rochester.
Some of his recent print advertising has even emphasized that fact.
"People should shop local," he said. "We want to keep the dollars in Batavia."
While some antique and coin dealers might buy items for resale, Vo said he doesn't want to hold inventory for resale. It just means he has to pay a lower price because the item will sit on a shelf for a while before he gets his investment back on it. By sending out all the gold and silver he buys to refineries, he can pay the best possible price, he said.
"My goal is to try and make money, and at the same time, get the customers the deal they deserve," Vo said.
February 29, 2012 - 11:25am
#1
Mr. Vo, stand true to your word about being an honest businessman and you will do well here.
Good luck, and welcome to the area.