June 27, 2014 - 11:13am
Nik Wallenda brings world class variety show to Darien Lake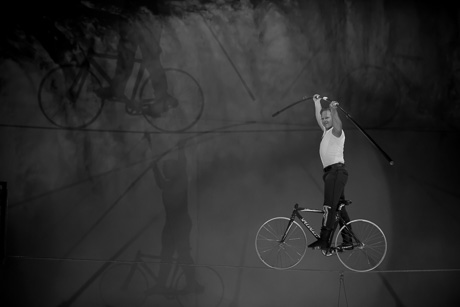 This week, Nik Wallenda opened his new show in the Gallaxy Theater at Darien Lake Theme Park, and those who have attended the first few shows have been treated to exactly what Wallenda promised -- first class entertainment.
Besides Wallenda and his family performing a high wire act, the show includes performances by dancers, hula hoop artists, a rope gymnast, comedians and jugglers (both the type who toss objects and those who toss each other).
It's Ed Sullivan without The Beatles. It's vaudeville without the travel.
"Me and my wife love vaudeville," Wallenda said. "Her family actually came over from Australia to perform on vaudeville. There's definitely a passion for that. We talked about it a lot and said, 'you know what, let's do a show where we incorporate a bunch of other acts.' "
The idea for the show has been percolating some time, Wallenda said, and after he walked a wire over Niagara Falls, he knew he wanted to come back to Western New York. He said the support he received from the community during the process of getting permission for the walk was so strong, he wanted to do something to give back to Western New York.
From his career in live performance, and with his family's rich history and all of the connections he has with the world's top acts, Wallenda thought he should bring it all together to create a special show.
"I was like, you know let's all get together and make an awesome show for Western New York," Wallenda said. "You heard me at the end, and I mean that, I love this place. I doubt you'll find a show of this volume, this variety at any other amusement park anyplace else in the country, probably not around the world."
At least three times while we talked, Wallenda said, "I love Western New York."
"I get opportunities to perform all over the world, but I love it right here," Wellenda said. "The people love me. I love the people here because they were so supportive."
The 10-week run for the show is the longest Wallenda has stayed in one place in nine or 10 years, he said.
"Ever since I walked over Niagara Falls, I said I wanted to have a permanent place here in WNY," Wallenda said. "A year went by and I was busy, but nobody from Western New York really stepped forward and said, 'hey, we want you here.' The casino offered a little bit. They wanted, but then they couldn't fulfill. So many places reached out, but never followed through, then Darien Lake was like, 'we want to do it. We're going to follow through. Let's do it.' "
Vincent Nicoletti, marketing director for Darien Lake, said the folks at Darien Lake feel really fortunate to bring a show of such world class caliber to Western New York.
What's so cool about it is if you remember Lena, the way she did the hoops, just the music that she used, it had the classic kind of vaudeville sound, but it was modernized with some hip-hop beats," Nicoletti said. "It's a really cool variety show. A lot of people don't know what to expect when they come here for this show. 'What am I going to go see?' and it's such a big surprise. The level of talent they have in each act is just phenomenal."
Wallenda hopes people from all over the region will come out and see the show. He hopes to make it more than a one-summer-and-done event. He wants to keep coming back.
"We put a lot of money into this," Wallenda said. "I'm used to making a lot more money, but to me it was like, I promised to bring something back here, so let's do it, let's do it in a big way, let's do it right and hopefully we'll be invited back."
Performers included: Sergio & Martha Martinez, the Dancing Gauchos; Nik and Erendira Wallenda, swaypoles; Lianna Ashton, hula hoops; Nick Slimick, on silk ropes; Giuliano and Fabio Anastasini, foot jugglers; Ty Tojo, juggler; Nik, Erendira, & Delilah Wallenda, Alec Bryant, Nick Slimick in the finale, a high wire act. Philippe Thibadeau had a recurring comedic role, including an audience participation routine. Ty McFarlan was the MC.
Performances are Tuesday through Sunday at 4 p.m. and 7 p.m. Tickets are free to park guests and VIP packages, which includes a tour after the show, a meet-and-greet with Wallenda and front-row seats are available.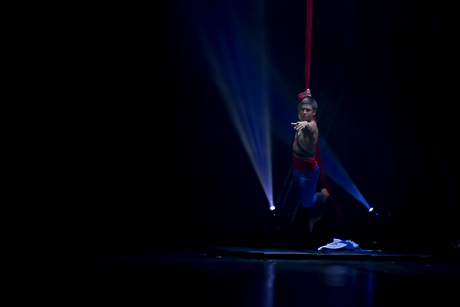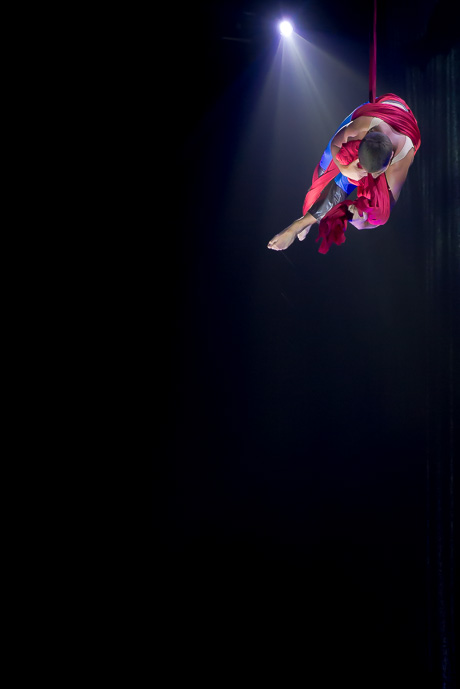 Nick Slimick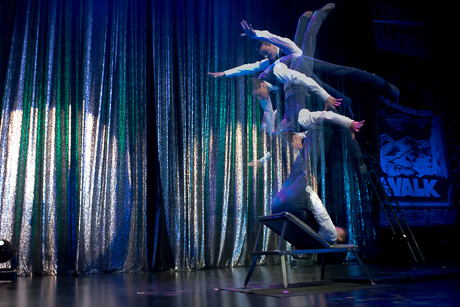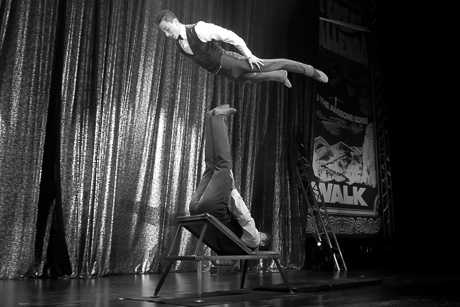 Giuliano and Fabio Anastasini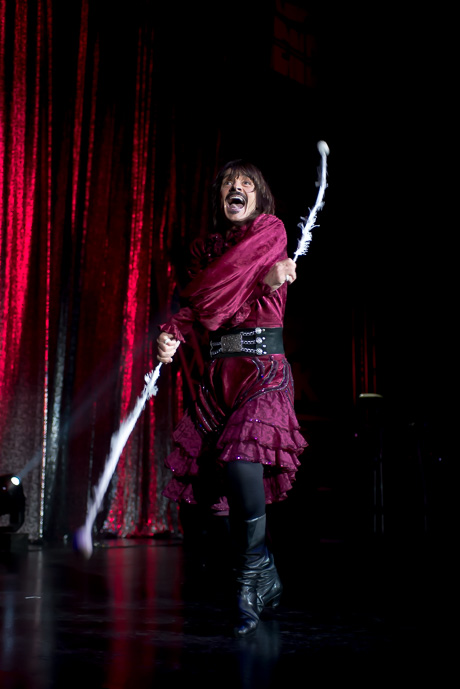 Sergio Martinez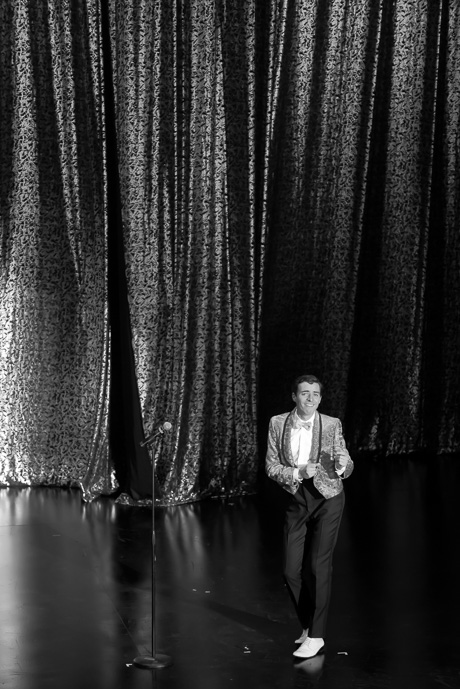 Philippe Thibadeau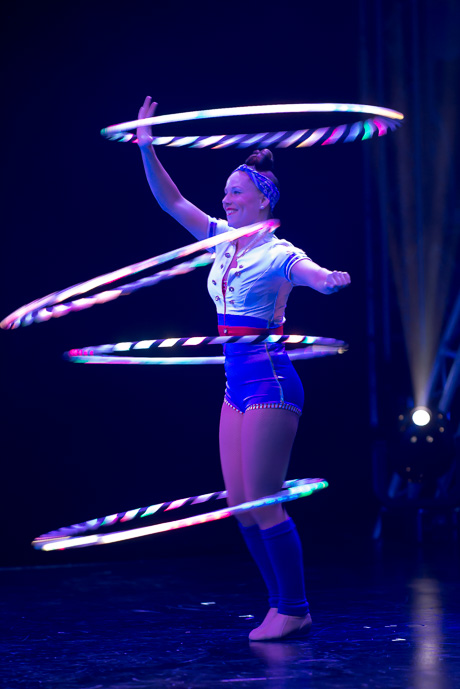 Lianna Ashton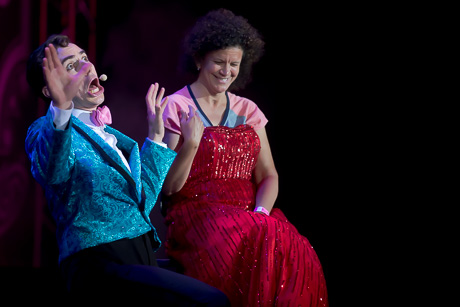 Philippe Thibadeau playing the incorrigible romantic in an audience participation routine.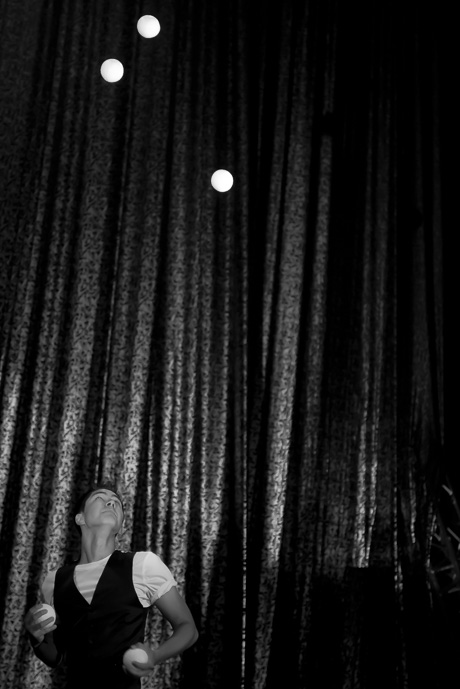 Ty Tojo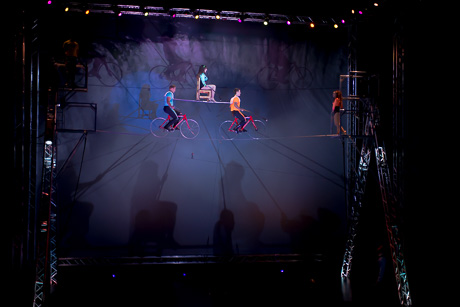 The finale.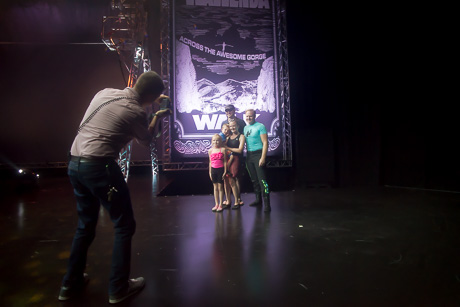 VIP guests get their picture taken on stage with Nik Wallenda.
June 28, 2014 - 2:03am
#1
I get the sense that Nik had stepped somewhat away from circus to focus on solo skywalk, apparently to reach a broader audience with his inspirational message and to achieve personal dreams, and that this Darien Lake engagement amounts to a return-to-roots exercise for him. Besides demonstrating Nik's exceptional tightwire skills, which were already known, the Darien Lake show also proves that Nik possesses modern production and artistic direction capabilities. It's no surprise since, for multi-generational circus families, circus tends to be a whole way of life.
As I've stated before, Nik's show constitutes a tremendous value-add for Darien Lake and is a great reason to visit this season. I hope local people will respond appropriately so that it will make sense for Darien Lake and Nik to partner beyond this season. As for adding trapeze? Yes please.