October 11, 2014 - 11:13pm
Notre Dame falls to Attica 40-15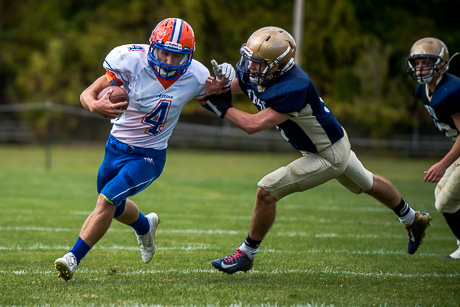 The Fighting Irish of 2014 may not be the champion caliber squad of recent seasons, but Notre Dame is still the team other teams love to beat.
Today's proof: Fresh off its fifth touchdown through the middle of the third quarter, with the score 33-7, the Attica Blue Devils chose to squib and onside kick.
"It's a big rivalry," said Attica Head Coach Rob Cusmano.m"It's been a rivalry for years with Attica and Notre Dame. Last year was for the league title, and this year, they've got a couple of losses, but still, you throw those records right out the window and you just keep going after it."
It was a hard fought game, even when Attica seemed to have it well in hand. Coaches on both benches tried constantly to get referees to see things their way, pointing out holds, clips and chop blocks, and disclaiming guilt when flags were thrown against their own players.
It got so hot at one point, Attica was flagged for a 15-yard penalty.
The first quarter gave little indication of where this game was going, ending at a 0-0 tie.
Cusmano said the Blue Devils made some adjustments, which enabled them to pull away from ND.
"We couldn't run between the tackles, so we needed to get outside," Cusmano said. "We got outside a few times and that made the difference."
With the score 14-0 and two minutes left in the half, Notre Dame Head Coach Rick Mancuso decided to go to the air in the hopes of a quick score before intermission.
QB Joe Zickl completed a couple of passes. There was the ember of a drive glowing when he tried to hit a receiver just beyond the line of scrimmage. The receiver reached high and tipped the ball. It fell into the hands of Alex Piechocki, who sprinted to the end zone, giving Attica a 21-0 lead.
Another drive early in the second half was reversed into a Blue Devils score on a touch down.
Cusmano gave credit to scouting and film study for the picks.
"We knew their routes and our guys did a great job stepping in front of the ball and a couple of those went for touchdowns, and I attribute that to them watching a lot of film and doing their homework," Cusmano said.
Receiver Levi Snyder said the win, after a slow start, showed the team's character.
"We had to fight a little adversity at first," Snyder said. "We came in here, got a little rattled, but stuck together as a team and stuck it out. We got the win. That's all that's important right now."
Senior Derek Walker said it was exciting, a big deal to beat the Irish.
"It's huge," he said, "because nobody really likes Notre Dame."
The victory clinched the Genesee Region title for Attica, who will take a 6-0 record into next week's game against Oakfield-Alabama (3-3).
The Blue Devils said they didn't want to look past next week's game, but Cusmano conceded, the Class C post-season is going to be tough.
First week matchups haven't been determined yet, but Bath, Le Roy and Attica have all secured spots in sectionals. The fourth team in the playoffs could be Dansville, East Rochester or Elba/Byron-Bergen.
"It's very, very tough," Cusmano said. "I saw Le Roy last night and they're a very tough team and Bath is a good ball team, plus you throw Dansville in there, throw East Rochester in there, it's a very, very, very good class."
Even so, Cusmano is hardly throwing in the towel.
"We're getting healthier," Cusmano said. "One game at a time. We're thinking Oakfield. But I like our shot."
For Attica, Damian Marchetti was eight for 13 passing for 80 yards. He had eight carries for 74 yards and a TD. He also kicked five PATs. Jake Strzelec rushed for 89 yards on 25 carries and scored twice. Derek Walker had four receptions for 48 yards and a TD. Besides the interception return for a touchdown, Alex Piechocki also rushed for a score. Kyle Zawadzki had an interception return for a TD. Levi Snyder had two interceptions.
For Notre Dame, Joe Zickl was 15 for 31 passing for 159 yards and two TD. He was picked six times. On the ground, only Spencer Misiak had positive yardage, with one yard gained on one carry. C.J. Suozzi caught five passes for 45 yards. Josh Johnson had two TD receptions and gained 37 yards. Casey Midwick had four receptions for 31 yards. Joe Zickl had 10 tackles. Jack Sutherland, six. Peter Daversa had a sack.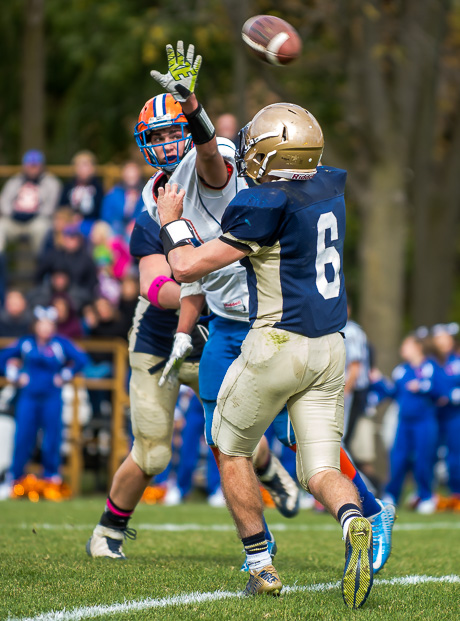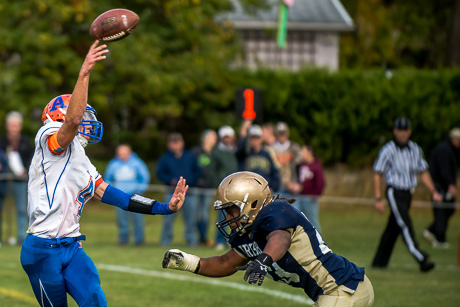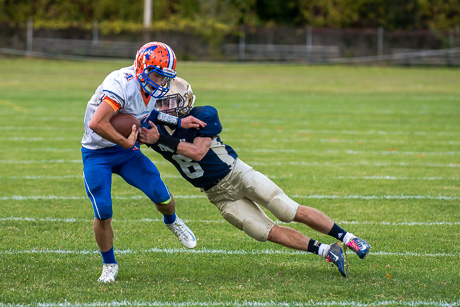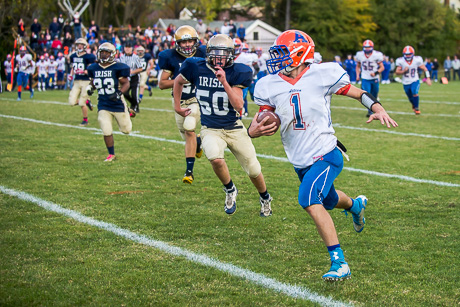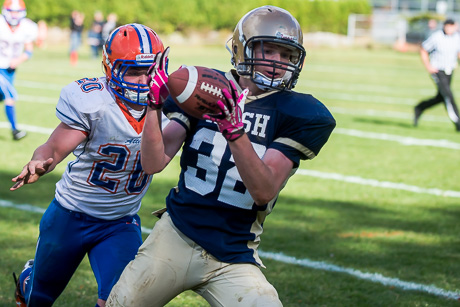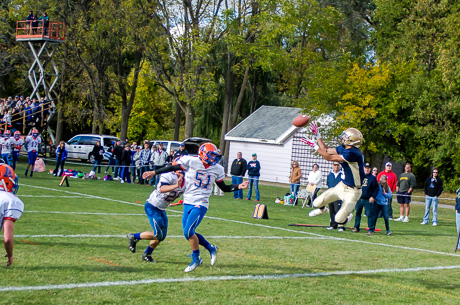 To purchase prints, click here.