September 9, 2012 - 2:59pm
Notre Dame notches second win against Oakfield-Alabama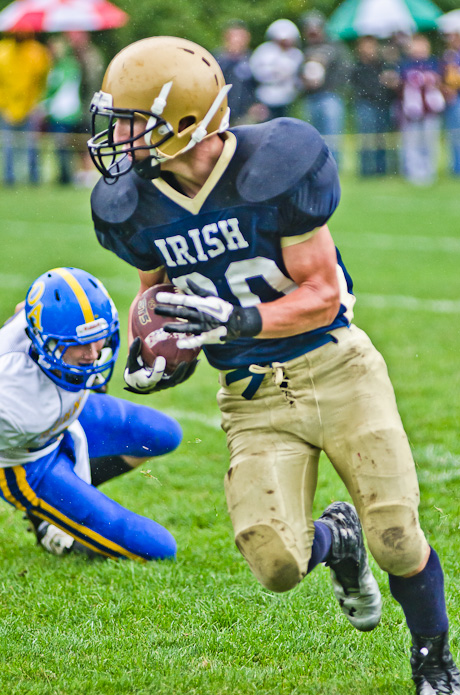 A Notre Dame offense propelled by Nick Taylor, Tim McCulley and Andrew Mullen dominated on the gridiron Saturday against Oakfield-Alabama.
With a 32-0 win, the Fighting Irish move to 2-0 while the Hornets top to 0-2.
Taylor carried the ball 15 times for 161 yards and one TD. McCulley tossed a 26-yard TD pass to Charlie Hebert, rushed for a touchdown and returned an interception for a score. He also rushed for 48 yards on seven carries. Mullen scored once on nine carries for 65 yards.
O-A's stats are not available, nor are defense stats.
Head Coach Rick Mancuso said his young team is still learning and needs to take each week of the season day-by-day.
"A lot of kids played in their first varsity game last week," Mancuso said. "Today, they played in their second, so I think we're getting a little more experience as we go on so we can develop a little bit of an edge and we can get some momentum going through the season."
Oakfield-Alabama has talent -- such as Austin Schroeder, Chase Manzella, Chris Nanni, Ryan Emery and Allen Chatt -- and Mancuso said the Hornets should not be taken lightly.
"I think Brian (Palone) is doing a job with that group of kids," Mancuso said. "He's got them motivated week-to-week. He's got them playing very hard. It was not a walk over by any means."
In other local football action this weekend:
Batavia beat Cardinal O'Hara High School 36-8 and is now 2-0 on the season. Justin Washington carried the ball twice and scored both times. Andrew Budlong had nine carries for 77 yards and one TD. Brandon Stevenson rushed for 74 yards and a TD. Nick Canzoneri carried the ball 10 times for 49 yards and scored once. Zac Bromley kicked four successful PATs.
Le Roy dominated on offense and defense for the second week in a row, beating Warsaw Central School 42-0. Warsaw (0-2) was held to 99 yards of offense. Ryan McQuillen had four receptions for 115 yards and a TD. Dylan Johnson rushed for 71 yards and two touchdowns. Peter Privitera scored twice with 57 yards on the ground. Johnson had seven tackles and Zack Fitzsimmons had five.
Elba/Byron-Bergen (2-0) beat Pembroke 43-0 (0-2), jumping to a 21-0 lead in the first quarter. Zack DuBois had another solid game, rushing for 264 yards, scoring four times on runs of 58, 69, 59 and 35 yards. Zac Gillard tossed two TDs, one for 60 yards, completing four passes on seven attempts for 127 yards. Receiver Kyle Morse caught three passes for 97 yards, including that 60-yard TD pass from Gillard. For Pembroke, QB Tyler Bruning was 6-12 for 42 yards. Andy Underhill had 14 tackles for the Lancers, with 11 more for Nate Jonathan.
Alexander (1-1) beat Finney 29-8.
Reminder: Each of the next two weekends, I'll be traveling so won't be able to cover any games.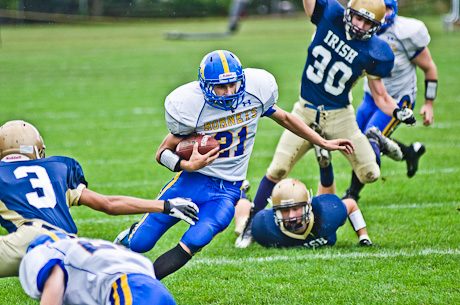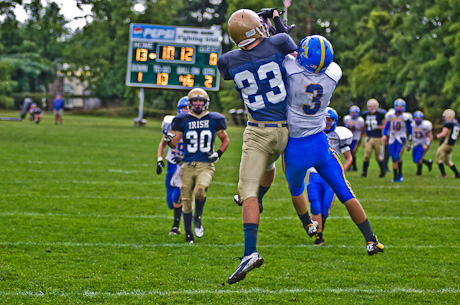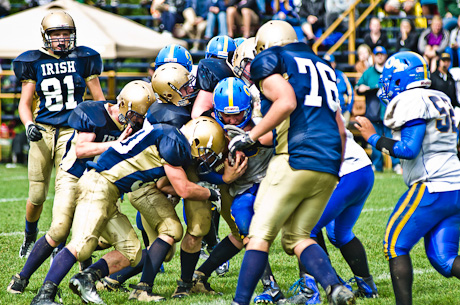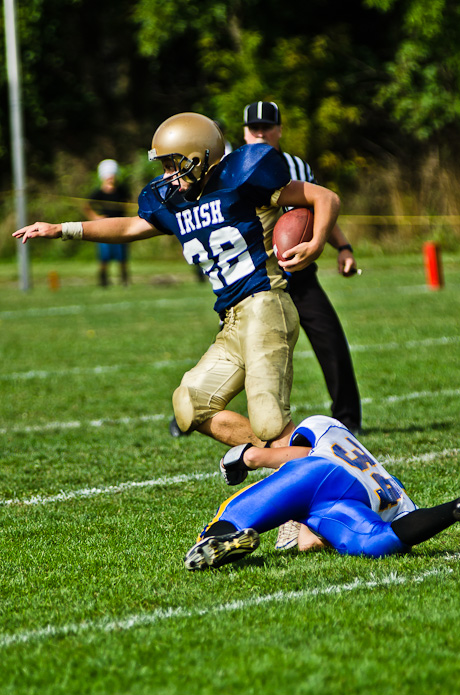 If you're unable to view the slide show below, click here. To purchase prints of these photos, click here.
September 10, 2012 - 11:06am
#1
Nice writeup for Notre Dame. Where's writeup on Batavia High School?
September 10, 2012 - 11:09am
#2
As I explained last week, BHS had away games last week and this week. I'll be out of town for their next two games. I plan on covering the week 5 game, which is a home game.
September 10, 2012 - 1:39pm
#3
Nice kick to the nuts in the second picture.