October 29, 2014 - 10:09pm
Officers respond to report of youths breaking into cars on Kibbe Avenue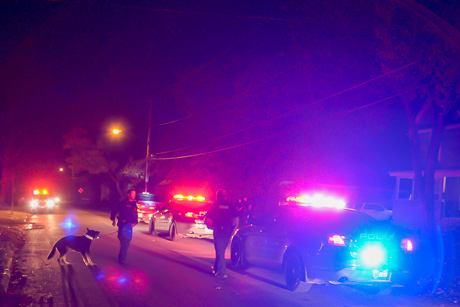 A caller reported seeing youths trying to break into cars on Kibbe Avenue, and seconds later said they were leaving the area at a high rate of speed, heading southeast on South Jackson Street.
Within a minute, a patrol stopped a vehicle with two or three occupants.
The officers were attempting to question them.
On a car-to-car transmission, one officer drolly tells another, "they have no idea who they are."
The individuals are being separated for further interviews.
At the same time, officers are tracking individuals who are going through one of the cemeteries on Harvester Avenue. A K-9 is on scene.
UPDATE 10:45 p.m.: Both incidents are related. A total of six people are involved. When Batavia police officers pulled over a pickup truck to question the driver about the Kibbe complaint, two passengers fled the vehicle on foot and were seen going into the cemetery. The cemetery area is cordoned off; the K-9 was taken off leash to hunt for the two suspects. One has been apprehended; the other remains at large. Three additional passengers remained inside the truck; one is a female who appears to be in her teens. One of the males at large is described as white, about 15 years old, with a thin build.
UPDATE 11:23 p.m.: Batavia PD is still on scene questioning two individuals. One individual remains at large. Police located a GPS unit in the vehicle and are trying to determine if it's stolen. We don't anticipate any further updates tonight unless there's a significant development.
UPDATE noon, Thursday: No arrests were made. The investigation is continuing, according to Assistant Chief Rob Yaeger.
October 30, 2014 - 10:23am
#1
Good work BPD and the citizen who called this in.
October 30, 2014 - 10:46am
#2
I agree, Beth, IF the BPD had a good reason to pull over the possible 'players'. Just pulling a vehicle over without 'reasonable suspicion' isn't good. I don't know the particulars of this traffic stop, so I can't say what reasons were in play.
D'ya ever hear from Joanne & Bob? Just wondering.
Sorry to hear it's gettin' chilly up there. I know the feeling. It was 65º down here this morning. I had to put a light jacket on to go out for a smoke. Br-r-r-r!!