July 30, 2012 - 10:52am
Officials see connection between 225 underage drinking citations and relatively quite Toby Keith concert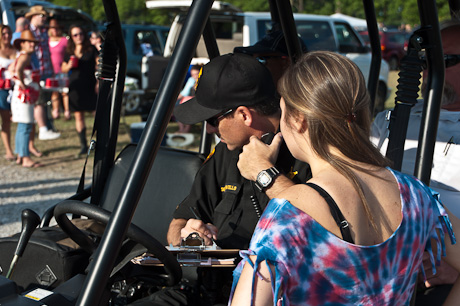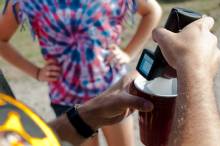 Toby Keith may like girls who drink beer, but when they come to his concerts at Darien Lake, those drinking beer better be at least 21 years old.
Last night a total of 225 young people found that out when they were issued citations in a joint effort involving the Sheriff's Office, State Police and Darien Lake security to crack down on underage drinking at the concert venue.
A checkpoint was set up earlier in the afternoon at the entrance to the park and at least a half dozen troopers were involved in issuing nearly 80 citations by 6 p.m.
The aggressive early enforcement, officials believe, contributed to quieter night with fewer arrests for rowdy behavior than is typical for a major country star's show at Darien Lake.
"What you're seeing tonight is just a little more creative effort into ways to better to enforce (underage drinking)," said Bob Montgomery, general manager for the theme park. "We've worked hard this year and I think our arrests have almost doubled from what they were last year when they increased from whatever they've been in the past."
Throughout the evening, deputies talked about how fewer disruptive incidents they were being reported, almost with a level of amazement.
The show, after all, was Toby Keith, whose concert in 2011 had eight people arrested for alleged disruptive behavior.
On Sunday, only four people were taken into custody for what could be described as disruptive behavior.
Typically, as concertgoers try to exit the facility after a big country concert, police radio traffic is filled with hectic chatter of reports of fights in the parking lot, but last night only one "head-butting" incident was reported.
Sgt. Thomas Sanfratello, who usually heads up the concert law enforcement detail, thinks curbing underage drinking helped the situation.
"I think it's a direct reflection on the ABCs (citations)," Sanfratello said.
During the 2011 season, law enforcement issued 526 citations for alleged underage drinking.
Coming into Sunday's show, there had already been 353 citations issued. Add in Sunday's ticket writing and it brings the year's total to 578. 
The 2012 season is only half over.
As underage drinkers were found, if they had alcohol, they had to dump it out or dispose of it, including those stopped at the checkpiont.
One officer said he came across a group of young people in the parking lot minutes after they arrived. The group had to dump out several six-packs of beer and an unopened bottle of gin.
As a result of the enforcement effort, an official said that fewer people than usual were refused entrance to the concert for being overly intoxicated.
"We're really pleased with what we've seen tonight," Montgomery said. "It's definitely made a difference tonight by being preemptive, and by putting the fence up it will work only that much better."
The chainlink fence will stretch along a large portion of the Darien Lake property on Sumner Road blocking access to the concert venue for anyone who tries to walk in from a private lot.
For years, residents along Sumner Road have let people park in their yards and pastures for a fee.
On Aug. 24, Darien Lake will close pedestrian access to the venue from Sumner Road.
Of course, concertgoers will still be able to park in the private lots, if residents continue to allow it, but they will be required to either drive into the venue or walk around to the main entrance on Alleghany Road.
"We're very interested in creating a safe environment for all guests," said Gerald Rakestraw, VP of development for Darien Lake's owner, Herschend Family Entertainment. "Securing the park's perimeter is key because of the pedestrian issues and access for emergency vehicles."
Rakestraw has been working closely with Montgomery and his staff to come up with a plan to improve concertgoer safety and enjoyment, he said.
While some property owners had signs up Sunday indicating they will shut down their parking operations Aug. 24, others may continue to try and lure concert goers to their lots.
There has been some talk of lots offering shuttles to the front entrance, but Montgomery said Darien Lake won't allow drop-offs from such shuttles.
"A shuttle in also means a shuttle out, and that's just not feasible," Montgomery said. "So we're not going to encourage that kind of operation because it really doesn't work."
Officials plan to do their best to educate the public prior to Aug. 24 about the changes and there will be conspicuous signage for anybody going to private lots that pedestrian access to the park from Sumner Road is not allowed, Montgomery said.
"They'll find when they get here that they can't access the PAC area," Montgomery said. "Certainly they (concertgoers) are welcome to do park there,  but they'll find they won't be able to walk down (to the concert)."
Getting traffic moving out of the parking lot swiftly is a key strategy to cutting down on altercations in the parking lot, officials said. When there's gridlock, tempers flare. On Sunday, the parking lot was cleared of nearly all cars by 1 a.m., about an hour ahead of the typical time for a concert attended by more than 16,000 people.
With all the emphasis on underage drinking Sunday, Sanfratello, along with other members of law enforcement, said he could see a big difference in the parking lots both prior and after the show. There were fewer masses of young people gathered around big piles of empty beer cans. There was less unruly behavior and after the show. There was a lot less trash dumped on the ground.
The security trailer where suspects are booked prior to to arraignment in Darien Town Court was a pretty quiet room for most of Sunday night.
One person was brought in and had to be placed in a restraint chair as he appeared to fight with deputies while laughing and bragging of his strength.
Two other young women were booked for allegedly giving false information about themselves while being cited for alleged underage drinking.
Rachel A. Johnson, 19, of Linwood Road, Le Roy, allegedly gave Sanfratello the names of a friend and of her sister before Sanfratello acquired her real name.
She was charged with two counts of criminal impersonation, 2nd.
At one point he asked her, "Was it worth the $1,000 fine instead of a $50 ticket?"
Then there was the case of a 16-year-old from Canada who was cited for alleged underage drinking. He was stopped on Employee Road and as he was being written up he started to freak out just a little bit, sure the citation meant the end of all of his hopes and dreams.
"You don't understand," he said. "I'm from Canada. It's not like the United States. I was going into the army. They won't take me now."
Because of his age, a deputy spoke to his mother and got permission for him to be released to the custody of his older girlfriend.
Only minutes later, the youth returned. He said he didn't know what to do. A deputy told him to go enjoy the concert, but he couldn't because his girlfriend had just broken up with him and went into the show without him.
The youth had to wait in the security area until 10 p.m. when his father arrived from Canada to pick him up and take him home.
While a Buffalo News reporter was at the show Sunday, officials hope more Rochester and Buffalo media pick up the story of increased law enforcement pressure to curb underage and problem drinking at shows. They also hope stories such as this get passed around on Twitter and Facebook.
The message officials hope sinks in for the public isn't that you can come to Darien Lake, have a good time and even drink a little. It's just that if you're under 21, you shouldn't drink at all, and if you're of age, drink responsibly.
"We want people to com and have a great time here," Montgomery said. "Our issue is when that good time starts to go a little overboard and disturb the quiet enjoyment of the other people at the show."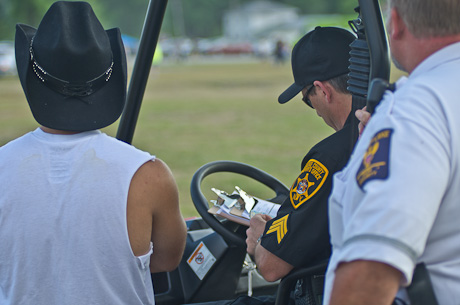 The Sheriff's Office press release of arrests and citations along with more pictures from Sunday are after the jump (click on the headline to read more):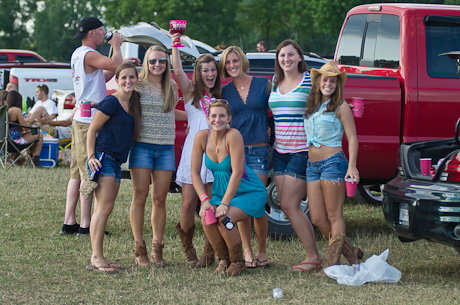 A group of young ladies enjoying an apparent bachorlette party in the parking lot prior to the show.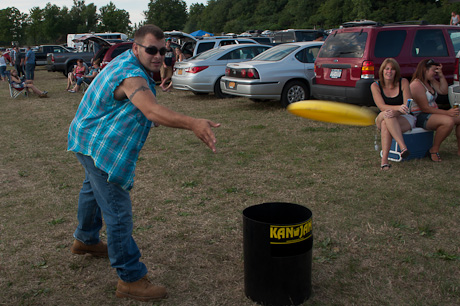 A popular game in the parking lot prior to a concert is "Kan Jam," which is sort of a Frisbee version of horseshoes.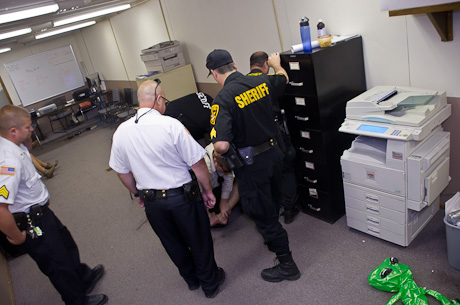 A suspect struggles with deputies while being placed into a restraint chair.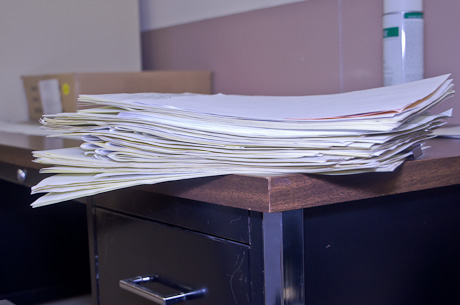 At about 8 p.m., the stack of paperwork for citations and arrests.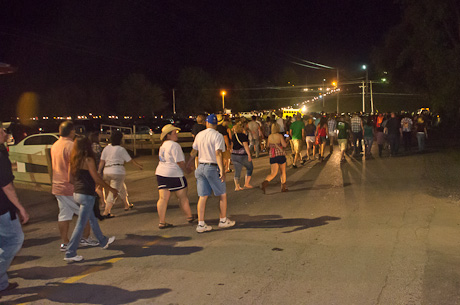 During "the dump," when most concertgoers leave, Employee Road is blocked by pedestrians heading toward the private lots, and cars stream out of the private lots tying up traffic on Sumner Road. Officials hope the new fence is put into operation Aug. 24, it will help keep Employee Road open and Sumner Road safer and with better traffic flow.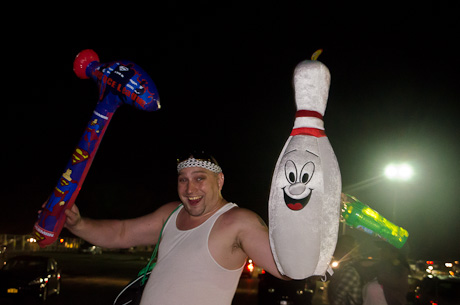 A Toby Keith fan who also had a good time in the theme park.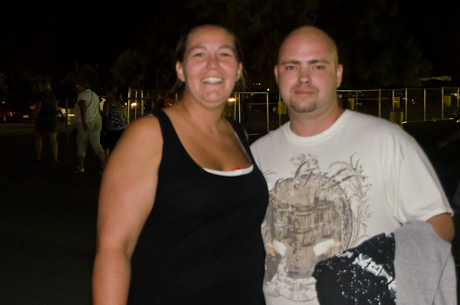 Fans who wanted their picture on The Batavian. It's a little out of focus, but the gentleman recently returned from a deployment in Afghanistan and is home on leave.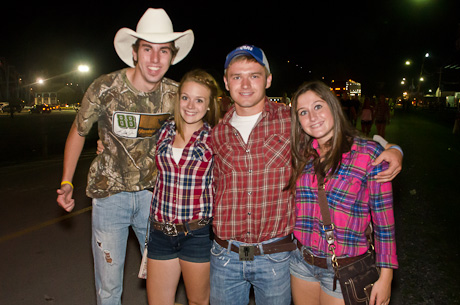 More fans who asked to get their picture on The Batavian.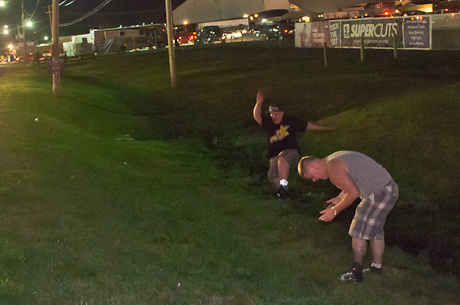 For after-show entertainment, just stand along Employee Road and watch people try to cross the drainage ditch. The mud sucks people right in. Regular observers figure if anybody ever digs out the ditch they will find hundreds of thousands shoes, sandals and flip-flops lost their over the years.
Sheriff's Office press release:
Sean A. Kota, 19, of Byron-Holley Road, Byron, is charged with disorderly conduct and possession of alcohol under 21 after allegedly causing a disturbance on Employee Road and being found in possession of alcohol being under age 21. Kota was arraigned and jailed on $250 bail.
Curtis P. A. Kelly, 21, of Hennepin Circle, Niagara Falls, Ontario, Canada, is charged with trespass and resisting arrest after allegedly reentering the concert venue after being ejected and told not to return and then physically resisting arrest. Kelly was arraigned and jailed on $1,000 bail.
Megan E. Heywood, 19, of Genesee Street, Le Roy, is charged with false personation, disorderly conduct and possession of alcohol under 21 after allegedly giving a false age and blocking vehicular traffic on Employee Road. Heywood was also allegedly found in possession of alcohol under age 21. Heywood was arraigned and jailed on $200 bail.
Rachel A. Johnson, 19, of Linwood Road, Le Roy, is charged with two counts of criminal impersonation, 2nd, and possession of alcohol under age 21 after allegedly giving two different names when asked to correctly identify herself. Johnson was also allegedly found in possession of alcohol under age 21.
Adam J. Cole, 24, of Alpine Knoll, Fairport, is charged with unlawful possession of marijuana by State Police.
James J.  Drzewiecki Jr., 19, of Roycroft Parkway, Elma, is charged with unlawful possession of marijuana and possession of alcohol under age 21.
Ashley Brant-Hunter, 17, of Chapman Parkway, Hamburg
Rachel D. Anderson, 17, of Drayton Parkway, Hamburg
Alexandria A. Schultz, 18, of Sundance Trail, Lakeview
Houston D. Draper, 19, of Woodside Court, Holley
Chelsea L. Solina, 19, of Eastwood Street, Buffalo
Mason A. Pritchard, 18, of Huff Road, Hemlock
Emily R. Schwegzler, 17, of Federal Road, Livonia
Bianca R. Lowrey, 19, of Collamer Road, Hilton
Patrick Palyer, 19, of Cayuga
Jessica A. Wilkes, 17, of Parker Street, Auburn
Laura M. Tuffo, 19, of Cooper Drive, Hilton
Taylor M. Balbierz, 17, of Amsdell Road, Hamburg
Emilia Vibloum, 19, of South Abbott Road, Orchard Park
Joshua E. Escobar, 19, of Woodside Court, Holley
Adrianna R Ricci, 18, of Holleybrook Road, Brockport
William E. Szelazkewicz, 19, of Stahley Road, East Amherst
Megan L. Haberer, 19, of Webster Road, Orchard Park
Michelle A. Hahn, 19, of Lapp Road, Alden
Megan M. Tomasello, 19, of Ransom Road, Lancaster
Ellen M. Meyersage, 20, of Andover Lane, Williamsville
Jenessa N. Lucey, 20, of Sandhurst Lane, Williamsville
Danielle M. Giamcarlo, 19, of North Autumn, Williamsville
Jacquelyn M. Murrer, 20, of Kingsview Court, Williamsville
Patrick M. Wannamaker, 19, of Frankin Street, Williamsville
Maxwell G. Kahn, 19, of Chicory Lane, East Amherst
Mitchell S. Kyser, 20, of East Main Street, Westfield
Gregory F. Dimock, 20, of Hunter Lane, Williamsville
Bradley J. Moancelli, 19, of Bowers Road, Casadaga
William P. Barber, 20, of Elm Street, Westfield
Michael J. Mercurid, 17, of Creekview Drive, Hamberg
Travis T. Scida, 20, of Powers Avenue, Johansonburg, Pa.
Alexander N. Kotrider, 19, of West Master Drive, East Amherst
Angelo J. Caruso, 18, of Ashford Court, East Amherst
Ashley M. James, 19, of Armison Road, Filmore
Matthew M. Lates, 19, of County Road #27, Portageville
Jessica E. Smith, 19, of Bernard Street, Filmore
Cody J. VanBuskirk, 20, of Wiskey Mills, Filmore
Anna K. Rauber, 18, of County Road #46, Dansville
Hailey M. Sick, 18, of Franklin Street, Dansville
Alexander C. Cerbini, 20, of Whittier Road, Brockport
David F. Lyons, 17, of Barker-Schoolhouse Road, Hamlin
Alexa A. Banaszak, 17, of Newberry Lane, Lancaster
Kyle G. McCarthy, 20, of Gordon Avenue, Lancaster
Peter G. Wallace, 19, of County Road #36, Wayland
Mandy L. Oakes, 17, of West Lake Road, Geneseo
Jessica Mancini, 20, of Rutgers Road, Andover, Md.
Lauren E. Piluso, 19, of Helendeler Road, Rochester
Erinn S. Hopkins, 19, of Cohocton
Tyler A. Barber, 18, of Weinhart Street, Wayland
Joseph L. Meyer III, 18, of Ward Road, Wayland
Cody J. Lang, 18, of Depot Road, Springwater
Samuel A. Moyer, 18, of Hollywood Drive, Lockport
Anthony J. King, 18, of Hollywood Drive, Lockport
Brian K. Rotsoth, 20, of Main Street, Canton, Ohio
Kathleen A. Cougen, 20, of Washington Street, Bradford, Pa.
David S. Dugburn, 20, of West Seneca
Taylor J. Maryniewski, 18, of Depew
Allison M. Weiss, 19, of Clarion Place, Whitesboro
Careena M. Gratan, 20, of Beachwood Drive, Caledonia
Arian L. Vasquez, 17, of Abbott Road, South Buffalo
Edward J. Krier Jr., 20, of Wellworth Place, Cheektowaga
Robert K. Capo, 18, of West Center Street, Medina
Samantha M. Staino, 18, of Hollybrook Road, Brockport
Samantha N. Havlom, 20, of Eagle Harbor Road, Albion
Tyler Harper, 18, of Ladue Road, Holley
Tyler J. Thielges, 19, of Granger Road, Wayland
Michael J. Murphy, 18, of County Road #36, Wayland
Cody J. Oas, 18, of Michigan Street, Perkinsville
Kevin J. Grimaldi, 18, of Walden Drive, Lakeview
Cody L. Winton, 20, of State Route 12, Sherburne
Cameron T. Yerton, 19, of North Road, Sherburne
Cynthia D. Bush, 18, of Classic Street, Sherburne
Joshua J. Mase, 20, of East Avenue, Batavia
Sara R. Hart-Predmore, 20, of Yarkerdale Drive, Rochester
Cedrick N. Simmons, 20, of Garden Apartment, Ithaca
Edward J. Buell, 18, of Ridgedale Circle, Greece
Kaitlyn A. Boehm, 19, of Ridgecrest Road, Rochester
Megan H. Kelly, 20, of Dohrcrest Drive, Rochester
Bryan M. Stehm, 19, of Sagewood Drive, Spencerport
Jason R. Hensel, 18, of Celtic Lane Rochester
Kyle J. Stubbe, 19, of Edgemere Drive, Rochester
Courtney L. O'Hara, 19, of Andrews Drive, Rochester
Stephanie L. Matteson, 19, of Woodsong Lane, Rochester
Andrew M. Frosini, 19, of Pebbleview Drive, Rochester
Nicholas H. Nadrowski, 19, of Lakeview Drive, Lakeview
Louis M. Wagner, 19, of Versailles Drive, Lakeview
Andrew M. Vincent, 19, of Clifton Parkway, Hamburg
Matthew J. Byrne, 19, of Wyndfield Court, Hamburg
Chelsy G. Karcher, 18, of Reserve Road, West Seneca
Correen L. Longbine, 20, of Milestrip Road, Orchard Park
Emily A. Whiteside, 20, of Hawthorne Drive, Orchard Park
Ashley E. Avino, 19, of Woodsfield Drive, Lakeview
Joanna M. T. Dunn, 19, of Twilight Lane, Hamburg
Emilia V. Bloom, 20, of South Abbott Road, Orchard Park
Aaron M. Ellison, 20, of Karrow Street, Orchard Park
Alexandria E. Schultz, 19, of Caitlin Terrace, Hamburg
Demi N. Flynn, 20, of North Collins, ?
Alicia M. Barratt, 20, of Seneca Street, Lawtons
Stevie R. Foit, 20, of Maple Street, Lawtons
Michael A. Spain, 17, of Otisco Valley Road, Preble
Joshuah T. Lewis, 17, of Stevens Road, Tully
Stuart D. Grass, 19, of Schuler Street, Syracuse
Jacquelyn A. Rapple, 19, of Kinyon Road, Marietta
Deanna M. Clappsaddle, 18, of Bear Ridge Road, North Tonawanda
Megan E. Clarke, 18, of Deerfield Drive, North Tonawanda
Justin P. Reinhardt, 19, of Deerfield Drive, North Tonawanda
Daniel R. Snyder, 20, of Mull Street, North Tonawanda
Raymond J. Wasieszko, 20, of Ruie Road, North Tonawanda
Matthew J. Rua, 20, of Sherwood Ave, North Tonawanda
Olivia L. Cabana, 19, of Ashford Avenue, Tonawanda
Rebecca R. Rush, 20, of Sundridge Drive, Amherst
Frank T. Nemeth, 19, of Kelly Drive, Niagara Falls, Ontario, Canada
Blake R. J. Roubos, 19, of Cataract Road, Thorold, Ontario, Canada
Daniel S. Holmes, 18, of Con. 4 Road, Street, Anns, Ontario, Canada
Rachel P. Meyer, 20, of Word Road, Wayland
Hayley S. Ormond, 19, of North Lackawana Street, Wayland
Katelyn M. Clawson, 20, of County Road #36, Atlanta
Taylor A. Morse, 17, of Granger Road, Wayland
Kevin R. Shaughnessy, 20, of Helfer Lane, Minoa
Nicholas A. Raesky, 17, of James Street, East Syracuse
Camri J. Hanlon, 18, of McNutt Road, Campbell
Brook D. Knowles, 20, of Reed Hill Road, Campbell
Corinne R. Wright, 20, of Main Street, Campbell
Jenna A. Clarke, 19, of 4th Section Road, Brockport
Jessica E. Daley, 20, of Bramblewood Lane, West Rochester
Hallie P. Fenti, 19, of Church Street, Hornell
Alexandria A. Gibson, 20, of Roncroff Drive, North Tonawanda
Kaitlyn H. Saunders, 18, of Euclid Avenue, Perry
Emily G. Gallagher, 20, of Wayland Road, Penfield
Alison M. Deacon, 20, of Creekview Drive, Hamburg
Derek R. Schmidt, 18, of Dean Road, Spencerport
Gregory M. Smith, 19, of Martin Road, Hamlin
Garrett D. Hartler, 19, of Dean Road, Spencerport
Lindsay A. Adams, 18, of Wedgedon Landing, Hilton
Alaina R. Bechtold, 20, of Hilton-Parma Corners Road, Spencerport
Mikayla L. Zanghi, 17, of Macintosh Drive, Rochester
Michael B. Coyne, 17, of West Gate Road, Kenmore
Sean J. Dungan, 19, of Zimmerman Blvd., Tonawanda
Chelsea L. Mooreage 19, of Desmond Drive, Tonawanda
William G. Moore, 18, of Woodward Avenue, Kenmore
Tyler J. Crawford, 18, of Johns Avenue, Buffalo
Timothy W. Balkin, 18, of Wellingwood Drive, East Amherst
Matthew R. Goss, 17, of Dodge Road, Getzville
Joseph C. Schrader, 20, of Harbor Street, Wilson
Molly J. Curry, 19, of Burch Road, Ransonville
Kimberly L. Daunce, 20, of Wilson Cambria Road, Wilson
Tyler W. Reimers, 19, of Wilson Cambria Road, Wilson
Camille L. Arth, 19, of Evergreen Drive, Lakeview
Mary E. Mcmahon, 16, of White Water Court, Hamburg
Thomas D. Scott, 17, of Second Avenue, Lancaster
Anessa L. Gervase Bage, 17, of Robinwood Court, Lancaster
Michael J. Enders, 17, of Pleasant View Drive, Lancaster
Francis J. Sterlace, 20, of Jackle Avenue, Silver Creek
Franklin G. Brown, 18, of Post Street, Irving
Hayley L. Trippy, 18, of Versailles Plank Road, North Collins
Levi M. Bower, 19, of East Avenue, Rochester
Jordyn A. Govenettio, 17, of Chapman Pkwy, Hamburg
Kali C. Compise, 16, of Overlook Point, Hamburg
Michael P. Edwards, 19, of Morgan Pkwy, Hamburg
Tiffany M. Agro, 18, of Linwood Avenue, Blasdell
James A. Militello, 20, of Champion Drive, Daytona Beach, Fla.
Nicholas J. Patronik, 19, of Juno Drive, Lakeview
Joshua L. Baker, 20, of Hewson Road, Lakeview
Garrett R. Cortright, 20, of Clifton Parkway, Hamburg
Jordan J. M. Harwood, 19, of Yankee Lane, Hornell
Kassandrea D. Heller, 18, of Maple Court, Hornell
Zachary M. Hynes, 17, of Split Rail Run, Penfield
Cody T. Murphy, 18, of Bowerman Road, Farmington
Aaron J. Ford, 17, of Green Road, Farmington
Sarah D. Kessler, 20, of Muriel Drive, Rochester
Michelle M. Snodgrass, 18, of Delta Road, Amherst
Rebecca A. Piduch, 20, of Gardenwood Lane, Buffalo
Nathan D. Rigby, 20, of Sodus Street, Clyde
Shannon D. Shakespeare-Brogan, 16, of Hogan Road, Fairport
Mikaela R. Cook, 18, of Wipple Tree Drive, Fairport
Ryan G. Weir, 20, of Cheryl Road, West Seneca
Nicholas S. Jennings, 19, of Logan Road, Attica
Patricia A. Glass, 20, of Chase Street, Medina
Clint A. Wright, 17, of Bethany Center Road, Wyoming
Nelson M. Burke, 16, of Main Street, Alexander
Lucas S. Terry, 17, of Holmes Hill Road, Conesus
Nicholas A. Braun, 19, of Pries Avenue, Buffalo
Sean P. Griffin, 20, of Rutland Street, Buffalo
Christopher P. Kane, 20, of Columbia Pkwy., West Seneca
Jacqueline P. Kane, 18, of McKinley Pkwy., Buffalo
Daniel M. Major, 19, of Hemlock Drive, Grand Island
Jermey R. Stark, 16, of Highway 3, East Port Colbourne, Ontario, Canada
Jacqueline H. Franck, 17, of Poplar Avenue, Ridgeway, Ontario, Canada
Andrew J. Kurtzhaltz, 19, of Prospect Avenue, East Aurora
Hanna J. Cimperman, 18, of Mill Road, East Aurora
Jaycen A. Watts, 20, of Pine Street, East Aurora
Joshua L. Cesario, 19, of John Peet Road, Canastota
Ryan P. Yeates, 18, of Norwood Avenue, Hamburg
Alexandra M. Curre, 18, of Corral Drive, Penfield
Matthew A. Majchrzak, 19, of Pennicott Circle, Penfield
Nicholas S. Fields, 18, of Seton Court, Penfield
William F. Asquith, 20, of Chaffee Road, Arcade
Jacqulyn M. Graber, 18, of Clarence Center Road, Clarence Center
Kristie Nasr, 18, of Glenhaven Drive, Amherst
Jonathan G. Vara, 18, of Manor Oak Drive, Amherst
Yanni S. Zulia, 17, of Bowen Drive, West North Tonawanda
Taylor N. Friedl, 19, of Cushing Road, Albion
Joel J. Prince, 20, of Claremont Park Palmyra
Timothy J. Depetris, 19, of Crestview Drive, Niagara Falls
Ian M. Marrett, 16, of East Bethany-Le Roy Road, Le Roy
Kristin N. Wach, 19, of Harmony Circle, Orchard Park
Adam R. Wattles, 19, of Old Lower East Hill Road, Colden
Kaitlyn M. Federico, 20, of Covered Bridge Circle, Greece
Max J. Roehmoldt, 19, of Village Point Lane, Williamsville
Brian J. Graham Jr., 20, of Lower Mountain Road, Lockport
Peter A. Roehmoldt, 20, of Village Point Lane, Williamsville
Ryan T. Burkard, 20, of West Minister Drive, East Amherst
Sean M. McGrath, 19, of Paul Place, Buffalo
Jordon Z. Richard, 18, of Lapp Road, Alden
Miguel-Christian Aragon-Prieto, 18, of Century Road, Orchard Park
Carly R. Hill, 19, of Doran Road, Lima
Joseph O. Pinter, 18, of Roat Drive, Angola
Elizabeth A. Gawronski, 20, of Cottage Street, Fredonia
Jason W. Myrick, 19, of Lovers Lane Road, Corfu
Chelsee M. Baun, 20, of Carlyle Avenue, Buffalo