August 24, 2014 - 12:47pm
Phil Vassar: Happy to be back at Frost Ridge to play music and have fun with friends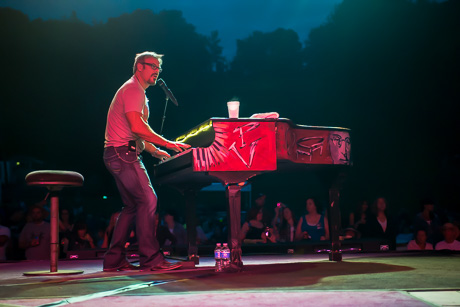 He said it last year. Frost Ridge is a special place. Phil Vassar, a singer-songwriter with more than 10 Top 10 hits to his credit, said it again this year.
"It's very homey," Vassar said in an interview before his show Saturday night. "Everybody is so nice. You're just hanging out. We talk, even during the year, we look forward to seeing you guys come back, we talk and text each other. So it's fun. You get to hang out with your friends and play music.  There's nothing better than that. It's not like going to some venue where you just go in. It's got real character and real people. I love it."
Vassar loves it so much, he asked to come back this year.
Just a month ago, it didn't seem like Vassar's show this year would even be possible. Frost Ridge was locked down as a live music venue by a court order stemming from lawsuits filed by the Town of Le Roy and a pair of neighboring property owners.
As the lawsuits wind through the hearing process, taking longer than expected, Judge Robert C. Noonan lifted his ban on live music for a show last week and Saturday's Vassar concert.
The suits allege live music isn't allowed at the campground -- and even question the legality of the campsites themselves, while owners Greg and David Luetticke-Archbell and their lawyer contend that all of the current activities are grandfathered in, or are "prior, nonconforming uses."
Vassar takes a pretty straightforward view for the lawsuits, calling the controversy, "very silly."
"You have a lot of people who really want something and just a small number of people who don't," Vassar said. "I don't know about government, but it seems like to me it's by the people, for the people, all right. It's pretty simple. It seems like if you've got a majority who want something and it's a great thing. I don't understand it.  
"It's not like it's an every night deal," Vassar added. "It's a real special place. It's a special place to play music. You just kind of hope that everybody just kind of lets it go and has some fun. You know, people are stiff. I hate it. I hate it. I'm over it. People just need to get a life."
Through three sets of music -- the Kentucky Moonshiners, the Morgan Twins and Vassar -- several hundred music fans did have a life. And it was a party, especially with Vassar on stage making sure everybody had a good time.
The Morgan Twins are from Rochester and have appeared on such shows as The Voice and American Idol.
While Vassar was still on stage performing, a check of the sound level at Oatka Trail and Conlon Road, near the homes of plaintiffs -- the Cleere and Collins families -- found that once again, the crickets were louder than the music.
The next scheduled show at The Ridge, if it's allowed to proceed, is the Marshall Tucker Band, Sept. 6.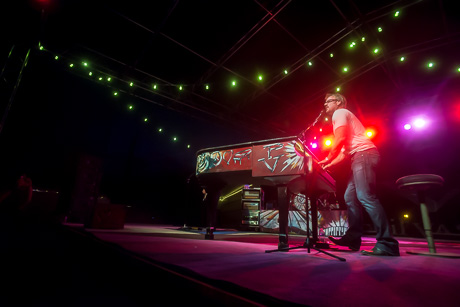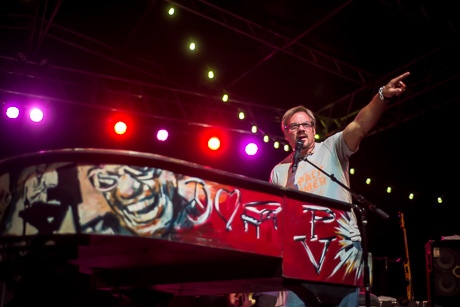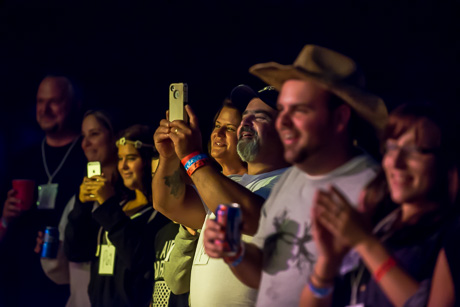 A fan brought in a homemade cake during the meet and greet with VIP patrons before the show.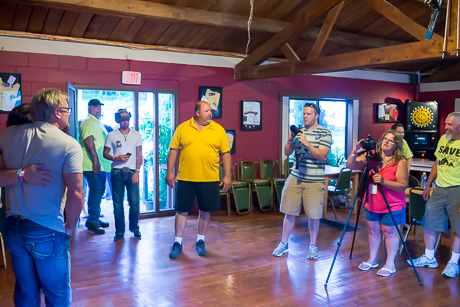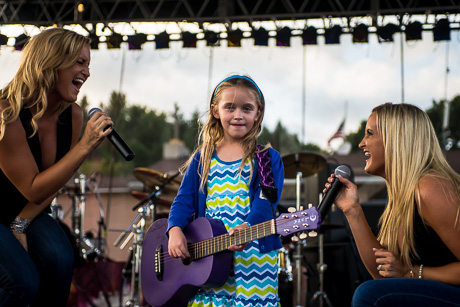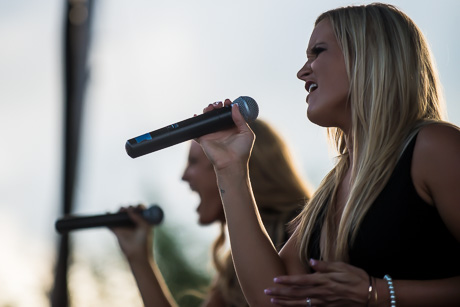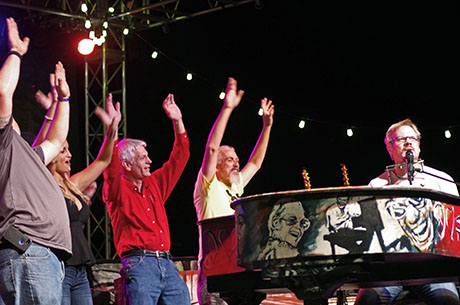 Bottom photo: by Peggy Barringer. David, in red, and Greg, joined Vasar, along with the Morgan Twins, on stage for the show's final number, a sing-along of "Piano Man."