May 4, 2013 - 11:07am
Photo: Traffic checkpoint on Law Street, Batavia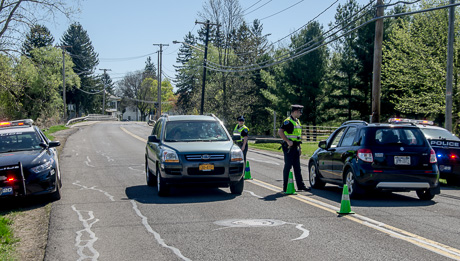 Officers Jamie Givens and Kevin DeFelice set up an impromptu check point on Law Street just east of the curve this morning. DeFelice said with all the accidents on that stretch of Law it seemed like a good place set up and hopefully remind people to slow down. The officers were checking for compliance with registration, inspection and seat belts.
It's a law enforcement mechanism that must be set up within certain perimeters to remain constitutional.
All vehicles coming through the checkpoint must be treated equally. If not, then when some guy comes through the check stop with a big white brick on his back seat labeled "Escobar's Cocaine" he will get off on an illegal search and seizure appeal.
Same for the early morning DWI that might pass through and the same rules apply. Or the long-sought warrant suspect.
If they're not doing what the check point was designed to do, then more serious crimes they might come across are jeopardized.
With the exception of Corfu PD, police are not in the business of generating revenue. They are in the business of enforcing the laws on the books. If you don't like the laws, get your legislature to change the laws, but don't make the local police out to be the bad guys for doing their jobs.
Pages