October 28, 2014 - 9:56am
Photos: BDC recognizes businesses that successfully complete loan program
During Monday's meeting of the Batavia City Council, three local businesses were honored by the Batavia Development Corp.
Each received a plaque in recognition of the owners' successful completion of a loan program that helped them expand or grow their businesses.
Above, Susan Francis, owner of The Color Salon, with the her husband John Zola, receiving a plaque from Ray Chaya, a member of the BDC Board, Council President Brooks Hawley, and BDC VP Gregg Torrey.
CORRECTION: Francis and Zola are not married.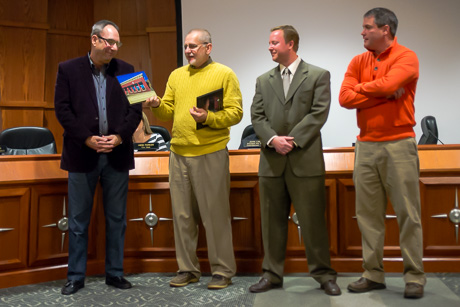 Steve Mullen, owner of Larry's Steakhouse.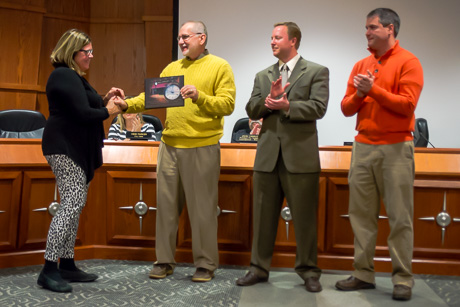 Mary Valle, co-owner of Valle Jewelers.
October 28, 2014 - 11:40am
#1
Is the "Batavia Development Corp." a 'gov't'-run program? If so, it would be interesting (and, possibly enlightening) to find out if those plaques were made in Batavia (at best), or, at least made in Genesee County.
Just wondering!