March 24, 2012 - 10:24am
Photos: Going 'Bald for Bucks' in Pembroke to support cancer research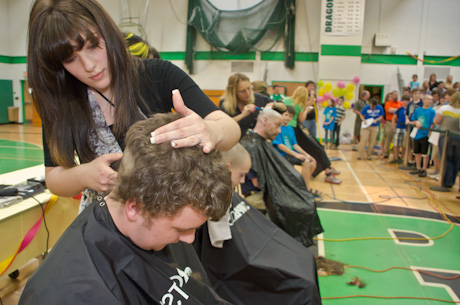 More than 30 people got their heads shaved at Pembroke High School on Friday to help raise money to support the Roswell Cancer Institute in Buffalo.
The event raised more than $10,000, according to faculty member Melisa Dettbarn.
"Cancer affects our community profoundly," Dettbarn said. "A lot of kids have been affected. A lot of faculty has been affected."
Tyler Lang, a student involved with the Kiwanis Key Club, worked as one of the student organizers and he said he found the event very emotional and very rewarding.
"It's just a blessing to be doing this for Roswell," he said.
One of his classmates was recently diagnosed with cancer.
"We're supporting him and we're supporting everyone else at Roswell," Tyler said.
Two years ago, another "Bald for Bucks" event raised more than $7,000 for Roswell.
Pembroke HS has been involved in a few fundraisers for Roswell and other charities in recent years, including "Shoot for a Cure" in January and "Shades for AIDS" last year.
Dettbarn said these events just reflect the nature of Pembroke.
"We're really a close community," Dettbarn said. "It's unreal. We're really tight knit.  Everybody pitches in. Even if we don't all always get along, everybody is right there the minute you need them."