November 10, 2012 - 2:00pm
Photos: Penn State students in town to raise money to for pediatric cancer
posted by
Howard B. Owens
in
batavia
.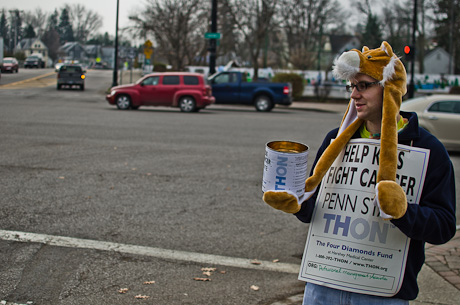 Students from Penn State are on Batavia's street corners today and tomorrow morning collecting spare change from passing cars as part of there charity drive on the behalf of pediatric cancer.
The students are part of a group called THON, which was first organized at Penn State in 1977. The group has raised more than than $89 million for the Four Diamonds Fund at Penn State Hershey Children's Hospital. Last year alone, students raised $10 million.
The students came to Batavia this weekend because one of the members, James Leisenring, is from Genesee County.
They will be collecting change until 4 p.m. today and tomorrow morning before heading back to State College, Pa.
Each year, THON culminates its fundraising efforts with a 46-hour dance marathon. For more information, visit THON.org.
Pictured is James Metz, of Butler, Pa., and below, Rick Mancuso, who happened to stop at the Hess Station and then found out about the fundraiser and kicked in a donation.
Bottom photo of participating students submitted by Lisa Rapone.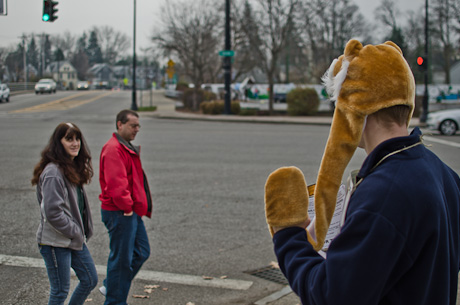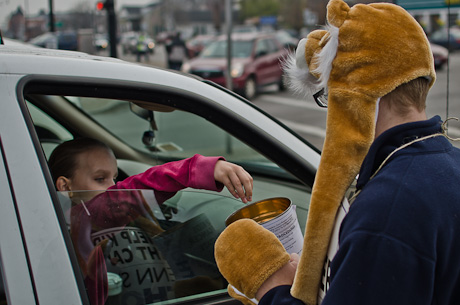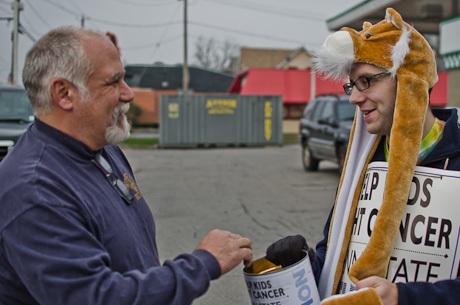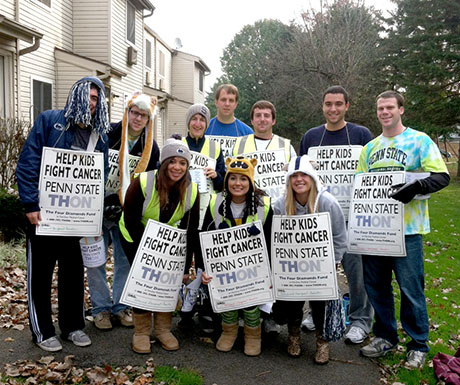 November 10, 2012 - 4:29pm
#1
NICE !!!!!! I like seeing GOOD NEWS in the news !!!!!!
November 10, 2012 - 11:27pm
#2
Nice to see someone from Penn State doing something FOR children for a change. Good job folks !!!