June 15, 2012 - 3:22pm
Photos: Testing a Bresnan distributor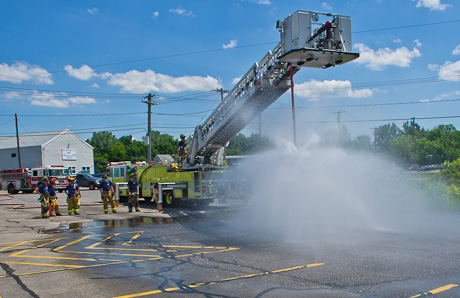 The Batavia City Fire Department tested the oldest piece of equipment the department owns today -- a Bresnan distributor.
The device is designed to be lowered into a basement that is on fire, but too hot for firefighters to enter. 
Though, as one firefighter explained, if the fire is burning that hot, you wouldn't want firefighters standing on the floor above and making the hole necessary for the hose and nozzle.
It could also be inserted from below into an attic.
However, one firefighter said in the 25 years he's spent with the department, he's not aware of the nozzle ever being used.
The brass nozzle is somewhere in the neighborhood of 100 years old. It was manufactured by Grether Fire Equipment Co., of Dayton Ohio. As near as I can tell from Google searches, the company was in business from the turn of the early 20th Century until 1930, though maybe through at least 1974. The company made a variety of small firefighting devices, such as nozzles and lanterns.
In case it ever is needed, firefighters today wanted to see if it still works and what its water distribution pattern was like.
UPDATE 3:33 p.m.(by Billie): I searched on Google for "Bresnan distributor" and found this from a retired firefighter named Bill Bresnan who is now an artist. The inventor of the device for firefighting in hard-to-reach places was his great-grandpa. Here's what he says:
"My great grandfather, Battalion Chief John J. Bresnan was a truly dedicated man who served in the New York City Fire Department in the 1800s. He was an inventor and among his many inventions was the Bresnan distributor, the hose roller and a harness for the horses that was designed to facilitate faster response times during those days.
He was passionate about making improvements to the fire service and enhancing safety for the citizens.
Sadly, he was killed in a building collapse at a warehouse fire in Manhattan on a freezing cold night in late December of 1894, leaving behind three young children and an entire city who mourned his loss. Little did he know that generations after him would serve the department and the city he loved. My grandfather, father, uncle, brother and two cousins all proudly served in the F.D.N.Y.
It certainly was a privilege to be part of the New York City Fire Department. This is a special brotherhood. I met great men, real heroes who carried themselves in a humble way. I also met great leaders, knowledgeable and aggressive officers of all ranks. Despite all the tragedy I have seen over the years, I am grateful to have witnessed humanity at its best."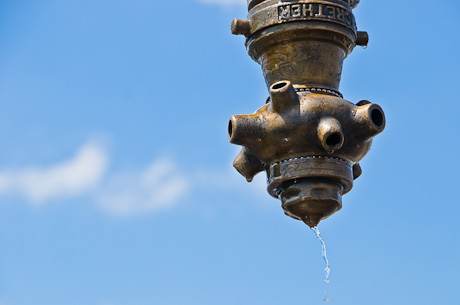 June 15, 2012 - 9:35pm
#1
Thanks for your research, Howard. I especially enjoyed the comments by Bill Bresnan. You brought the element of humanity to a story about a brass nozzle, which was interesting in itself.
June 15, 2012 - 11:05pm
#2
Thanks, but Billie found the information about Bill Bresnan.
June 16, 2012 - 10:21am
#3
I HOPE THEY GET THE BRASS FOR OUR FIRE DEPT. ITS A GREAT STORY, AND IT SHOULDNT COST THOUSANDS OF DOLLARS TO GET THAT DONE.