January 13, 2014 - 5:08pm
Proposed city budget holds line on taxes, looks to address neighborhood issues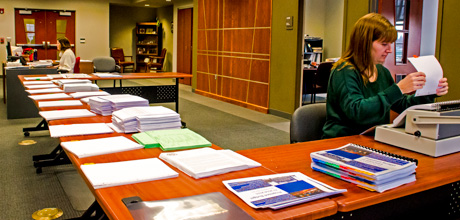 The city's proposed 2014-15 budget holds the line on taxes while helping foster programs City Manager Jason Molino said will help improve the quality of life in Batavia.
The $16.6 million spending plan calls for a 3-cent decrease in city property taxes, lowering the rate from $9.30 per thousand to $9.27 per thousand.
At the same time, city spending will increase 4.4 percent, or $675,000 over 2013-14.
City Council President Brooks Hawley said he doesn't yet have a feel for how the rest of the council will respond to the proposed budget, but he's looking forward to the budget discussions, which begin with a budget presentation by city staff at tonight's meeting.
"We just received this budget on Friday, so I'm very excited to talk with other City Council members and see what they think," Hawley said. "I'm looking forward to the budget meetings and seeing where we go from there. Right now, this is just a starting point. We are excited, just by looking at the first couple of pages, that what council wanted, this budget lays out, such as neighborhood revitalization, addressing quality of life and keeping the tax rate down."
The budget proposal brings back the position of assistant city manager, which was eliminated years ago as a cost-saving measure.
Molino said it's needed now to help the city move forward on several projects that will mean lower costs for both the city and for residents.
One of the primary duties of the new assistant city manager will be to get the city participating in the National Flood Insurance Program.
Working out of a 600-page book of guidelines, it will be up to the new assistant city manager to implement plans and programs that will mitigate flood issues and help improve the city's flood insurance rating.
The city's rating is currently a Class 10 -- the highest rating because the city doesn't currently participate in NFIP -- and for each point the city can shave off the rating, the cost of flood insurance for property owners in the city will drop 5 percent.
The rating can improve by doing simple things such as ensuring certain kinds of public information be available to complicated matters like moving buildings. There are, in all, 18 different topics the city can study, and possibly address, to improve Batavia's flood insurance rating.
Currently, the average cost of flood insurance in the city is $900 annually, based on the price of the home.
"That's more than your average City of Batavia tax bill -- city property taxes for that property on a home that's assessed at $90,000," Molino said. "How do we combat that? If we can lower those premiums by 5, 10, 15, 20 percent through actions we can take through the community-rated service program, we're going to be able to provide relief to our residents."
Molino believes that high cost is one reason some residents won't invest more in their homes, or buy houses that are worthy of restoration if not for their location in a flood plane.
The new assistant city manager will also handle risk management for the city, which can help reduce the city's annual $2 million expenditure on various insurance policies.
The new position will pay in the range of $63,000 to $77,000 and whomever is hired will be required to move to the city if not already a city resident.
"When the position was eliminated several years ago it was because the city was in a finanical position that warranted making cuts, scaling back on services, which it did," Molino said. "I think that now when we're on more stable footing, we're in a position now where the council is looking to take on initiatives that are going to help progress the community forward. We're talking about quality-of-life initiatives, neighborhood initiatives. In order to provide these services, you've got to have staff to do it."
A big part of the city's focus the past couple of years has been the implementation of a strategic plan, which calls for neighborhood improvements, revitalizing commercial areas, converting brownfield locations into once-again useful and productive properties and addressing quality-of-life issues, such as abandoned homes and high-crime neighborhoods.
One of the biggest initiatives planned by the city for the spring and summer are what Molino calls "neighborhood sweeps."
The sweeps will involve closing down a neighborhood for two or three hours so nobody gets in or out and the police, parole and probation officers, along with code enforcement officers, will endeavor to contact every person in the neighborhood. Individuals who cause problems might be identified and dealt with appropriately under the law and residential units that don't meet code standards will receive notices and have deficiencies documented.
There will be no prior notice to neighborhoods subject to a sweep.
"It's a way of trying to do several things," Molino said. "One, working with the residents who might be able to provide information about what's going on in their neighborhood; combating some of the issues that we're seeing, some of the increased activity; addressing property maintenence and criminal activity, all in one shot. It's taking our resources and focusing on the areas that need that assistance."
City leaders from Buffalo met with local officials a month ago to discuss how that city has implemented a similar program.
"It's taking what they're doing (in Buffalo) and applying it in a way that's a better fit for our community," Molino said. "It's taking these nuisance areas and addressing quality-of-life complaints and trying to combat them, either working with the landlords to get these problem tenants out of the neighborhoods, or working with the residents to identify the problems in the neighborhood."
Over time, perhaps, those residents who are generally content to do more harm than good will find Batavia inhospitable enough that they will leave the city, if not Genesee County, Molino said.
"It's not a hostile position," Molino said. "I would say it's a position of being a nuisance to nuisance individuals. If it's people who are engaging in criminal activity, if it's people doing things they shouldn't be, we're going to be addressing those.
"Keep in mind, when you're addressing little issues like nuisance and quality-of-life issues, minor issues, if you address those with a hard-line approach, it's going to be a deterrent to undesirables who are in those neighborhoods," Molino added. "They're not going to want to be bothered with that and it's going to have them disperse elsewhere."
The program is designed to empower people to take their neighborhoods back so they're once again a safe place for children to play outside, Hawley said.
Chief Shawn Heubusch said he's hopeful the program will help the community address some of the kinds of criminal activity we've seen recently in the city, such as shots fired on State Street, shots fired on Jackson, and the recent armed robbery on Jackson.
"This will hopefully get us to a point where we can address some of those issues before they occur," Heubusch said. "It allows us to get into the neighborhoods and get a more personal look at things and get the neighbors comfortable with us and being more willing to contact us. Do I think it's going to solve everything? Absolutely not."
The proposed 2014-15 budget also takes a couple of small, but potentially significant steps, in the technology region.
Working with National Grid, the city is planning a recharging station for electric cars located somewhere Downtown. The recharging station will handle two cars at a time that can plug into the power grid for free.
The hope is the station will attract electric car drivers from the Thruway into Downtown for shopping and dining.
The annual cost to the city, even if the stations are used to capacity every day, would be no more than a few hundred dollars.
"It's a marginal cost to the municipality, but it's an attraction to get visitors Downtown," Molino said.
The budget also calls for a few Wi-Fi hotspots to be installed at Downtown locations, such as Jackson Square. The pilot project will help the city evaluate the need and benefits of providing wireless Internet connectivity to smartphone and tablet users.
One of the biggest expenditure hits the city has taken over the past several years is the skyrocketing cost of funding pensions through the state's retirement plan. Each year, the state sets what the city will have to pay into the fund. For the first time in five years, the city is being told to contribute less than the previous year.
Another important component of the city's plan for neighborhood improvement is trying to obtain title to vacant and abandoned homes, and working with nonprofit agencies to renovate the houses and turn them over to responsible owners who will reside in the homes they acquire.
There are currently as many of 50 such abandoned houses in the city.
The city will use $229,000 from equipment reserve funds for police, fire and DPW vehicles and machines.
On the reserve fund front, $50,000 is being set aside for an anticipated renovation, or replacement, of the police headquarters building. A consultant is currently evaluating the current station and the needs of the department.
The police budget is up 4.1 percent, or $158,505 for additional personnel costs.
The city plans on spending $7,500 on "a neighborhood video surveillance camera," but no word on where the camera might be installed.
Union contracts dictate raises for CSEA members of 2 percent and for police of 2.75 percent. Management employees will receive a 2.5-percent pay increase. The fire personnel contract is currently under negotiation.
The city's part-time parking enforcement/recycling officer and the part-time ordinance enforcement officer will be combined into a single, full-time job.
There is a proposed 9-cent increase in the city's water and sewer rate to $4.71 per thousand gallons. There is also a proposed $12 annual fee to fund capital projects to replace aging infrastructure.
The city will replace 1,950 feet of sewer line on Trumbull Parkway. The project includes sidewalk replacement, road restoration, and upgrades on water service and fire hydrants.
A grant request to reconstruct Summit Street was rejected by the state, so in the meantime, the city will resurface the street.
In all, more than $1 million will be spent on sidewalk and street repairs and replacements.
Photo: Jodie Freese prepares copies of the 2014-15 proposed city budget for distribution to members of council and other members of the community.
January 13, 2014 - 7:33pm
#3
"The sweeps will involve closing down a neighborhood for a two or three hours so nobody gets in or out and the police, parole and probation officers, along with code enforcement officers will endeavor to contact every person in the neighborhood. Individuals who cause problems might be identified and dealt with appropriately under the law and residential units that don't meet code standards will receive notices and have deficiencies documented."
Welcome to Nazi Germany.
The term Nazi is over used a lot in our world today, so most folks won't notice a Nazi takeover when they see it. Let me help you recognize it. It is in this quote above! Herd the farm animals into their pen to make sure they comply. I think the first street they should do this to is Naramore Dr., Then Richmond Ave.,
In America you are innocent until proven guilty. Unless you live on certain streets in the City of Batavia, there you are guilty until proven innocent.