September 5, 2013 - 7:29pm
Recent parolee accused of trying to rape young woman in Batavia motel room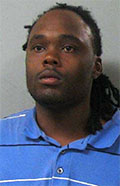 Just three weeks after being released from state prison, John J. Saddler, 26, has been accused of attempting to rape a young woman while in a motel room on West Main Street Road, Batavia.
According to state police, the young woman had been hanging out at the motel with friends and relatives Saturday evening when she joined a group of other women who were talking with Saddler in his room.
After awhile, the other women left, leaving the alleged victim alone with Saddler. He allegedly locked the door and tried to force himself on her.
Saddler is charged with attempted rape, 1st, criminal obstruction of breathing, forcible touching and unlawful imprisonment.
While Saddler was allegedly trying to rape the young woman, a group of people who had been with her and Saddler returned to the room and found the door locked.
That was apparently a violation of the motel's rules, according state police, so Saddler opened the door and "acted nonchalant."
The alleged victim later told another woman what happened, but didn't go to the State Police barracks on West Saile Drive until the next day.
According to state police, the woman was hesitant to come forward for fear of reprisals from Saddler's family.
Saddler is being held on bail in the Genesee County Jail.
On Aug. 11, Saddler was released from the Collins Correctional Facility after serving nearly six years on a pair of felony assault charges.
One of the assault charges stemmed from an incident in October 2006. Saddler was accused of assaulting a Batavia police officer and damaging a police vehicle by jumping on top of it after an officer found he possessed marijuana.