July 22, 2011 - 11:28pm
'Ride of Steel' reopens after Darien Lake cited for alleged lack of operator training by NYS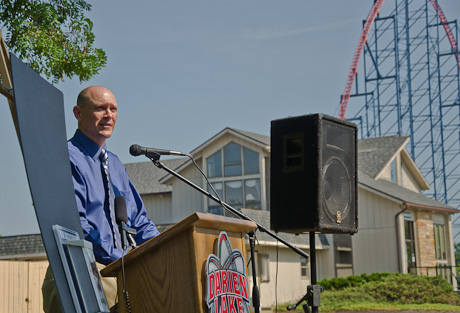 Two weeks after a disabled Iraq War veteran fell to his death from the Ride of Steel at Darien Lake, the ride was reopened shortly after a late afternoon press conference. The park's manager refused to answer questions about what ride operators said about their interaction with Sgt. James Hackemer.
What did they ask and what was said? Local and regional reporters tried at least six times to get answers and failed. General Manager Christopher Thorpe said he wouldn't "speculate" on what transpired on the ride's boarding platform.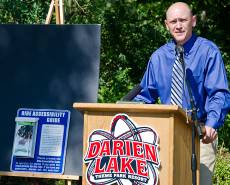 "I don't want to speculate as to what they knew or didn't know, nor do I want to speculate as to the thought process of Sgt. Hackemer," Thorpe said.
Reporters told Thorpe they didn't ask him to speculate. They wanted to know what ride operators actually said about what happened July 8.
"That part of our investigation will remain confidential because it's speculation," Thorpe insisted. "I don't want to speculate on what was said or done, or what was behind the thought process of those individuals on that ride because I don't know."
Earlier Thursday, the NYS Department of Labor issued two citations to Darien Lake Theme Park, placing the blame for Hackemer's death on improperly trained operators. The DOL said that operators were unfamiliar with the safety requirements of the Ride of Steel.
Even so, Thorpe maintained today that the operators had been trained.
"Our employees are trained and certified in the rules for the Ride of Steel ride, but for reasons that we will never fully understand, Sgt. Hackemer was allowed on the coaster," Thorpe said.
He emphasized that the Ride of Steel is mechanically sound and that Darien Lake has a long track record of operating rides safely.
"More than 35 million guest since 1964 have come to Darien Lake," Thorpe said. "This is the first ever ride-related death. As a native Western New Yorker, and as a father myself, I can assure you there is nothing more important than the safety of our guests."
Darien Lake has initiated enhanced training and safety procedures.
All 15 staff members who work on the Ride of Steel were "re-certified" in the safe operation of the ride, ensuring, Thorpe said, a comprehensive understanding of its restrictions and rules. The operators will be thoroughly tested verbally, in writing and through practical exams by auditors on the correct rules and procedures of the Ride of Steel, as well as the other rides in the park.
An safety auditor position has been created.
And while both the entrance and the exit of all rides had signs outlining safety rules -- and the Ride of Steel had an audio warning for guests that included a warning about physical disabilities -- new signage has been added with a safety message specifically for riders with disabilities.
"We have worked methodically with the Department of Labor to ensure this will never happen again," Thorpe said. "To that end, we've looked at our existing policies and procedures and enhanced our training to include recertification, increased audits and then to ensure increased information for people with disabilities."
Before boarding a ride, guests with disabilities can pick up a pamphlet outside the ride that explains the physical requirements for all rides. The information is also now posted on the Darien Lake website.
The operators were all 18 years of age or older, Thorpe said, but he wouldn't discuss them in any detail citing privacy concerns. He declined to answer any questions about whether they are still employed by Darien Lake or whether they were disciplined.
Meanwhile, WGRZ reports that somebody is preparing for a possible lawsuit in the case because a prominent Buffalo law firm contacted the news station asking for footage related to the story. A legal expert told WGRZ that the request indicates either somebody is preparing to file a site or, if Darien Lake hired the firm, the theme park is preparing to fight a lawsuit.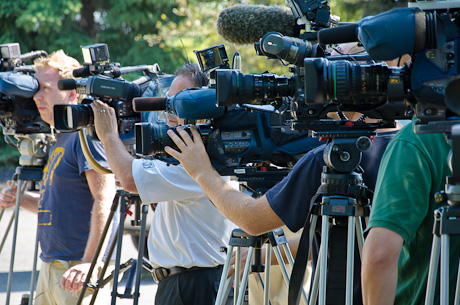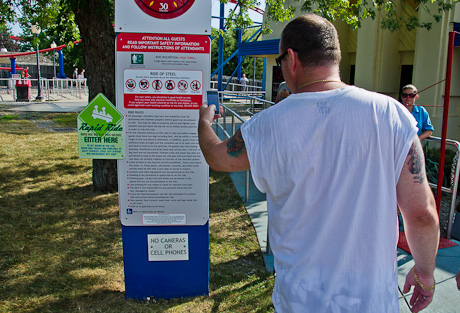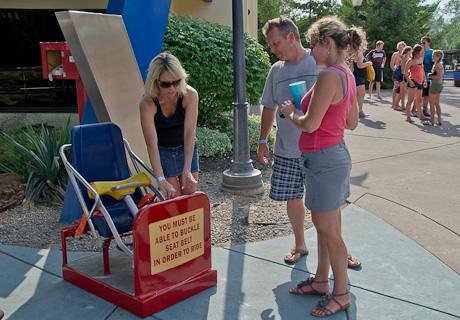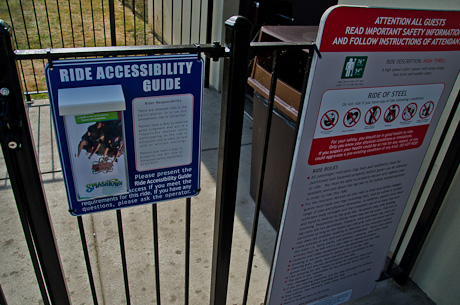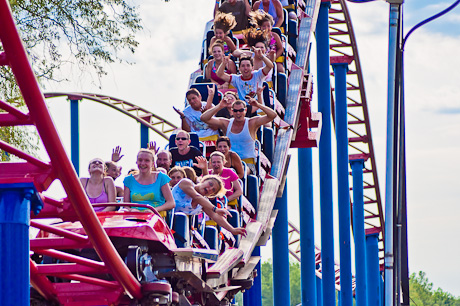 July 24, 2011 - 9:54am
#3
Being well versed in a-hole-ese is a highly prized trait for corporate America. When I worked for a large multi-national corporation, the only guys who got moved into senior management were the ones who could talk at a sales meeting for 30 minutes and say nothing while the other fluent a-hole-ese faithful would nod and congratulate him on making a great presentation. Woe to him who pretended to understand, but couldn't give the proper response when questioned. The rest of us just tried to stay awake and then admitted we didn't get it, because "they" were smarter. Don't miss that B S a bit.