November 16, 2012 - 4:21pm
Rowell Mansion finding new life in the hands of couple with Hollywood and Batavia ties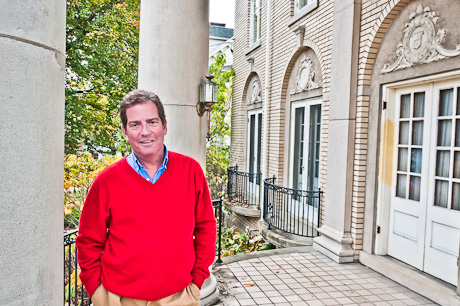 There's a bit of myth and mystery surrounding the couple that lives at 71 Ellicott Ave., Batavia.
There's a rumor that it's "the couple who starred in L.A. Law."
Not true. Hiram Kasten has appeared in dozen of TV shows, mostly sitcoms -- and one episode of L.A. Law -- but never starred in any of them. His wife, Diana, an alumna of Alexander High School, had a theater career but spent most of the couple's 25 years in California working in information technology.
And there's the assumption that they're millionaires. 
Not true. Kasten said the couple has the same financial struggles as any other middle-class family. One reason Diana bought a house in Batavia was real estate is so much more affordable here.
"It was time for us to stop living like Bohemians," she said.
And a lot of people assume that the couple only lives in the Rowell Mansion in the summer.
Once true. True no more.
In August, Hiram and Diana Kasten loaded up a trailer and moved from Los Angeles to the closest thing to a hill in Batavia. They now plan to make Genesee County their base of operations while Hiram continues his acting career in New York City.
"I like Batavia a lot," Diana said. "It's a nice place to come back to at this point in my life."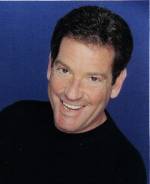 When Hiram met Diana more than two decades ago, he was an up-and-coming comic on the New York-New Jersey circuit and she was a young actress whose career path had finally brought her to NYC.
Back then, most of the professional comics knew each other, Hiram said. It was before cable TV and the proliferation of part-time and wannabe stand-ups. It meant something then, Hiram said, to be a comic and the girls were always around.
His act was old school. He grew up with the likes of Alan King.
"I grew up watching Ed Sullivan," Hiram said. "A comedian should dress better than the audience. If he's a Jewish guy, he should be a tough Jewish guy. He shouldn't be a momma's boy. He should be tanned. He should wear cufflinks."
After graduating from college with a performing arts degree, Kasten developed his stand-up routine, but he said he always had a quick mind and could ad lib if he needed to get a crowd's attention.
Kasten first met Jerry Seinfeld at a comedy club in New Jersey. It was a tough crowd, he said. Kasten was jeered and heckled, but he held his ground.
Seinfeld got up and just delivered his lines in his casual, soft-spoken way.
"I was doing like Milton Berle," Hiram said. "I would do anything, drop my pants, anything to get their attention, and then Jerry goes on. This was 1979. ... slowly the crowd quiets down. They're turning to listen to him. He's not raising his voice. They lower their voices. He had a self assurance. People say he took a little Scientology courses. I never asked him, but I've never known a more fascinating mind. I mean, I've seen it up close.
"So he got off stage," Hiram added, "and he says, he comes off and he says to me, that will be my second of five Johnnys."
Seinfeld was already planning his conquest of the Tonight Show (with Johnny Carson).
Both Hiram and Diana had made it to 30 without getting married before they met and found they made a good match.
"I came from a small city and he came from a big city, but our values were very much the same," Diana said. "He had a great family, all of these cousins who lived in the Bronx, and I had a lot of cousins that I grew up with on both sides of my family. We both valued family, and I don't just mean immediate family, but extended family."
Hiram said he and his wife don't always agree on everything, but they agree on the big things, the important things.
"It's funny, but marriage is obviously not a barrel of laughs," Hiram said. "The word 'fun' isn't in the contract. Read at the contract. People are divorcing. We're not having fun any more, they say. That's not in the contract. It's two souls. The rabbis said, it's two souls that become one."
After they were married, Diana told Hiram that if he wanted a career in TV, he needed to move to Los Angeles.
"If I hadn't gotten married I would have stayed in the exact same rent-control apartment in the Bronx, descended into alcoholism and an early death," Hiram said.
It didn't take long for Hiram to establish himself in Hollywood. Over the next 25 years, he appeared in more than 30 different television shows, including Seinfeld, Everybody Loves Raymond, Curb Your Enthusiasm, Saved by the Bell, Without a Trace and, yes, L.A. Law.
Hiram got one shot at co-starring in a sitcom. A pilot was produced, but CBS turned it down.
There's a blueprint for sitcom success in Hollywood, Hiram said, and he just never bothered to follow it.
Before Carson retired, it was all about appearing on the Tonight Show, and if Johnny liked you, he would call you over to his desk.
If that happened, the next morning your agent's phone would be ringing and offers for starring roles in new sitcoms would come rolling in.
Drew Carey, Hiram said, struggled for years, then put on the horn-rimmed glasses, the thin tie and the white shirt and did the Tonight Show. Johnny loved the act and Carey's career was made.
"I don't live with any regrets," Hiram said. "I knew exactly what they were doing. It's an art. It's the creative arts. It's like I'm Jackson Pollack and this guy's doing still lifes. I like ad-lib comedy. I like the Shecky Greenes and the Don Rickles. We have an act, but we play off of that. I've never done the same show twice."
A sitcom star used to make $2 million an episode (those days are over, Hiram said, disrupted by webisodes and reality TV), and the Kastens would have had it made if Hiram had gotten just one starring role under his belt.
But even so, he said, some of the residual checks he gets can be quite handsome (and some miniscule -- he carries around in his wallet a residual check for one cent).
Asked for a single key memory from his time in Hollywood, Hiram said it was getting to know Jerry Lewis a bit. He demurred when asked if Lewis was a friend. He just said, "he knew my name."
"Once I wrote him a note," Hiram said, "and he called me. I was in my kitchen in Los Angeles. 'Hello, Hiram, it's Jerry Lewis.' You know, he has that voice, and I saw him at 9-years-old in the moves. That was big thrill. I could barely speak. I thought, 'Oh, I wish my mother was alive so I could call her up and tell her, 'Jerry Lewis just called me.' "
As Hollywood shifted away from paying actors and creating reality show celebrities instead, and as Hiram turned 50, he started to think it was time for a change.
Little did he know in December of 2004, his wife was putting in an offer on the Rowell Mansion. She didn't tell him about her plans to buy the property from Terry Platt until it was almost a done deal.
"She made me a martini and said, 'We now own real estate,' " Hiram said.
It would be quaint to imagine a young Diana Kisiel going past the Rowell Mansion and saying quietly to herself, "someday I'm going to live here."
Nothing, she said, could be further from the truth. Her dream house was on Creek Road, around the corner from her parents. Her aunt lived there and she would have bought it in the early 2000s if it hadn't been sold first to a local minister.
Unlike many middle-class couples, the Kastens never took regular family vacations -- no weekends in Mexico, holidays in Aspen or trips to the Grand Canyon. Instead, when they had time off, they came to Batavia.
Hiram said they flew into Buffalo from Los Angeles at least two or three times a year.
Diana's father, Henry Kisiel, founded Pinnacle Manufacturing Company, Inc., in the 1970s for his wife, Lois Quartley Kisiel, and his three children, and today, his children share responsibility for the company. Diana is secretary, her brother, Kim, is president and brother, Kevin, is vice president. Many of Diana's extended family remain in Genesee County.
Lois Kisiel passed away two years ago.
On one trip home to see family, Diana learned that the Rowell Mansion was up for sale. With her dream home on Creek Road recently sold, she started to think about the Rowell as a possible vacation home. On the next trip, the house was still for sale, so the Kasten family took a look inside, but more as a sightseeing adventure than real estate consideration.
Diana decided that if it were still for sale when she returned in October, she would make an offer. It was, she did, and after some negotiating she learned she would close on the house Dec. 29.
That Christmas she announced the purchase to her family during a dinner at Sunny's Restaurant. Nobody, she said, believed her at first.
The Rowell Mansion was built in 1920 by E.N. Rowell, who opened a box making company in Batavia in 1888. Rowell is best known for killing the lover of his first wife in their home on Bank Street in 1893.
After shooting the naked man, Rowell told a neighbor, "I found this man in my house and I shot him. He had seduced my wife. I caught him in the act."
Rowell was charged with manslaughter and a jury found him not guilty. The case was a national sensation at the time.
The E.N. Rowell Box Factory grew into one of Batavia's largest industries and after Rowell's death in 1929, May Emke Rowell, his second wife, ran the business and lived in the mansion until her death in 1972. Their children had no interest in Batavia or the business, sold it, and the new owners closed it in 1980.
The Rowell Mansion passed through a few owners, at one point falling into a good deal of disrepair, until Diana Kasten acquired it in 2004.
She understands the home is a historical landmark, she said, and wants to see it restored to his former glory. While the exterior needs some masonry work, so far her efforts have been focused on the interior.
She's redone the electrical, removed or moved book cases that weren't original, repaired plaster and molding damage, and refurbished fixtures.
"This is all work that nobody sees so people think you're not doing anything, but that's where you're sinking the bulk of what you're doing," she said.
As part of her restoration goals, Diana is hoping there may be people in the area who have old photos of the house. She has had a particularly hard time -- she's search the library, county history office and Holland Land Office Museum -- finding pictures of the house when there was a wrought-iron fence in the front yard. She wants to restore it.
One of the "most exquisite" features of the interior, DIana said, is the Italian, Spanish and Portuguese tile flooring in nearly every room. The tiles are pressurized, not baked, and have a matte rather than glossy finish. Each room is accented with a different tile color.
"Over the years people really ruined it," she said. "They didn't take care of it."
One former owner drilled holes through the tile in the foyer, she said.
Kasten hired an expert from Buffalo to clean it and lightly sand it to bring back the original look. She also has replacement tiles Rowell left in the basement.
"We've got three rooms done," Diana said. "It's terribly expensive, but the tile is really lovely."
Meanwhile, Hiram is working on getting work in New York City. If not for Superstorm Sandy, Hiram would have been in the city signing contracts with a new agent and new manager.
Hiram said he owes it to Diana to make a go of it on the East Coast. She's meant so much to his life and career.
Diana said she has a lot of confidence in her husband.
"You don't make a living in this business and last and preserve in this business for 40 years unless you're talented," Diana said. "He's extremely talented. It's amazing how he can stand on stage make people laugh by just saying what comes into this head."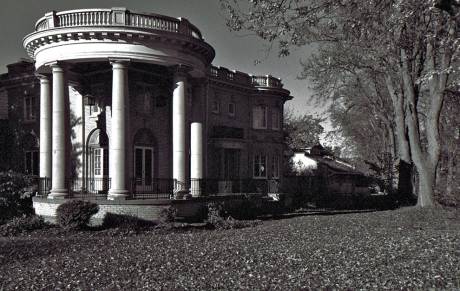 Black and white film photo of the Rowell Mansion by Howard Owens, October 2011.
November 16, 2012 - 6:58pm
#3
I think it's a wonderful thing when people take these old houses and PUT the time and money into them to restore them. Good luck to this couple !!!!