June 7, 2012 - 5:50pm
Senate Majority leader visits Batavia to help announce $2 million for STAMP
Dignitaries from throughout the county were at the Upstate Med-Tech Center today for the official announcement of $2 million in funding for the STAMP project in Alabama.
The project, if successful, is expected to produce thousands of jobs and the round of funding will help pay for grading and infrastructure improvements for a portion of 1,300 acres targeted for development.
"The investment we're making today will make STAMP a shovel-ready, high-tech industrial megasite," said Senate Majority Leader Dean Skelos (top photo), who traveled to Batavia today for the announcement. "Long Island, the Hudson Valley and Capitol Region communities are already attracting high-tech companies and high-paying jobs."
STAMP is intended to attract high-tech/clean-tech and nano-enabled manufacturing and Genesee Economic Development Center CEO Steve Hyde (top inset photo) projects an eventual 10,000 jobs at the site, with support and supply chain jobs from Buffalo to Rochester adding another 20,000 positions.
STAMP is most often compared to Luther Forest in Saratoga. According to GCEDC, Luther Forest, in the past five years, has seen $1.5 billion in private investment, and more than 2,000 jobs created.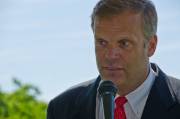 "Once we bring that site to what we call 'shovel-ready light' we will be ready to market the project to some of the largest semi-conductor manufacturers in the world," Hyde said.
Sen. Mike Ranzenhofer (second inset photo) thanked Skelos for helping secure the funding for STAMP and said the project has the potential to transform the region.
"This is really critical funding that will keep the project going and keep it on track," Ranzenhofer said. "We're a step closer today than we were previously to making sure we develop scientific and technological manufacturing jobs in the future here in Genesee County. I'd rather see them developed right here between Rochester and Buffalo than in another state or another country."
Following the announcement, Skelos and Ranzenhofer met with local and regional media and discussed a variety of issues.
On Cuomo's plan to decriminalize possession of personal use marijuana, both Skelos and Ranzenhofer are adamantly opposed to the measure.
"When you talk to lot of drug counselors, they tell you marijuana leads to a lot of other kinds of addictions with heavier drugs," Skelos said. 
He added, "I don't believe in legalizing drugs that the federal government has said are destructive to lives."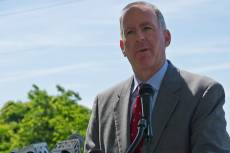 Ranzenofer said he's following the lead of GCASA in opposing decriminalizing possession.
"They felt strongly that this type of thing is a gateway drug for the very kind of people they're trying to treat in our communities," Ranzenhofer said. "The experts in our community don't believe that it is proper legislation and I'll certainly defer to the experts in our community."
Even though polls show most New Yorkers support losing marijuana laws, Skelos said "the voters in my district on Long Island are not knocking down the door saying legalize marijuana."
On the ethics complaint against Sen. Ranzenhofer: Skelos said he has not received a copy of the complaint filed by Michelle McCulloch, even though it was sent to his office by registered mail. Ranzenhofer said he also has not yet seen it. 
Skelos called the firing of McCulloch, a mother of four children, a "personnel change." He said, "We all make personnel changes in our lives. I've done it. We've all done it."
Asked about his statement to a Buffalo TV station that McCulloch "knows why she was fired," even though he's said he wouldn't discuss a personnel matter, Ranzenhofer wouldn't comment further, except to say, "It wasn't for political activity."
He also said he's never directed anybody to gather signatures or petitions for Chris Collins, who is running in the NY-27 GOP primary against David Bellavia.
"People have volunteered for the past 50 years," Ranzenhofer said. "I've never directed anybody to do that."
On mandate relief for counties, particularly Medicaid: Skelos said the state simply can't afford to pick up its share of Medicaid costs.
He said NYS has already provided relief to counties, first by capping annual increases at 3 percent, then by agreeing to phase out the local mandate increase.
Counties promised each time not to ask for more help with Medicaid, Skelos said.
"They should be reminded that just a couple of years ago they said, 'we're fine,' we'll never need to come back again," Skelos said.
Skelos said reporters should ask federal elected officials why some states get 80-percent reimbursement for Medicaid while New York gets only 50 percent.
The Batavian happened to already have an interview scheduled with Rep. Kathy Hochul for this afternoon and we asked Hochul that question.
Hochul said that as a former town board member and former county clerk, she certainly understands the need for mandate relief, but the reason New York doesn't get more help from the federal government is the state has instituted a number of services and programs within Medicaid that are not required. Those additional programs drive up the costs for both the state and counties.
On another unfunded mandate issue, Skelos did agree that if proposed creation of a youth court division in NY's counties goes through, the state should pay for the additional cost. Officials estimate the new court will cost more than $1 million in Genesee County.
On efforts to increase the state's minimum wage, Skelos said he remains opposed to the idea.
"My concern is that if we raise the minimum wage with the fragile economy we have, there would actually be a loss of jobs," Skelos said. "Fifty percent of the people earning minimum wage are young people, age 16 to 24, and the last time we raised the minimum wage, 22 percent of them lost their jobs."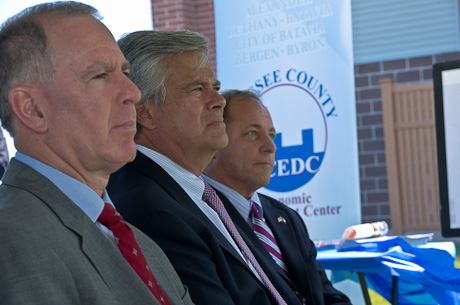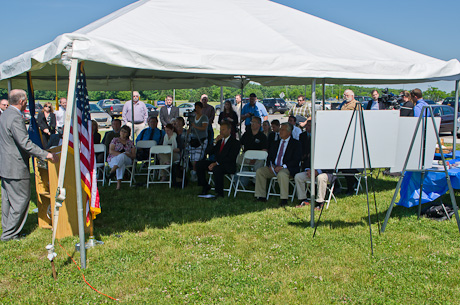 Professor Mike Jackson, RIT, presented officials with framed, commemorative computer chips.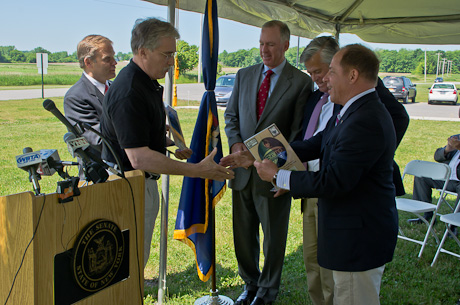 There seems to be a little dancing going on here.
1) The complaint was not about the reason why she got fired, it was about political activity generated from a government office.
2) The petitions were delivered to The good Senators office by the EIRE COUNTY REPUBLICAN ELECTIONS COMMISIONER, who alledgedly said, "The Senator asked that I give these to you"
3) The staff was asked to make sure that thier Notary Licenses were up to date prior to this event, and we are supposed to believe that this was without the good Senator's knowledge?
I do believe the answers were not sufficient.