March 6, 2014 - 9:00am
STAMP project generating some interest among high-tech manufacturers, Hyde tells legislators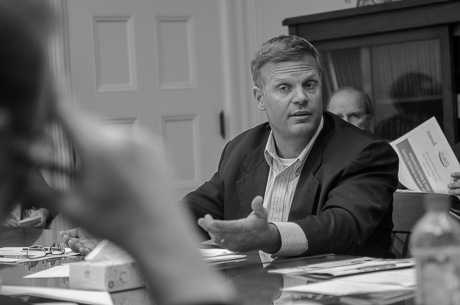 There's plenty of reason to be optimistic about the future of the WNY STAMP project in Alabama, Steve Hyde told members of the County Legislature during the Ways and Means Committee meeting Tuesday.
While Genesee County Economic Development Center must still secure a total of $33 million in financing to make the proposed high-tech manufacturing park "shovel-ready lite," there is plenty of buzz about the project among site selectors.
STAMP will be one of only a couple of locations in the nation, if not in the world, that could provide a major manufacturer with both 500 acres of property and up to 500 megawatts of electricity, Hyde said.
One of the nation's leading site selectors was at a conference in Denver recently and told Hyde there may be a very big project in the pipeline and STAMP is in the running.
"He said they have a really monster project developing, that New York will certainly be on the radar, but they said that STAMP is the one site, and maybe the only site in New York, that could probably accomodate it," Hyde said. "We're excited. We hope that comes through, but it's still very, very early at this juncture."
Hyde also said the governor's office is working on landing a project that would be "about the size of Muller" -- the yogurt plant in the Genesee Valley Ag Park -- for STAMP, but that New York is among four states competing for the project.
"It's competitive, but we're in the hunt," Hyde said.
STAMP is Hyde's big dream -- with the potential for hundreds of millions in local investment and 10,000 jobs. He called it "a game changer for our community."
He made his remarks during GCEDC's annual review for the Ways and Means Committee.  GCEDC will hold it's annual meeting at noon Friday at the college.
GCEDC operates on a $1.3 million annual budget, with $597,975 coming from fees paid by businesses that receive GCEDC benefits, $480,000 from the Local Development Corporation (a nonprofit operated by GCEDC that also receives fees for projects) and $215,014 from county taxpayers.
That $215,000 in county funding is perpetually controversial, but Hyde said it's essential to keeping GCEDC operating.
"That county contribution is only about 17 percent of our budget, but it gives about 8.5 professionals work that we hope you think is of value," Hyde said. "It's very important."
In 2013, GCEDC closed 28 projects that resulted in 270 pledged jobs, $29.9 million in capital investments and $1.7 million in grants for business and infrastructure improvements.
The biggest win for GCEDC over the past two years has been the ag park, which has seen the creation of two Greek yogurt plants -- Alpina and Muller.
Alpina pledged 50 new jobs and has already created 47, plus 33 full-time temp jobs that fluctuate based on production needs (and sometimes turn into new full-time, permanent jobs).
PepsiCo. / Muller pledged 186 new jobs in the first three years and 145 have been created so far.
Nearly 50 percent of the new hires at the two plants were Genesee County residents, Hyde said.
March 7, 2014 - 3:27pm
#4
Nearly 50 percent of the new hires at the two plants were Genesee County residents, Hyde said..Glad he is creating jobs for other counties..Maybe they should pay his salary..Maybe they should send us some of their sales tax revenue that genesee county gave up to these corporations.