August 5, 2012 - 1:23pm
Stating the obvious: It's raining
posted by
Howard B. Owens
in
weather
.
The National Weather Service issued this weather alert:
AT 1 PM A LARGE AREA OF SHOWERS AND THUNDERSTORMS WAS ADVANCING INTO THE REGION FROM THE WEST. NORTHERN ERIE AND NIAGARA COUNTIES WILL SEE THE ACTIVITY BEGINNING THERE BY 130 PM, WITH AREAS FARTHER EAST BY 230 PM. MANY OF THESE STORMS WILL CONTAIN WIND GUSTS OF 40 MPH, SMALL HAIL, FREQUENT LIGHTNING, AND TORRENTIAL DOWNPOURS CAPABLE OF CREATING PONDING OF WATER ON ROADS AND LOW LYING AREAS. ANY OF THESE STORMS WILL HAVE THE POTENTIAL TO BECOME SEVERE DURING THE AFTERNOON.
UPDATE 2:04 p.m.: Dispatcher: "We've got a report that the viaduct may be flooding."
UPDATE 2:10 p.m.: Route 5 through Le Roy is closed becuase the viaduct is flooded.
UPDATE 2:17 p.m.: Le Roy fire requesting all available manpower to the fire hall for standby.
UPDATE 2:19 p.m.: Cedar Street underpass is flooding.
UPDATE 2:21 p.m.: Our newly installed rain gauge has measured just over a half inch of rain in the past hour. What's your's showing? If you have weather related photos to share: Send them to howard at the batavian dot com (properly format the email address, of course). Flooding is reported at Maltby and Route 63. A basement is flooded at 38 Myrtle St., Le Roy. It may be a foundation problem, so pumping it out may not be an option. A roadblock is requested on Gilbert Street, Le Roy.
UPDATE 2:26 p.m.: About 138 National Grid customers are without power in the area of Randall Road, Stafford. ETA for power restoration is 5 p.m. City fire has received a general fire alarm at the Dollar Tree store. 
UPDATE 2:28 p.m.: Four inches of water is reported on Pratt Road. The Dollar Tree has a flooding problem, which probably set off the fire alarm. Also, the NWS has issued a severe thunderstorm warning:
THE NATIONAL WEATHER SERVICE IN BUFFALO HAS ISSUED A
* SEVERE THUNDERSTORM WARNING FOR... SOUTHEASTERN GENESEE COUNTY IN WESTERN NEW YORK NORTH CENTRAL LIVINGSTON COUNTY IN WESTERN NEW YORK NORTHEASTERN WYOMING COUNTY IN WESTERN NEW YORK
* UNTIL 3:00 PM EDT
* AT 2:24 PM EDT... NATIONAL WEATHER SERVICE DOPPLER RADAR INDICATED A SEVERE THUNDERSTORM CAPABLE OF PRODUCING DAMAGING WINDS IN EXCESS OF 60 MPH. THIS STORM WAS LOCATED NEAR PAVILION... OR 10 MILES SOUTHEAST OF BATAVIA... AND MOVING EAST AT 45 MPH.
* SOME LOCATIONS IN THE WARNING INCLUDE... WYOMING... PAVILION... YORK... AVON... GENESEO...
PRECAUTIONARY/PREPAREDNESS ACTIONS...
A SEVERE THUNDERSTORM WATCH REMAINS IN EFFECT UNTIL 7:00 PM EDT SUNDAY EVENING FOR WESTERN NEW YORK.
UPDATE 2:34 p.m.: Ellicott Street is flooded and a vehicle is disabled, though the occupant is out of the vehcile. Ross Street between North and Ellsworth is covered in water. A pool is flooding into a basement on Ellicott Street.
UPDATE 2:53 p.m.: City fire assignment on Ellicott Street for basement flooding is back in service.
UPDATE 2:54 p.m.: Ellicott Street is reopened.
UPDATE 2:59 p.m.: Route 5 in Le Roy should be reopened within 10 minutes. A reader sent over this picture of what I think is Ellicott Street.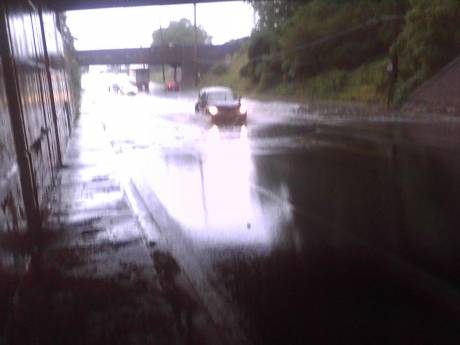 UPDATE 3:12 p.m.: Le Roy is clear from Myrtle Street. All Le Roy assignments are back in service.
UPDATE 3:18 p.m.: Le Roy crew needed for cellar pump detail. A chief requests that future requests for such details go directly to the fire hall from dispatch. Crews are standing by. Below is a view of Ganson Avenue submitted by Ron and Diane Burroughs. Cedar Street is open. Rick Franclemont reports about an inch and a half of rain at his place in Corfu.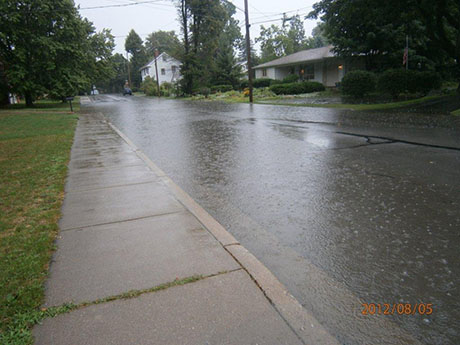 UPDATE 5:49 p.m.: Ron Burroughs "fishing" on Ganson Avenue.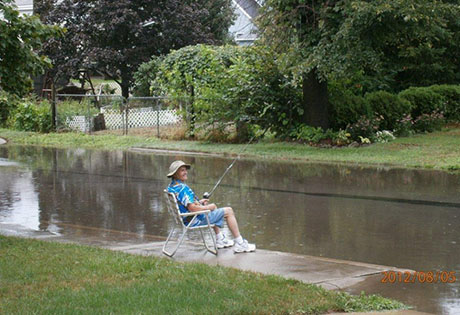 August 5, 2012 - 2:35pm
#3
.31" here in Alabama.
I've been watching the radar and i pretty much was on the edge the bad part.
I guess some is better than none ;)
Still coming down though, not like it was though.